Onze Hommes
Jump to navigation
Jump to search
Les Onze Hommes (11人の男たち, Jūichi-nin no Otoko-tachi) sont un groupe d'antagonistes secondaires anonymes apparaissant dans la septième partie de JoJo's Bizarre Adventure, Steel Ball Run. Il figurent dans l'arc narratif "Sugar Mountain : La terre promise".
Ceux sont des Subordonnés de Valentine qui traquent Johnny Joestar et Jayro Zeppeli during la sixième étape de la Steel Ball Run. A Milwaukee, ils rattrapent les héros et essaient de les abattre pour prendre les morceaux du Corps Saint. Ceux sont tous des manieurs de Stand qui se partagent la même capacité, Tatoo You!.
Apparence
Les Onze Hommes sont similaires en apparences. Ils sont tous des hommes de taille et de carrur moyenne,avec une barbe et des cheveux ras, couvert de texte anglais comme on en trouve dans les journaux. Ils portent une tenue rappelant des cow-boys, avec des chapeaux à large visière et au sommet plats. Ils portent tous une chemise, un pantalon avec une ceinture et un holster à revolver, ainsi qu'un manteau ample et des gants. A cause de leur Stand, ils ont aussi un petit visage à l'arrière de la tête.
Un texte dit qu'il devrait y avoir un chef parmi eux, mais on ne saurait pas lequel.[1]
Palettes
Les palettes changent souvent entre les médias. L'information ci-dessous ne devrait pas être considérée comme canonique.
Cheveux
(Blanc-gris, texte en noir)
Tenue (haut)
(Chapeaux magenta, manteaux verts avec intérieur beige à fourrure brune, chemises lavande.)
Tenue (bas)
(Gants violets, ceintures magenta avec boucles grises métalliques, pantalons gris.)
Personnalité
On ne sait pas grand chose de la personnalité des Onze Hommes. Ils sont tous capable d'agir à l'unison avec une synchronicité extraordinaire. Ils sont aussi des combattants aguerris et des tueurs impitoyables. Ils pourchassent Johnny et Jayro sans faillir et essaient de les tuer immédiatement avec leurs revolvers. S'il le faut, ils utiliseront les cadavres de leurs camarades comme bouclier.
Pouvoirs
Main article: Tatoo You !
All Eleven Men share the same Stand ability, named Tatoo You! It allows them to use each other's bodies as portals, letting them merge with each other and displace themselves.
Tatoo You!
(
TATOO YOU!
)


Histoire
Steel Ball Run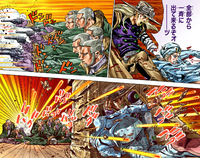 Les Onze Hommes apparaissent dans le Michigan, durant la sixième étape de la Steel Ball Run. Johnny Joestar et Jayro Zeppeli détectent alors leurs présence dans les forêts près de Milwaukee alors que les Onze Hommes trottent parmi les arbres à cheval, en train de chercher les héros. Jayro, qui écoutent les pas de leurs chevaux, note qu'ils sont synchronisés de façon extraordinaire. Les Onze Hommes suivent la trace de Jayro et de Johnny jusqu'à Milwaukee. Ils fouillent la ville jusqu'à ce qu'il trouvent les héros dans un casino mal famé de la ville.[2]
L'un des Hommes s'approche pour abattre Johnny, mais ce dernier lui tire dessus avec deux ongle, lui trouant la tête. Le reste du groupe a soudainement disparu. En fait, ils sont en train d'utiliser leur pouvoir, Tatoo You!, pour fuser leurs corps. Ils tirent sur Jayro par surprise et lui touchent le bras, ce qui l'handicape gravement dans ce combat vu qu'il ne peut utiliser qu'une Boule de Métal. Johnny leur tire dessus mais ils se réfugient dans le corps de le camarade mort, s'en servant comme bouclier. Jayro lance une Boule à la face d'un second homme, le forçant à abattre un troisième homme avec la Rotation. Un quatrième assaillant sort d'un des corps pour voir la situation. Les huits survivants décident alors de sortir ensemble pour tirer sur les héros, qui sont forcé de se mettre à couvert derrière un pilier. En utilisant les trous mouvants de Tusk, Johnny abat un quatrième homme d'un coup dans la tête mais il n'a plus d'ongles.
Alors que Jayro essaie de négocier avec des gangsters qui se sont mis à couvert près de lui, les sept Hommes trainent les corps de leurs camarades pour s'approcher sans être mis en danger. Au moment où le duo est encerclé, les Hommes surgissent. Avec son seul ongle restant, Johnny tire sur le poignet d'un homme et le force à bouger le bras et à tirer partout pendant un instant pour les distraire. Jayro atteint le tibia d'un autre homme avec sa Boule de Métal, le forçant à manquant son tir et à seulement atteindre l'épaule de Jayro. Cependant, les héros se retrouvent enfin à court d'arms. Les survivant mettent les héros en joue et s'apprêtent à tirer, mais soudainement les gangsters font feu sur les hommes, ayant accepté un deal avec Jayro. Tous sauf un se font abattre et le dernier s'enfuit.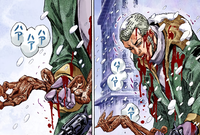 Plus tard, Johnny trouve le dernier homme et fait un marché avec lui. Pour sauver Jayro de la malédiction de l'Arbre, Johnny lui échange le Bras Droit et les Oreilles du Corps Saint contre une bouteille de vin à moitié entamée. En pleurs, Johnny dit à l'homme de partir. L'homme est suspicieux mais accepte le marché et part. Durant l'échange, il voit une carte qui se créé et la carte indique la position du prochain morceau. Le dernier homme retourne auprès de Valentine, lui donne les Morceaux, et lui informe de ce qu'il sait.[3]
Chapitres

Apparitions Manga
Apparition dans les chapitres
Citations

Citations
"

What the hell are you people doing?!

"

"

Are you planning to finish me here?

"

"

When I received the Arm and the Ears... it was only for a second, but a map appeared on the ground. By Johnny Joestar's feet...

"

"

Along with the map, for a brief moment, there was also an image of an animal in the snow, too. I definitely saw it. The animal... Once I took the Arm and the Ears, it immediately disappeared.

"
Galerie d'Images
Références