JOJO × WEGO
Jump to navigation
Jump to search

JOJO × WEGO (ジョジョ×WEGO) or JoJo's Bizarre Adventure: The Animation X WEGO (TVアニメ「ジョジョの奇妙な冒険」×WEGO) is a special collaboration between Japanese clothing company WEGO and the JoJo's Bizarre Adventure TV Anime. The partnership released its first clothing line on July 22, 2017 and has continued to release new volumes throughout the years.
Summary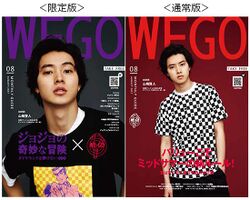 WEGO is a Japanese clothing company that offers casual Harajuku-style clothing and accessories for all demographics. Founded in 1994, the label offers a wide selection of unique clothing options and exclusive collaborations with major brands like Kappa, Disney and Shueisha. There are currently more than 150 WEGO stores spread throughout Japan.
On July 22, 2017, the company released a special collaborative line of checkered Diamond is Unbreakable-themed T-shirts and bucket hats.[2] A campaign was also held from July 21 to August 17, 2017 to celebrate the release of the Diamond is Unbreakable live-action film. During the campaign, WEGO distributed free booklets consisting of the first chapter of the Diamond is Unbreakable manga. An interview with Josuke's live-action actor, Kento Yamazaki, was also featured in WEGO's Monthly magazine.[3]
On December 14, 2018, another collaboration consisting of a Golden Wind-themed set was released to forty stores nationwide in conjunction with the broadcast of the TV Anime.[4] A similar continuation of the Diamond is Unbreakable line was also introduced on November 18, 2019, both consisting of various hoodies, crew-cut sweatshirts, Caps and tote bags.[5]
On November 8, 2020, a line based around the main antagonists featured thus far in the JoJo TV Anime was released. The clothing items in this set are similar to the previous collaborations.[6]
Gallery
Diamond is Unbreakable Set
References