Emma Noguchi
Jump to navigation
Jump to search
Le nom utilisé ne provient pas d'une source écrite par Araki (son prénom vient du film). De fait, il peut ne pas être considéré comme canonique.
Pour un autre personnage partageant son prénom, voir Emma
"
Je suis si heureuse de te revoir, mon ange.
"
Emma Noguchi (エマ・野口, Emma Noguchi) est un personnage tertiaire figurant dans le one-shot Rohan au Louvre.
Elle est une interprète japonaise travaillant aux département des éditions du Louvre et accueille Rohan Kishibe pour la visite de ce dernier au Louvre. Après avoir reçu la requête de Rohan de voir le tableau Sous la Lune, elle l'accompagne avec Gaucher et deux pompiers pour voir l'oeuvre.
Apparence
Noguchi est une femme de corpulence fine. Elle a de long cheveux blonds coiffés en un chignon sur le sommet de sa tête, lequel est attaché avec un ruban en noeud papillon. Elle s'habille en portant une vest sans manche de couleur sombres au dessus d'une blouse rose qui descend jusqu'au jambes comme une jupe. Elle porte aussi des collants jaunes troués et des chaussures noires.
Dans le film, Emma Noguchi est interprétée par une japonaise aux cheveux bruns. Elle porte une blouse violette sombre sous un pull à carreaux vert sans manches. Elle porte un pantalon brun clair.
Palettes
The series is known for alternating colors between media, the information presented below may or may not be canon.
Peau
(Peau claire, lèvres brunes)
Tenue
(Veste noire/rose, blouse rose claire, collants jaunes, chaussures noires.)
Personnalité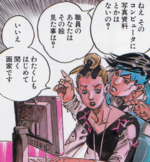 Noguchi semble être une individue polie et professionnelle, maintenant une attitude calme alors que Rohan insiste grandement pour voir un tableau. Elle a l'amabilité d'appeler le conservateur du département des Arts Asiatiques Gaucher pour Rohan afin d'obtenir l'autorisation d'aller voir le tableau que Rohan souhaite voir.
Noguchi a secrètement un grand sentiment de culpabilité en elle car son fils Pierre s'est noyé dans un lac et elle se sent responsable notamment parce qu'elle n'a pas fait attention à son fils. Lorsqu'elle le voit, Noguchi fond en larme et lui demande pardon, oubliant le danger juste après avoir vu Gaucher et deux pompiers mourir horriblement sous ses yeux.[1]
Histoire
Passé
Noguchi était la mère d'un petit garçon nommé Pierre. Un jour, elle le délaissa un moment alors qu'ils étaient sur les berges d'un lac dans un parc. Elle était allé chercher des affaires dans sa voiture mais c'est alors que Pierre tomba dans l'eau et se noya durant son absence. Après avoir découvert son fils mort, Noguchi se blâma pour la mort de son enfant.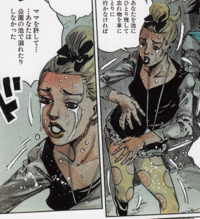 Noguchi est introduite en tant qu'interprète japonaise travaillant pour les éditions du Louvre. Elle accueille Rohan dans son bureau quand il rend visite au Louvre. Ce dernier lui demande de voir le tableau "Sous la Lune". Elle consulte la base de donnée du Louvre et trouve que le tableau est conservé dans la réserve Z-13, ce qu'elle trouve très étrange car la réserve a été vidée il y a des années et il ne devrait rien rester là. Rohan insiste pour aller voir le tableau, mais elle appelle d'abord Gaucher, le conservateur du département des arts asiatiques du Louvre pour avoir la permission. Deux pompiers vont aussi accompagner le groupe pour aller dans le souterrain du Louvre.
Le groupe arrive à la réserve Z-13. Cependant, dès qu'ils aperçoivent le tableau, les pompiers et Gaucher meurt de façon atroce. En fait, la peinture recrée des spectres à partir de la mémoire des gens et ces spectres tuent leurs victimes en recréant la façon dont ils sont morts. Noguchi, apeurée, essaie de fuir par les escaliers. Mais c'est alors que d'autres fantômes descendent les escaliers, barrant la route. Noguchi voit alors son fils Pierre. Elle fond en larme et demande pardon à son fils, ignorant le danger. Elle n'écoute pas Rohan qui lui dit de s'éloigner des fantômes et essaie d'embrasser son fils. Mais c'est alors que le corps de Noguchi se remplit d'eau et son corps gonfle comme un ballon rempli d'eau, la faisant exploser. Même dans ses derniers moments, Noguchi sent surtout de la joie d'avoir pu revoir son fils une dernière fois. On ne retrouvera pas son corps et elle est considérée comme ayant disparu.[1]
Citations

Citations
"

It's a pleasure finally meeting

you

. My name is Noguchi. I'm a Japanese interpreter for the Louvre's publishing department. Thank you for coming here all the way from Japan.

"

"

I'm so happy... to... have seen you again, my angel.

"
Galerie d'images
Détails
Le personnage de Noguchi est probablement inspiré de Masami Sakai, la véritable interprète japonaise qui avait accompagné Hirohiko Araki durant sa visite du Louvre.[2]
Dans le one-shot original, Noguchi n'était appelé que par son nom de famille. Dans l'adaptation long-métrage de Rohan au Louvre, on lui donne le prénom "Emma" (

エマ

Ema).[3]
Référence