Pierre Rouge d'Aja
Jump to navigation
Jump to search
"
Voici le cristal miraculeux que la nature a créé sans aucune imperfection ! La Super Aja !!
"

La Pierre Rouge d'Aja (エイジャの赤石, Eija no Sekiseki) est une gemme apparaissant durant Battle Tendency aux propriétés extraordinaires. Les Hommes du Pilier recherchent spécifiquement la Super Aja (スーパーエイジャ, Supā Eija), qui est un artefact essentiel de l'histoire de la partie 2.
La pierre est capable d'absorber la lumière et de la réfracter des millions de fois à l'intérieur d'elle, ce qui lui permet d'émettre éventuellement un rayon de lumière épuré et concentré comme un rayon laser. En combinant la Super Aja avec le Masque de Pierre, elle permet aux Hommes du Pilier de débloquer leur plein potentiel, d'enlever toutes leurs faiblesse dont leur susceptibilité à la lumière du jour.
Histoire
Passé
La Pierre Rouge d'Aja est un cristal qui se développe naturellement sur Terre.
Il y a environs 2000 ans, un empereur romain anonyme était en possession d'une Aja particulièrement raffinée et massive nommée la Super Aja.[1] Cars, AC/DC, et Wham la recherchèrent mais bien qu'ils avaient pu décimer le clan de l'Onde sur leur chemin durant cette période, ils n'ont pas pu obtenir la pierre et durent hiberner sous le Colisée.[2]
Pendant ce temps, ce furent les guerriers de l'Onde qui ont acquis et caché la Super Aja. Ils ne pouvaient pas la détruire car une prophécie prédisait que la Super Aja serait instrumentale à la défaite des Hommes du Pilier et que la détruire rendrait la victoire encore plus difficile.[3]
La Super Aja passa entre les mains de nombreuses générations de maîtres de l'Onde. Elle passa sous la garde de Straizo (ce qui suggère que Tonpetty l'avait à un moment), lequel l'a ensuite donné à Lisa Lisa avant sa mort durant Battle Tendency.[4]
Battle Tendency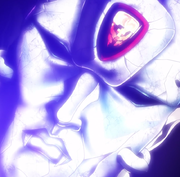 Après leur réveil en 1938, les Hommes du Piliers mentionnent leur recherche de la Super Aja. Après avoir rapidement battu Joseph et Caesar, les trois se séparèrent pour rechercher la Super Aja. Pendant ce temps, Caesar et Joseph allèrent à Venise pour voir la maîtresse de l'Onde Lisa Lisa pour s'entraîner avec elle. Lisa Lisa avait d'ailleurs la Pierre et la montra à ses élèves. Un espion nazi déguisé en pickpocket essaya de la voler mais Joseph l'arrêta.
AC/DC parvint à localiser la Super Aja dans l'île d'Air Supplena. Malgré sa défaite, AC/DC put contrôler Suzi Q, voler la pierre et faire en sorte qu'elle soit envoyée en Suisse pendant qu'il bloquait la voie aux héros. La Super Aja fut ensuite trouvé par les Nazis et Rudol von Stroheim la confisqua. Cependant, Cars trouva sa trace et combattit Stroheim pour la possession de la Super Aja. Durant le combat, la pierre faillit glisser vers le fond d'une crevasse mais Joseph parvint à la prendre des mains de Cars, laissant l'Homme du Pilier tomber au fond de la crevasse pendant que ses amis l'ont secouru.
Lisa Lisa cache la pierre dans sa valise. Piégés contre une armée de Vampires, Lisa Lisa prétend qu'elle a installé une bombe qui endommagera la pierre, forçant Cars à accepter de faire des combats pour la possession de la Super Aja. Joseph est envoyé retrouver la pierre et l'apporte à la Pierre du talon-squelette.
Durant le déroulement de "Battle Tendency", Cars vole la Super Aja alors qu'il trahit sa promesse d'un combat à la loyal et poignarde Lisa Lisa dans le dos. Malgré l'intervention des Nazis et de la Fondation Speedwagon, Cars parvient à combiner la Super Aja avec un Masque de Pierre. Les rayons UV utilisés par les Nazis activent la pierre et le masque, ce qui permet à Cars de devenir l'Etre Ultime. Joseph Joestar prend la pierre et fuit en avion pour attirer Cars dans le cratère d'un volcan dans l'espoir de pouvoir le faire tomber dans la lave. Malheureusement, Cars survit à la lave et montre qu'il peut même utiliser l'Onde. Amusé par l'ironie, Cars décide d'utiliser une attaque d'Onde pour tuer Joseph. Au dernier moment, Joseph montre la Super Aja à Cars et son Onde est refractée par le cristal. Le rayon qui en sort tire dans le volcan et déclenche une puissante éruption volcanique qui envoie Cars dans l'espace. Ce qui arrive à la Super Aja ensuite n'est pas montré.
Gallery
Détails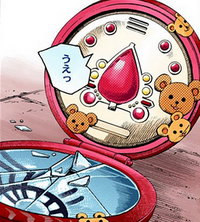 Dans le chapitre 18 de JoJolion, le jouet d'une petite fille est décoré avec un cristal ressemblant à la Super Aja.
La Super Aja est un des artefacts les plus fameux de la série et apparait dans plusieurs jeux vidéos, normalement en tant qu'attaque pour tirer un rayon laser :

Dans Heritage for the Future, le jeune Joseph utilise la pierre dans une de ses attaques.
La pierre est un objet collectible dans le monde de Jojo's Bizarre Adventure dans Jump Ultimate Stars.
La pierre fait partie de la HHA de Lisa Lisa et elle permet, si elle est équipée, aux Hommes du Pilier et aux Vampires de se battre dans des arène en plein jour dans All-Star Battle.
La pierre est utilisée dans le DHA de Joseph et Lisa Lisa dans Eyes of Heaven
Elle apparait dans le Ultimate Hero Burst de Joseph dans J-Stars Victory Vs.
Références