Dire
Jump to navigation
Jump to search
"
I, Dire, will sink you into the depths of Hell! (
このダイアーがおまえを地獄の淵に沈めてやる!
Kono Daiā ga omae o jigoku no fuchi ni shizumete yaruǃ
)
"
Dire (ダイアー, Daiā) is a tertiary ally featured in the first part of the JoJo's Bizarre Adventure series, Phantom Blood.
Dire is a Ripple user studying under the Ripple master Tonpetty, alongside Straizo. As a close friend of Will Anthonio Zeppeli, he aids Jonathan in his fight against Dio Brando and his army of zombies.
Appearance
Dire is a very muscular mature man who has chiseled facial features and has light hair and an oversized flattop with a widow's peak.
He wears ample cotton clothes with padded tissue shoulder pads, with fringes of cloth sticking out from his shoulders and ankles. He also wears a leather vest and dark wristbands. He rolls up his sleeves to let his arm in the open.
His design changes significantly in the anime where he loses the leather armor for a simple vest that covers the arm, and instead wears a gorget and metallic shoulder pads. Moreover, the fringes are reduced to a pair of spikes coming out of the shoulder pads.
Color Schemes
The series is known for alternating colors between media, the information presented below may or may not be canon.
Outfit
(Light blue clothes, khaki leather armor, brown belt, black accessories.)
Outfit
(Violet clothes, black and brown leather armor and accessories.)
Outfit
(Gray clothes, armor and accessories, dark blue pants.)
Personality
Dire is portrayed as a fierce but honorable Ripple User and fighter. Upon meeting Jonathan, he tests Jonathan's fighting ability at countering an imperfect Thunder Split Attack, and later asks Jonathan that he lets him fight Dio one on one to avenge his friend Will A. Zeppeli. Even in death, Dire is determined, taunting Dio one last time by sending a Ripple-infused rose into the vampire's eye.
Abilities
Dire has shown incredible mastery of the Ripple. He has complete control of his body and its speed, to the point of making afterimages when moving. He manipulates his speed to look slower than he actually is, a technique to make enemies over-confident and eventually lower their guard. He is also able to infuse objects with the Ripple and manages to use it just after being decapitated (on a rose), with the remaining oxygen in his brain.
Dire jumps at his opponent and does a split with his legs, preventing the opponent from moving their arms. He then attacks his foe's neck with a chop imbued with the Ripple. It's quick enough that Dire is even able to put objects on his opponent without them noticing, as he slips a letter in between Jonathan's shoulder and backpack. This attack's weakness is that it leaves Dire's guard open for a headbutt or another direct attack.
History
Background
Dire was a good friend of Will Anthonio Zeppeli, who trained with him and Straizo to be Ripple masters under Tonpetty. When Tonpetty received a letter from Zeppeli revealing the location of the Stone Mask, Dire travelled to Windknight's Lot with his master and Straizo.
Phantom Blood
Dire first introduced himself after suddenly attacking Jonathan, where Dire used his Thunder Split Attack against him. However, Jonathan countered the move by headbutting him. The Ripple user then revealed that he only attacked Jonathan to test his strength and see if he really was Zeppeli's friend. To prove he came to help, Dire gave Jonathan the letter Zeppeli wrote.[3]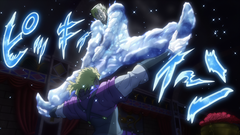 Before Dio Brando and Jonathan had their last fight, Dire fought Dio to avenge Zeppeli. However, even Dire's best attack, the Thunder Cross Split Attack, didn't stand a chance against Dio's Freezing Attack, which completely turned his body into ice and then shattered it. Dire, now only a head, was able to use his last ounce of Ripple energy to shoot a rose into Dio's eye. For that, Dire's head was turned into ice as well and destroyed.
Chapters / Episodes

Manga Appearances
Chapters in order of appearance

Anime Appearances
Episodes in order of appearance

Novel Appearances
Chapters in order of appearance
Quotes

Quotes
"

My name is Dire. (

我が名はダイアー

Waga na wa Daiā

)

"

"

Certain death! Thunder Split Attack! (必殺!稲妻空烈刃!!Hissatsu! Sandā Supuritto Atakku!!)

"

"

I, Dire, will sink you into the depths of Hell! (

このダイアーがおまえを地獄の淵に沈めてやる!

Kono Daiā ga omae o jigoku no fuchi ni shizumete yaruǃ

)

"

"

You fell for it, fool! Thunder Cross Split Attack! (かかったなアホが!稲妻十字空烈刃!Kakatta na aho gaǃ Sandā Kurosu Supuritto Atakkuǃ)

"

"

Heheh... Th-That rose thorn infused with the Ripple is p-painful... isn't it...? Ha... (

フフ……は…波紋入りの薔薇の棘はい、痛か……るう………フッ

Fufu... Ha... Hamon-iri no bara no toge wa i, ita ka... ru... Fu...

)

"
Video Games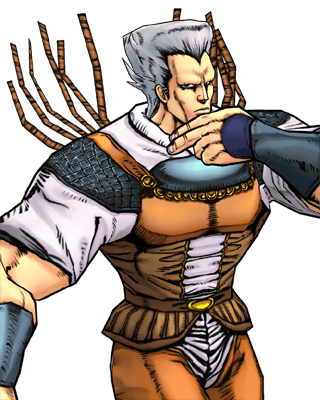 Dire appears as a playable character in 77 Rings Knights Mode, some battles in Extra Battle Mode, and Chapters 19 and 20 after Story Mode is beaten. His moveset consists of mainly normal punches and kicks, with his special Ripple move being Thunder Split Attack. He can also throw Ripple-charged roses and dodge attacks in a similar fashion to how he controlled his body speed in the original story.
Dire








Ripple Heavenly Thunder Upper












Running

Running



during damage

(LV0-3)















Available Stages:
Story Mode Replay: Chapters 19, 20
Extra Battles 21, 22, 24, 25, 31, 32
77 Rings Knights Mode: Ripple Warriors
Dire appears as a support character in the game's Campaign Mode, where he uses his Thunder Split Attack on the player's opponent, which will reduce their health by 40% if successful. If the player pays an extra energy point, he will instead use Thunder Cross Split Attack, dealing 30% more damage. He is also available as an avatar image and quote for the player's profile in Campaign and Online modes.
Dire appears in Diamond Records as a playable character in both the Action Battle and Tactical Battle game modes. He has two 'Courage' type statues, one 4 star and one 5 star statue. Dire's moveset in both game modes is comprised of various ripple-based attacks inspired by the anime. As a ripple user, Dire has an advantage over vampires, zombies, and pillar men. Unlike a majority of statues in the game, Dire lacks an unlockable SP skill.

Dire

Offensive and Defensive Special Technique ver.
Rarity:

Max Power: 1099
(Lvl 50)
/ 2329
(Lvl 80)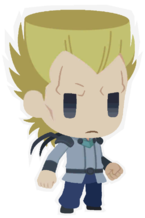 Favorite Gift and Voiced Gift Reactions:

Skill: Thunder Cross Split Attack

Replaces panels on the corners with partner panels




































Skill Lv 1
# of Replaced Panels:
8
Cooldown:
85




































Skill Lv 2
# of Replaced Panels:
10
Cooldown:
85




































Skill Lv 3
# of Replaced Panels:
10
Cooldown:
80




































Skill Lv 4
# of Replaced Panels:
12
Cooldown:
80




































Skill Lv 5
# of Replaced Panels:
12
Cooldown:
75
Gallery
Dire asking Jonathan and company to stay back, while seeking revenge for Zeppeli (Part 3 OVA Timelines)
Trivia
References