User:Nabu
Jump to navigation
Jump to search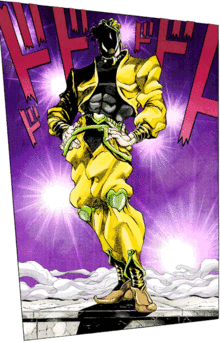 About Me
Hello guys and gals, I'm a very big JoJo's Bizarre Adventure fan since 2012. I pretty much loves all of it and particularly how Araki makes every personality unforgettable. Currently up to date with Jojolion.
Otherwise, I'm fan of One Piece, Sun Ken Rock, Berserk... a lot of manga/comics/movies but not so much on the videogame side of things.
My favorite pages
First every personality section I've made significant contributions to.
To DO
Complete individual Stand pages with pictures and gifs
Minor Items/Locations from Novels

SDC
PHF
GHGR
JORGE
The Book

Complete chapters pages with B&W images.

Characters definitely not done

Sourcing articles, for now, Stands.

JJL Stands KINDA DONE, TO UPDATE, TO DETAIL MAYBE
Personality sectionsMajor characters DONE
Actually detail the sources

Complete French chapters page

JJL VOL 18 done mais à vérifier

Add intro summaries to story arc pages.
Standardize the history sections

Part 1-7 Done asaiac Part 8 is good enough

ADD QUOTES FROM NOVELS/VIDEO GAMES
I'll update some stuff of the main page each 01 & 15 of the month
Useful links
https://cgworld.jp/regular/201709-vfxanatomy-cgw230-3.html
https://m.weibo.cn/status/4151646257178555
https://jp.hjenglish.com/new/p1255902/
https://www.youtube.com/watch?v=VhLgQqRgOU8 Sugita JoJo RaDIO

https://www.videor.co.jp/tvrating/ 15 Janvier