Toyohiro Kanedaichi
Jump to navigation
Jump to search
"
I see, so you were curious about my house?
"
Toyohiro Kanedaichi (鋼田一 豊大, Kanedaichi Toyohiro) is the alias of a tertiary antagonist featured in the fourth part of JoJo's Bizarre Adventure, Diamond is Unbreakable, specifically in the "Let's Live on a Transmission Tower" story arc.
Kanedaichi is a hermit living inside a transmission tower, which is revealed to be his own Stand, Super Fly. Trapped and wishing to escape his tower, he draws Josuke inside his home and subsequently battles him, Okuyasu and Mikitaka. His real name and identity are unknown.
Appearance
Kanedaichi is a man of average height with a defined muscular build, wearing iron kneecapped pants and a crop top that connects to his belt via two suspenders attached to his shirt pockets. He also wears a hat that appears to be based off either a mariner's or newsboy's cap but with the hat's visor located higher up the hat's crown. Like many other part 4 characters, Kanedaichi's clothing is adorned with several brooches, with his in particular reflecting nature. These include a spider and a butterfly on his shirt and leaves on his belt and armbands.
Kanedaichi's most unique feature is his masks; initially he appears quite well defined and with hair poking out underneath his hat. However, once he removed his first mask, his ears become inhuman in shape with the colors in his eyes inverting. His skin also seems to sag around the bottom of his neck, making the mask more noticeable. In addition, he wears a different hat that is similar to his first but without the brim. The final mask shown is quite unflattering, as Kanedaichi's head is adorned with only a few tufts of hair and his lips become wide and droopy.
All three of his confirmed faces have two, stitch-like markings that run down Kanedaichi's cheeks.
Color Schemes
The series is known for alternating colors between media, the information presented below may or may not be canon.
Skin
(Fair, gray cheek-marks)
Outfit
(Army Green and purple-black clothes with gold accessories.)
Skin
(Light tan, tan cheek-marks)
Outfit
(Green hat and green and purple top with dark green pants and gold accessories.)
Personality
Initially, Kanedaichi showed himself not to be above trickery, as he tricked Josuke Higashikata into entering Super Fly while he himself plotted a means of escape. However, he states during his fight with Josuke he didn't want to kill anyone and even warns Josuke when he falls. He also says he didn't think he'd actually escape and that his plans don't usually work out. He admits he stayed in the tower in the first place because he was scared of civilization and only decided to leave because Yoshihiro tricked him by saying he would set him for life if he would trap Josuke and his friends. He proves to be regretful as he offers to treat Josuke and his friends to dinner and tend to their wounds though they decline.
Toyohiro was ready to do anything to escape his tower, although he tried not to hurt anyone in doing so and it was Josuke and Mikitaka's determined resistance who pushed him into fighting them. He ultimately has a change of heart, saves Josuke by telling how to exploit the power of Super Fly, and willingly lives a peaceful life in the tower, interacting with tourists casually.
His real name and appearance are unknown, as he wears a mask and everything he said about himself was part of a trick. It is mentioned that he is anti-social which is why he hides his identity. This also explains why he abandoned society in the first place to live in the tower.
Abilities
Main article: Super Fly
Kanedaichi's Stand is Super Fly, bound to his transmission tower. Super Fly acts automatically to trap one person inside of the tower, including its own user, and reflects attacks back to any aggressor.
Super Fly
(
スーパーフライ
)


Ability
Occupant Restraint & Damage Reflection
Personal
After living in his tower for so long, Kanedaichi has developed huge calluses on his palms, allowing him to hammer nails, slide down a cable, aid him in calculations, and hide tools.
He is also highly acrobatic, able to swing around the telephone tower to dodge strikes with ease.
History
Background
Three years before the events of Diamond is Unbreakable, Kanedaichi purchases a decommissioned transmission tower from the power company for 100,000 yen and converts it into a self-sufficient house.[2] Choosing to live in the tower out of his own introvertedness,[3] he eventually develops a self-inflicting Stand named Super Fly that only allows him to stay within its boundaries. Kanedaichi inevitably grows tired of his condition. He eventually meets Yoshihiro Kira offscreen, who offers him a good life outside the tower if he's able to trap a Stand user inside it.
Diamond is Unbreakable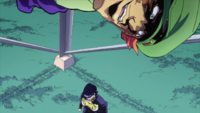 Kanedaichi is introduced as a hermit living alone in an old, retired transmission tower that Josuke Higashikata, Okuyasu Nijimura, and Mikitaka Hazekura come across one day. To lure them closer, Kanedaichi plays the part of a solitary hermit proud of his lifestyle. Yoshihiro deliberately slips out of Kanedaichi's pocket and Kanedaichi tells Josuke to stay away precisely to lower his guard. When Josuke sees Yoshihiro, he steps inside the tower, allowing Kanedaichi to lean outside of its boundaries, while Josuke finds himself trapped. Kanedaichi prepares to slide down a cable to escape, but is interrupted by Josuke and Okuyasu who summon their respective Stands to pummel one of the legs, only to be attack back by Super Fly's ability. Okuyasu is wounded while Josuke is still trapped.
Satisfied, Kanedaichi begins to slide down the cable but Mikitaka reveals that he's merged with the cable. Cutting the cable, Mikitaka swings Kanedaichi back into the tower, allowing Josuke to escape. Kanedaichi reveals a pocket knife hidden in his palm and cuts at the cable, but Mikitaka reveals that the cut part was part of the real cable. Kanedaichi falls, but safely lands on one of the beams and reveals his real plan. Depiste having missed Mikitaka, the cable still reflect the attack back at the alien. Then, Kanedaichi deliberately hammers screws into the framework to shoot them towards Mikitaka, nailing him to the structure so that he becomes the new prisoner. Now free, Kanedaichi allows himself to reveal that he's operating under an alias and with a mask so the heroes will have no chance to find him.
Josuke decides to step back into the tower to defeat Kanedaichi. Although Josuke thinks he's cornered Kanedaichi in the scaffolding, the latter proves to be agile enough to keep away from Crazy Diamond while it is Josuke who has difficulties navigating the tower. Kanedaichi drool on Josuke as a distraction and scratches the beam above him to reflect the damage toward Josuke. Even though Crazy Diamond deflects the initial attacks, Kanedaichi set up his angles so that the attacks will bounce into the frame of Super Fly and hit Josuke from behind. Josuke manages to only deflect four of the attacks, but as Kanedaichi leans forward to better see Josuke's fall, the attacks Crazy Diamond touched are repaired, meaning the energy now travels backward back to its original point and with Kanedaichi now in the way. Kanedaichi is hit in the head.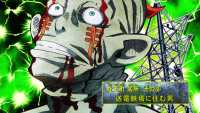 Although Kanedaichi is taken out, his blood drips onto the spot where Josuke is holding himself. The hermit still intervenes and tells Josuke how to safely be shot back into the framework of the tower. Kanedaichi yields and reveals that it was never his intention to kill people, but that he wanted to escape. With people such as Josuke out there, Kanedaichi revises his goal and prefers to remain inside of the tower. He becomes a Morioh landmark, letting tourists take his picture with them for spices and tools. However, he then reveals that Yoshihiro has created a new Stand User that has taken care of Koichi Hirose.
---
---
After the final battle with Yoshikage Kira, he is seen talking to Mikitaka at the tower, asking him if the town really is as interesting as he makes it seem.
---
---
Kanedaichi continued to live in the iron tower. Becoming an attraction in Morioh, he maintains contact with the outside world talking with tourists, who often go to chat and bring him condiments and sweets. His name is still unknown, so people call him the "Iron Tower Man". Chiho Futaba doubted the story but then heard that there are more bizarre stories in Morioh, such as that of a girl who lived between two buildings.
Chapters / Episodes

Manga Appearances
Chapters in order of appearance

Anime Appearances
Episodes in order of appearance

Novel Appearances
Chapters in order of appearance
Quotes

Quotes
"

If I said "Come on in!" you'd hesitate, but if I say "Stay out", you want to come in! All I had to do to get you inside was to tell you to go away? And now you're in my Superfly, Josuke Higashikata!

"

"

I was Superfly's prisoner too! And now that you're here, I can finally leave! I never asked to live this way, but hey, now that I'm free, you can deal with it!

"

"

I keep a Swiss army knife inside my calluses!

"

"

I've practiced this over and over. Controlling the angle and force of the reflection... it's on target!

"
Video Games
Main article: JoJo's Pitter-Patter Pop! ★ Toyohiro Kanedaichi

Kanedaichi

Imprisoned in the Transmission Tower ver.
幽閉される送電鉄塔 ver.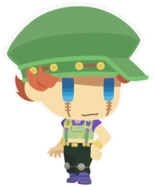 Rarity:

Max Power: 1080
(Lvl 50)
/ 2280
(Lvl 80)
Release Date: January 20, 2020
Favorite Gift and Voiced Gift Reactions:

Skill:
Super Fly

Chooses from 6 possible spots and replaces them with Kanedaichi panels. All the panels below the chosen panels are replaced with Kanedaichi panels




































Skill Lv 1
# of Replaced Panels:
1
Cooldown:
85




































Skill Lv 2
# of Replaced Panels:
2
Cooldown:
85




































Skill Lv 3
# of Replaced Panels:
2
Cooldown:
80




































Skill Lv 4
# of Replaced Panels:
4
Cooldown:
80




































Skill Lv 5
# of Replaced Panels:
4
Cooldown:
75
Gallery
Crazy Diamond sending the reflected cuts back where they came from, hurting Kanedaichi in the process
Crazy Diamond sending the reflected cuts back where they came from, hurting Kanedaichi in the process
Trivia
Araki based Kanedaichi off of vagabonds and free spirits that were prevalent at the time, who would turn abandoned cars or caves into personal homes.[4]
Kanedaichi's English voice actor, Sean Chiplock, would later voice Guido Mista.
References