JOJO WORLD 2
Jump to navigation
Jump to search
JOJO WORLD 2
is an upgrade of the limited-time
amusement center
JOJO WORLD
. It is for the
JoJo's Bizarre Adventure
anime
's
tenth anniversary
, organized by
Bandai Namco Amusement
.
The event was announced on April 4, 2022. The first location was held at Ikebukuro, Tokyo and lasted from August 10, 2022 to October 10, 2022 while the second location, Niigata, lasted from September 17, 2022 to October 10, 2022. The Hokkaido event will last from October 19, 2022 to November 13, 2022 and the Hiroshima event will last from October 19, 2022 - November 10, 2022. The Hakata and Saitama events are scheduled for November 2022.
Summary
JOJO WORLD 2 will feature new attractions that allow visitors to experience the world of JoJo's Bizarre Adventure, mini-games with prizes featuring original illustrations, merchandise sales, photo spots, and more.[1][2] Those who spend 3,000 yen or more will receive a tote bag. Those who buy a soft drink will receive a random acrylic coaster.
Minigames and Attractions
Photo Spot with Each Generations' JoJo!
歴代ジョジョと一緒に!フォトスポット Rekidai JoJo to issho ni! Foto Supotto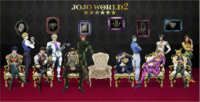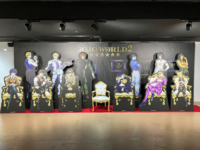 Blood Ritual! ~The One Chosen By The Stone Mask~
Take Me! Caesar's Soap Roulette
Hand Over Iggy's Favorite Coffee Gum!
Good! Bet Your Souls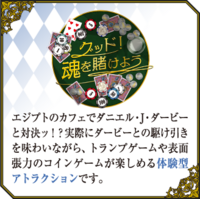 A experience-based attraction where one to two players can play poker against Daniel J. D'Arby while bargaining their souls. Depending on your actions, the outcome and reactions of D'Arby will change. It costs 1,100 yen to play and lasts an estimated 15 minutes. The prize is a random clear file of one of the 9 Egyptian Gods featured in Stardust Crusaders.

M prefecture S City Morioh Town, Bizarre Sightseeing Tour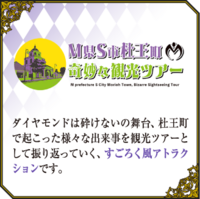 A attraction in which you visit famous locations from Morioh, the ending of the attraction changes as a result of the minigames. All participants will receive a Morioh sightseeing tour set which includes a clear file and ticket. If you successfully clear the quest you will receive a group photo. The tour can be played as a one or two player mode, and the two player mode allows for more turns.

Passione Special Secret Mission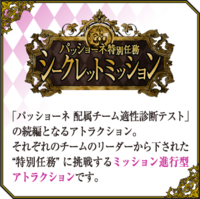 A attraction that intends to be a sequel to the attraction "Passione Team Assignment Suitability Diagnostic Test", it is a mission-progressing attraction that allows the player to use a computer and challenge a game. It costs 1,100 yen to play and lasts an estimated 15 minutes. After completing the special mission, you can receive a card and envelope from a Passione or Assassin Team member.

Deliver the Disc! Savage Guardian and Weather Report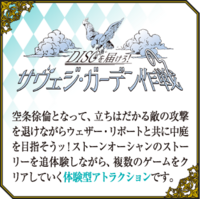 A hands-on attraction where you can challenge multiple games reliving the story of Stone Ocean so far. It costs 1,100 yen to play and lasts an estimated 10 to 15 minutes. It can be played by one or two people, and those who complete the attraction will receive a DISC style can badge.

JOJO WORLD 2 WEB Minigame
Gallery
References