S City
Jump to navigation
Jump to search
S City (S市, S ichi)
Locations
:
Main article: Morioh
Morioh (杜王町, Moriō-chō) is a small town located near the S City.
S City M Community College
(

S市M短大一年。

S ichi M tandai ichi-nen)
In
Deadman's Questions
, Kira Yoshikage rides a train to S City to meat with
a monk
. He gets of the train on this station.
In TSKR Episode 7, Rohan plans to meet with a person on the S City Station.
Residents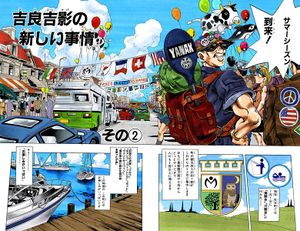 Many residents of S City go on a summer vacation to Morioh.[1]

Steel Ball Run Continuity
Residents
Chapters / Episodes

Manga Appearances
Chapters in order of appearance

Anime Appearances
Episodes in order of appearance
TSKR Episode 9 (OVA): The Run (Mentioned only)
References