Rohan Kishibe Chez Gucci
Jump to navigation
Jump to search
Rohan Kishibe Chez Gucci
(

岸辺露伴 グッチへ行く

,

Kishibe Rohan Gutchi e Iku

)
, aussi titré "Rohan da Gucci" en Italien, est une histoire courte écrite et illustrée par
Hirohiko Araki
. Le one-shot a été publié dans le numéro d'octobre 2011 du magazine de fashion féminin
Spur
. Le one-shot a aussi été inclus dans la première anthologie de la série
Thus Spoke Rohan Kishibe
, et republié en couleur dans
JOJOmenon
.
L'histoire est celle du mangaka Rohan Kishibe, personnage de Diamond is Unbreakable, qui se rend à Florence en Italie pour faire réparer le sac Gucci de sa grand-mère décédée.
Résumé
Rohan Kishibe se rend à Florence, en Italie, avec un sac à main Gucci que lui a léguée sa défunte grand-mère. Ce sac avait la capacité surprenante de faire disparaître des objets de valeurs dès qu'on les insérait dans le sac et qu'on le fermait et réouvrait. C'est pour celà que Rohan se rend dans un atelier Gucci situé près de Florence, avec une interprète, pour Pour cette raison, Rohan se rend à l'usine Gucci pour montrer ce défaut du sac, en y mettant un stylo, un bonbon et 60 euros en billets pour montrer ce qui se passe à l'un des artisans. L'artisan répond par un discours élogieux sur la philosophie de la maison Gucci et la qualité de ses artisans et de ses produits. Il explique alors que le sac en possession de Rohan est l'un des trois sacs spéciaux fabriqués par l'un artisan de génie légendaire de Gucci. Comme Rohan insiste pour faire réparer son sac, l'artisan lui demande à nouveau s'il veut vraiment "réparer" le sac, disant que Rohan ne semble pas avoir réalisé le "véritable mode d'emploi" du sac. Rohan ignore cette déclaration et demande à l'artisan de le réparer quand même. Finalement, le sac est réparé et Rohan part.
Quelque temps plus tard, l'interprète a embobiné Rohan en l'ayant a emmené dans une cave à vin pour le souler et lui a volé tous ses objets de valeur à l'exception du sac, laissant le mangaka errer seul à dans la campagne alors que la pluie commence à tomber. Cependant, Rohan trouve un nouveau parapluie Gucci sur le sol et une voiture s'arrête rapidement pour l'aider.
En entrant dans un hôtel, le réceptionniste lui propose la plus petite chambre qu'ils ont pour un prix de 60 euros la nuit mais n'a ni argent, ni passeport, ni autre pièce d'identité. Alors qu'il s'apprête à devoir partir, un homme se montre intéressé par son parapluie et lui propose 60 euros pour le parapluie. À ce moment-là, Rohan se souvient des billets de 50 et de 10 que le sac avait fait disparaître et comprend la "véritable utilité" du sac. Le sac stocke la valeur des objets pour les retourner à son propriétaire en cas de besoin. Vu qu'il a fait "réparer" le sac, il comprend que c'était le dernier "échange équivalent" que ce sac Gucci a pu lui faire et regrette de ne pas y avoir mis le billet de 100 euros.
Liste des Personnages
Stands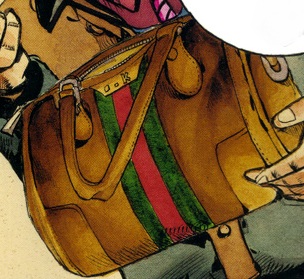 Unnamed Genius Artisan
Note d'Auteur

Author's Note
"
I am honored! It was a genuine adventure in the unknown! I found myself having to produce a manga about the famous Gucci brand. Trying to find a way to take on this subject a real conundrum, but then I thought about Rohan. He thus came up just after the subject. He's really able to travel everywhere in any circumstance for his work, which is really convenient. When he became the protagonist, the story came by itself. I tried to have him hold the traditional bag from the brand and wear some of Frida Gianinni's creations while respecting the detail to the best of my ability. I also thank the courageous choice of Spur magazine.
"
Galerie d'Images
Détails
Ce one-shot marque la première fois qu'Araki collabore avec un magazine de mode pour écrire une histoire courte faisant la publicité d'une marque de mode.
Références