Słońce
Jump to navigation
Jump to search
"
Słońce samo w sobie jest Standem!!
"
Słońce (サン(太陽), San) to Stand Arabia Fats, występujący w trzeciej części serii JoJo's Bizarre Adventure, Stardust Crusaders. Jak sama nazwa wskazuje, Słońce przybiera wygląd małego słońca, które promieniuje palącym ciepłem i może strzelać skoncentrowanymi wiązkami w swoje ofiary.
Wygląd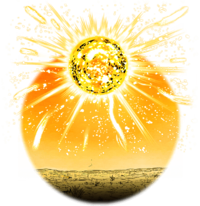 Słońce pojawia się jako ognista kula imitująca prawdziwe słońce,[2] choć uważa się, że jest znacznie mniejsza. Nieustannie zawisa on na wysokości około 100 metrów nad ziemią.[3]
Reprezentuje kartę tarota Słońce, która symbolizuje obfitość, szczęście i zabawę.
Schematy kolorów
Seria znana jest z zmiennych kolorów między mediami, informacje przedstawione poniżej mogą, ale nie muszą być kanoniczne.
Słońce
(Różne odcienie żółtego, żółto-pomarańczowego i białego)
Słońce
(Różne odcienie żółtego, pomarańczowego, brązowego i białego)
Umiejętności
Słońce to niezwykle potężny Stand o dużym zakresie działania. Jednak nie robi nic, aby chronić swojego użytkownika,[2] który musi pozostać w pobliżu i ukryć się
Replika słońca
Najważniejszą mocą Słońca jest emitowanie światła i ciepła na śmiertelnych poziomach na dużym obszarze.[4]
Słońce nie tylko świeci wystarczająco jasno, aby sprawiać wrażenie bycia w środku jasnego dnia, mimo że pora wskazuje, że jest noc,[4] ale także podnosi temperaturę otoczenia do 80 °C (176 °F).[3] Co więcej, może utrzymać ten poziom mocy przez długi czas, ponieważ Arabia Fats był gotowy prześladować Grupę Joestar i pozwolić im umrzeć z powodu gorąca Słońca.[3]
Z drugiej strony, Arabia musi również podjąć środki ostrożności, aby nie zostać dotkniętym przez jego własny Stand.[3]
Energia promienia świetlnego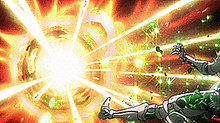 Oprócz promieniowania cieplnego, Słońce jest również w stanie wystrzelić "energię promienia świetlnego" ze swojej fotosfery,[2] zdolną do wyrządzenia znacznych szkód.[3]
Gdy jest zagrożony, będzie strzelał promieniami we wszystkich kierunkach, ale może również uderzać z precyzją, niszcząc lornetkę w rękach Josepha Joestara.[3] Mogą przebić ciało, ale miecz Silver Chariota jest w stanie je odbić.
Rozdziały / Odcinki

Występy w mandze
Rozdziały w kolejności pojawiania się

Występy w anime
Odcinki w kolejności pojawiania się

Występy w nowelach
Rozdziały w kolejności pojawiania się
Gallery
Ciekawostki
Przypisy
Nawigacja w witrynie