Goo Goo Dolls
Jump to navigation
Jump to search
"
Goo Goo Dolls.
Esse é o nome do meu poder espiritual. Entãooo? Você gostou dele,
Jolyne
? Ele não é legal?
"

Goo Goo Dolls (グーグー・ドールズ, Gūgū Dōruzu) é o Stand de Gwess, apresentado na sexta parte de JoJo's Bizarre Adventure, Stone Ocean. Goo Goo Dolls é um pequeno Stand humanoide cujo poder é instantaneamente encolher suas vítimas e mantê-las pequenas desde que elas não saiam de perto de Gwess.
Aparência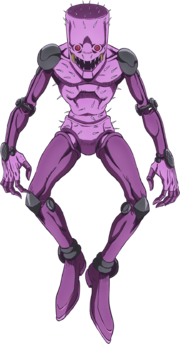 Goo Goo Dolls se manifesta como um pequeno Stand robótico e humanoide, aproximadamente da altura de um camundongo. O corpo do Goo Goo Dolls é dividido em partes, com juntas mecânicas e uma cabeça cilindrica coberta por cravos, e olhos com padrões de cruz. O Stand possui um conjunto de dentes afiados em uma mandíbula costurada de forma solta, que mantem sua boca aberta. Os dedos do Goo Goo Dolls também são muito afiados, capazes de cortar suas vítimas.
O design do Goo Goo Dolls é baseado em um macaco mumificado.[1]
Esquemas de Cores
A obra é conhecida por sua mudança de cores entre as mídias, a informação apresentada abaixo pode ou não ser cânon.
Body
(Purple body with silver joints and spikes, yellow mouth tendons.)
Body
(Lavender body with gray joints and spikes, mustard yellow mouth tendons.)
Personalidade
Goo Goo Dolls demonstra uma personalidade feroz, capaz de sussurrar o som "Goo" (グー) mas do contrário atacando seus inimigos com imprudência. Ele pode ter uma certa perspicácia já que ele é dito tirar vantagem de seu poder quando em batalha.[2]
Habilidade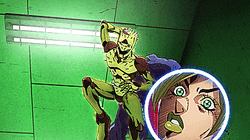 O Goo Goo Dolls é muito fraco devido a seu tamanho reduzido e ele não é adequado a batalhas contra outros usuários de Stand, mas seu poder de encolher pessoas é perfeitamente adequado ao hábito de Gwess de intimidar aqueles mais fracos que ela e suas garras afiadas são afiadas o suficiente para rasgar pessoas encolhidas ao meio.
Goo Goo Dolls tipicamente se esconde perto de uma vítima encolhida, de alguma forma capaz de se esconder nas mesmas peles de animal que Gwess dá aos seus "animais de estimação" e irá automaticamente atacá-los caso eles desobedeçam as ordens de Gwess.[2]

Redução de Tamanho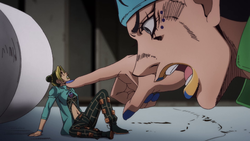 Goo Goo Dolls tem a habilidade de reduzir o tamanho de qualquer um dentro de seu alcance.[3] É sugerido que ele só irá funcionar naqueles que são alvos do desejo de amizade e controle de Gwess.[4]
Quando no alcance, o Goo Goo Dolls pode instantaneamente encolher sua vítima ao tamanho de um camundongo, a redução de tamanho é instantânea e imperceptível para a vítima.[3] Pelo outro lado, uma vez que a vítima encolhida vai longe o suficiente de Gwess, ela crescerá de volta continuamente em um ritmo mais lento,[5] embora tenha sido mostrado que Gwess também pode fazer suas vítimas crescerem de volta instantaneamente.
Gwess tipicamente usa esse poder para criar bichos de estimação improvisados que ela esconde em peles de animais e usa para brincar.[6]
Capítulos / Episódios

Aparições no Mangá
Capítulos em ordem de aparição

Aparições no Anime
Episódios em ordem de aparição
Galeria
Referências