Highway to Hell
Jump to navigation
Jump to search
"
N-No momento em que ele se enforcou!! M-meu pescoço... É conectado?! Meu corpo está acabando... do mesmo jeito... que o dele?!
"
Highway to Hell (ハイウェイ・トゥ・ヘル, Haiwei Tu Heru) é o Stand dado a Thunder McQueen pelo Whitesnake, apresentado na sexta parte de JoJo's Bizarre Adventure, Stone Ocean. Aparecendo como um conjunto de propulsores de sua vítima, o Highway to Hell causará todo o dano que McQueen sofre a uma vítima específica.
Aparência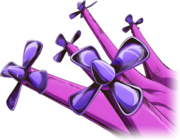 Highway to Hell aparece como um conjunto de protusões com propulsores em miniatura que que saem do meio que McQueen usa para tentar se suicidar.[1] As mesmas quatro protusões aparecem no mesmo local em que sua vítima para sinalizar o ferimento compartilhado.
Esquemas de Cores
A obra é conhecida por sua mudança de cores entre as mídias, a informação apresentada abaixo pode ou não ser cânon.
Habilidade
Highway to Hell não possui habilidade de combate, mas sua habilidade de compartilhar dano, combinado com a tendência suicida patológica de Thunder McQueen, faz dele um Stand surpreendentemente perigoso.
Compartilhamento de Dano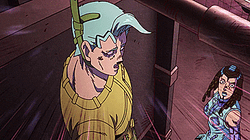 Quando McQueen tenta se matar, ele também pode fazer outra pessoa morrer junto dele na mesma maneira em que ele morrer.[2]
Quando McQueen aplica o Highway to Hell em alguém, o alvo sofrerá do mesmo dano que ele inflige a si mesmo, através do Highway to Hell se manifestando no corpo da vítima como a fonte do ferimento. Por exemplo, se McQueen tentar se enforcar, o Highway to Hell se manifesta em volta do pescoço da vítima com traços de uma corda esmagando sua garganta;[3] quando McQueen tenta se afogar, o Highway to Hell aparece como uma massa de líquido cobrindo a boca e nariz da vítima.[4] Os parâmetros do Highway to Hell até sugerem que o próprio McQueen morrer de fome também poderia possivelmente funcionar. Além disso, a pessoa ligada a McQueen também assume a mesma pose que ele.[4]
Highway to Hell funciona mesmo se o alvo fugir de McQueen,[5] então para salvar a vítima, deve-se parar McQueen de se matar e remover o disco do Stand.[3][6]
Capítulos / Episódios

Aparições no Mangá
Capítulos em ordem de aparição

Aparições no Anime
Episódios em ordem de aparição
Galeria
Curiosidades
Quando precisando levantar alguém para fazê-lo cometer suicídio, Hirohiko Araki pensou que seria legal fazer o Stand usar propulsores em vez de uma corda.[1]
Referências