Burning Down the House
Jump to navigation
Jump to search
"
Isso não é uma casa onde um
fantasma
mora. A própria casa é um fantasma.
"
Burning Down the House (バーニング・ダウン・ザ・ハウス, Bāningu Daun Za Hausu) é o Stand de Emporio Alnino, na sexta parte de JoJo's Bizarre Adventure, Stone Ocean. Esse Stand é uma puramente uma habilidade e permite que Emporio que interaja com os fantasmas de uma sala e os objetos contidos dentro dela.
Aparência
Burning Down the House não tem forma física, ele se materializa como o fantasma de uma sala de música escondida atrás de uma rachadura invisível na parede de uma escadaria na Prisão Green Dolphin Street. Suas caracteristícas mais notáveis são um grande piano completo com um assento no centro com um tapete grande e estampas de Lichtenstein na parede. A sala também incorpora uma cadeira e uma pequena mesa na qual há um prato com uma latinha, um copo com suco de laranja e uma barra de chocolate.[1] Outras mobílias incluem vários gaveteiros e estantes as quais possuem livros e objetos miscelâneos.
Habilidade
Apesar da falta de habilidades relacionadas ao combate do Stand, a utilidade do Burning Down the House através do uso de seus objetos fantasmas permite que Emporio ajude Jolyne com eficácia durante Stone Ocean.
Objetos Fantasmas
ALERTA DE SPOILERS: Spoilers da Parte 6 podem estar presentes abaixo.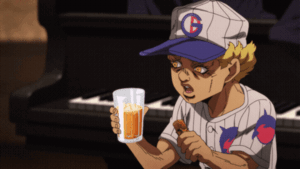 Burning Down the House permite que Emporio veja, toque e uso os fantasmas de objetos e salas.[1]
Em 1984, a Prisão Green Dolphin Street pegou fogo e várias partes foram completamente incineradas e eventualmente trocadas em renovações. Emporio é capaz de ver e usar os fantasmas dos objetos destruídos no incêndio, mas também acessar a sala de piano destruída através de uma rachadura escondida em uma parede. Devido a sua natureza, os objetos são de uso limitado; por exemplo, uma barra de chocolate fantasma pode ser degustada mas não comida já que ela cai da boca de Emporio.[1] No entanto, ele foi capaz de usar um computador fantasma livremente para fazer pesquisas.[2] Ele pode pôr objetos fantasmas em seus bolsos ou uma bolsa pequena[3] independente de tamanho.[4]
Para entrar na sala de piano, uma pessoa deve primeiro passar por uma pequena rachadura na parede de uma escadaria em que tudo parece achatado.[1] Qualquer usuário de Stand é capaz de ver a rachadura na parede levando a sala de piano, mas aqueles que não sabem sobre Emporio não darão atenção a ela.[5]
Também há um revólver fantasma que Emporio pode usar, mas sua natureza o torna inofensivo já que ele não pode matar nenhum ser vivo. Porém, as balas podem interagir com outros objetos fantasmas tais como livros.[1] Após duplicar as balas da arma com o Stand Kiss de Ermes Costello, Emporio pode essencialmente voar ao atirar a bala duplicada e então tirar o adesivo da bala restante, fazendo ele ser lançado na direção em que a bala foi disparada.[6]
Capítulos / Episódios

Aparições no Mangá
Capítulos em ordem de aparição

Aparições no Anime
Episódios em ordem de aparição
Galeria
Referências