Stjärna-Födelsemärket
Jump to navigation
Jump to search
Stjärna-Födelsemärket (星のアザ, Hoshi no Aza) är ett distinkt, femuddigt, stjärnformat märke som uppträder i området på baksidan av vänster axel eller nära nacken på alla JoJos eller individer som är med i eller är på något sätt är kopplade till Joestar Familjen.
Födelsemärket introducerades i Stardust Crusaders och blev viktigt igen i Stone Ocean. Animen innehåller födelsemärket tidigare och visar Jonathan Joestar och Joseph Joestar med det. Det dyker upp igen i den andra kontinuiteten i JoJolion.
Historia
Den Ursprungliga Kontinuiteten
Ursprunget av Stjärna-födelsemärket är okänt, men från och med Phantom Blood bär varje medlem av Joestar-familjen födelsemärket. I slutet av Phantom Blood mördas Jonathan Joestar av Dio Brando och tar över hans kropp. På grund av detta ärver han födelsemärket men vilar på havets botten i 100 år. Senare, 1983, vaknar DIO igen efter att ha rymt från sin kista. Han reser runt i världen och impregnerar flera kvinnor som bär hans barn, anmärkningsvis Giorno Giovanna, huvudkaraktären i Vento Aureo.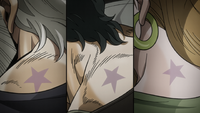 Födelsemärket introduceras endast formellt i Stardust Crusaders av Joseph Joestar till Jotaro Kujo.[1] Med DIOs återuppväckelse sätter den koppling han fick genom Jonathans kropp Holy Kujo i fara, så de var tvungna att ge sig ut för att besegra DIO.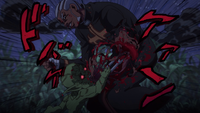 Några år före detta hade Joseph Joestar en affär som resulterar i Josuke Higashikata; som som en del av familjen Joestar ärver födelsemärket.
I Stone Ocean blir födelsemärket återigen integrerat. Jotaro Kujos dotter Jolyne Cujoh konfronterar en excentrisk präst, Enrico Pucci. Under händelserna i Stone Ocean fusionerar Pucci ihop med Green Baby och får födelsemärket eftersom bebisen delvis härstammar från ett av DIOs ben. Hans bror, Weather Report, får också märket; och som tvillingbröder kopplas de samman och påverkar varandra på samma sätt som DIO gjorde med Joseph, Holy och Jotaro i Stardust Crusaders.
I slutet av berättelsen reser Emporio Alnino in i det nya universumet där han upptäcker att Irene, en kvinna nästan identisk till Jolyne, chockerande nog har märket.
Listan av karaktärer från den ursprungliga kontinuitetens Joestar-familj som inte har avbildats med födelsemärket inkluderar George Joestar I, George Joestar II och Donatello Versus.
Steel Ball Run Kontinuiteten
Liksom det ursprungliga universum är ursprunget av födelsemärket okänt men till synes bär alla medlemmar av Joestar-familjen det. Johnny Joestars märke visas aldrig men Lucy Steel är medveten om att det finns.[2] Hans barnbarn, Joseph Joestar, bär födelsemärket, och hans Stand är framkallat ur det.
Senare, i JoJolion, bär huvudkaraktären Josuke Higashikata födelsemärket med till synes okända medel. Det avslöjas så småningom att han ärvde detta födelsemärke genom en Locacaca-fusion av Yoshikage Kira och Josefumi Kujo. Kiras syster, Kei Nijimura, bär också födelsemärket.
Joestar-födelsemärket spela en roll i Josukes användning av hans bubblor och Rotationen, när bubblan kommer ut genom det.
inklusive Johnny Joestar, karaktärer från den nya kontinuitetens Joestar-familj som inte har avbildats med födelsemärket inkluderar George Joestar II, Nicholas Joestar, George Joestar III och Holy Joestar-Kira.
Karaktärer med Joestar-födelsemärken
Den Ursprungliga Kontinuiteten
Characters Depicted with Joestar Birthmarks
Steel Ball Run Kontinuiteten
Characters Depicted with Joestar Birthmarks
Bildgalleri
Trivia
Både Jonathan och unge Joseph avbildades inte med Joestar-födelsemärket i sina respektive delar av mangan på grund av att konceptet med Joestar-födelsemärket inte introducerades förrän Stardust Crusaders. Jonathan's inkluderades senare i Phantom Blood-filmen, 2000 Stardust Crusaders OVA och animen. Unga Josephs födelsemärke lades också till i animen.

Josuke avbildades inte heller med födelsemärket i Diamond is Unbreakable förrän animen.

Ett konstverk i Hirohiko Araki JoJo Exhibition 2012 visar Lisa Lisa med födelsemärket, trots att hon kommer från en annan familj och inte är biologiskt relaterad till Joestar-familjen. Josefumi Kujo är också avbildad med Joestars födelsemärke i sitt första framträdande, men det verkar försvinna senare.
Referenser