Highway to Hell
Jump to navigation
Jump to search
"
Qua-Quando si è impiccato!!I..Il mio collo.. Era collegato!? Il mio corpo sta cedendo.. sono nelle sue stesse... condizioni?!
"
Highway to Hell (ハイウェイ・トゥ・ヘル, Haiwei Tu Heru) è lo Stand di Thunder McQueen, proveniente dalla sesta parte delle Bizzarre Avventure di JoJo, Stone Ocean. Lo stand si presenta come una serie di eliche viola, Highway to Hell si collega al corpo di una persona scelta, portando così a questa gli stessi danni che vengono inflitti a McQueen.
Aspetto
Highway to Hell ai presenta come delle piccole protuberanze con delle eliche alla fine di queste, queste sono collegate a McQueen che le sfrutta per provare a suicidarsi.[1] Queste quattro protuberanze appaiono anche sul corpo della vittima, causando a questa le stesse ferite di McQueen.
Highway to Hell è viola nella Colorazione digitale del Manga.
Palette di Colori
The series is known for alternating colors between media, the information presented below may or may not be canon.
Abilità
Highway to Hell non ha nessuna abilità combattiva, ma la sua abilità di condividere il dolore, unita alle tendenze suicide di Thunder McQueen lo rendono uno stand estraneamente pericoloso.
Condivisione del Danno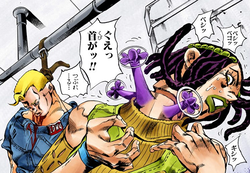 Quando McQueen tenta di suicidarsi, può far morire chiunque si trovi al suo fianco nel suo stesso modo.
Quando McQueen applica Highway to Hell a qualcuno, il bersaglio subirà lo stesso danno che questo infligge a se stesso, attraverso Highway to Hell che si manifesta sul corpo della vittima come fonte del danno. Per esempio, se McQueen provasse a impiccarsi, Highway to Hell si manifestarebbe intorno al collo della vittima come un cappio che si attorciglia alla gola.;[2] Quando McQueen prova a soffocarsi, Highway to Hell appare come una massa liquida che copre la bocca e il naso della vittima.[3] Le statistiche di Highway To Hell suggeriscono anche che la fame potrebbe funzionare. Inoltre, anche la persona legata a McQueen assume la sua stessa posa.[3]
Highway to Hell funziona anche se le sue vittime fuggono da McQueen,[4] Per salvare la vittima, bisogna impedire a McQueen di uccidersi e portare via il Disco Stand.[2][5]
Capitoli

Manga Appearances
Chapters in order of appearance
Galleria
Trivia
Quando era necessario sollevare qualcuno per farlo suicidare, Hirohiko Araki ha pensato che sarebbe stato più bello che lo Stand usasse le eliche invece di una corda.[1]
References