Donovan
Jump to navigation
Jump to search
"
Eu não tenho intenção de matar você. Apenas fique parado e me deixe beber seu sangue... Seu amador!
"
Donovan (ドノヴァン, Donovan) é um antagonista terciário na segunda parte de JoJo's Bizarre Adventure, Battle Tendency.
Como um membro de elite dos Nazistas, Donovan é ordenado capturar Joseph Joestar no deserto mexicano para adquirir informação sobre Straizo.
Aparência
Donovan é um homem maduro e atlético cujo cabelo escuro é penteado para trás. Sua pele é colorida diferentemente em volta de seus olhos, começando de uma área longa na testa até o lado da raiz de seu nariz.
Donovan veste um uniforme de oficial sem mangas.
Esquemas de Cores
A obra é conhecida por sua mudança de cores entre as mídias, a informação apresentada abaixo pode ou não ser cânon.
Skin
(Tan, red face markings.)
Outfit
(Reddish-pink shroud, army green uniform with golden accessories, black arm warmers and boots, white gloves.)
Skin
(Grayish-tan, reddish-pink face markings.)
Outfit
(Tan shroud, deep red-violet uniform with yellow lining, brown gloves.)
Personalidade
Donovan é um soldado nazista sádico e letal. Ele inicialmente se apresenta como um lutador confiante e parece se especializar em tortura, alegando que ele irá achar um jeito de fazer Joseph desmaiar por perca de sangue sem que ele morra, e diz que ele nunca revelaria quaisquer inforamções a Joseph, mesmo quando sob tortura. Isso prova ser uma mentira, já que Joseph facilmente o faz falar sobre a base nazista apenas minutos antes de torturá-lo.
Habilidades
Donovan é um membro das forças especiais alemãs e logicamente possui vários talentos relacionados a rastrear pessoas.
Furtividade
Donovan possui habilidades furtivas notáveis. Ele é capaz de se mover levemente o suficiente para não deixar pegadas na areia e alega que ele pode pegar até morcegos selvagens de surpresa. Como um soldado de elite, ele também é ágil: ele pode se balançar em cima de um cacto usando a lamina lisa de uma faca e possui outras habilidades atléticas excelentes.
Faca-chicote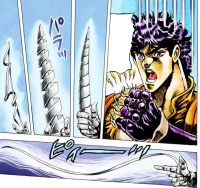 No mangá, ele é equipado com uma faca que parece estar amarrada em um material especial que pode ser desenrolado e usado como um chicote.
Sua faca-chicote nunca é mostrada no anime.

História
Battle Tendency
Enquanto Joseph viajava pelo deserto em busca de informações sobre Speedwagon, ele repentinamente vê uma capa grande flutuando em sua direção. Suspeitando que algo está errado, ele a manda aos ares e revela um homem com uma faca, que imediatamente ataca. Após uma curta conversa, o homem revela ser um oficial nazista das forças especiais enviado para capturar Joseph e adquirir informações sobre Straizo. Em sua luta, ele inicialmente aparenta ter a vantagem, mas Joseph logo vira o jogo ao usar Hamon em um cacto para lançar seus espinhos em Donovan. Joseph demanda informação, mas Donovan recusa. Joseph coloca uma bussóla magnética no olho de Donovan, e ele rapidamente conta a Joseph que Speedwagon está vivo. Donovan tenta fugir mas Joseph se apronta para sair da área com sua motocicleta. Joseph facilmente o apanha e o amarra em um cacto com uma carta escrita "Olá Adolph!"
Capítulos / Episódios

Aparições no Mangá
Capítulos em ordem de aparição

Aparições no Anime
Episódios em ordem de aparição
Galeria
Referências