JOJOVELLER
Jump to navigation
Jump to search
"
"JOJO's Bizarre Adventure" celebrates its 25th anniversary in 2012. 8 JOJOs have travelled bizarre times and places. This never-ending story is "TO BE CONTINUED".
"
—Incipit of the JOJOVELLER artbook

JOJOVELLER (ジョジョベラー, JoJoberā) is a multimedia collection of books featuring content pertaining to the JoJo's Bizarre Adventure franchise. Succeeding JOJO A-GO!GO! as the third installment of Hirohiko Araki's series of art books, it was published to commemorate JoJo's Bizarre Adventure's 25th Anniversary.
The set was released on September 19, 2013 and includes an art book featuring original artwork from Stone Ocean to JoJolion, a booklet describing the history of the series, and a Stand encyclopedia containing comments from Araki himself.
Summary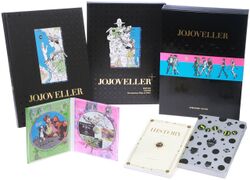 The package includes three separate books, each with their own art and information. The limited-edition comes in a black Lacquered enamel case and includes 2 Blu-Ray Discs showing the 25th-anniversary art exhibition in Tokyo and a behind-the-scenes look at Araki's creative process.
Book One
A Complete Stand Guide similar to the one in JOJO A-GO!GO! updated with Stands from Stone Ocean to the early part of JoJolion.
It includes information about the Stands themselves, Design, Skills and Performance, Stats, and the Users. Each has a commentary by the author himself. In the book, Stand Users are referred to as "Stand Masters."
Book Two
Book Three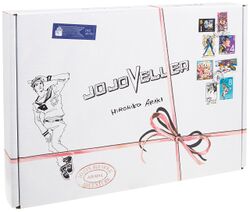 The Actual JOJOVELLER artbook. It features works of art from JoJo's Bizarre Adventure and some of Araki's most recent illustrations. It is divided into the following chapters:
JOJOs travel to Japan: 8 commemorative works of art of each of the protagonists and other main characters posing in various places and with different typical Japanese items, all specifically created for the 25th anniversary. There is also art featuring Bruno Bucciarati and Jolyne Cujoh in Firenze taken from an earlier collaboration with GUCCI.
JOJO travels to Green Dolphin Street Prison: A compilation of artworks related to Stone Ocean.
JOJO travels from San Diego to New York: A compilation of artworks related to Steel Ball Run.
JOJO travels to Morioh: A compilation of artworks related to JoJolion up to the date of publication of the artbook.
JOJO travels to another world: A compilation of miscellaneous artwork made by Hirohiko Araki over the years, most of which are related to the series while some are independent works.
Hirohiko Araki X Gucci: A compilation of artwork made in collaboration with the clothing brand GUCCI.
This book contains a "map" with romanizations of the names of most characters and Stands shown thus far.
Blu Rays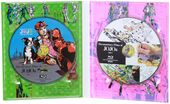 Blu-ray: Disc 1 - JoJo Exhibition 2012 Documentary. It includes three videos, first a trailer of the 25th anniversary of the series, then two videos of the Hirohiko Araki JoJo Exhibition 2012 consisting of a nighttime visit by Remote Romance, another one in daytime showing visitors.
Blu-ray: Disc 2 - THE MAKING OF JOJO! A behind-the-scenes look at Araki's creative process following how he designs and draws one of his artworks.[1]
JOJOVELLER mini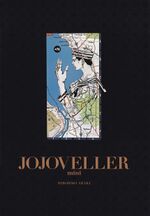 A JOJOVELLER mini booklet was included with the April 2014 issue of Ultra Jump. It features several pieces of artwork from the main JOJOVELLER book. It was also released alongside a supplement Stand guide called STANDS plus, which included pages on Nut King Call and Paper Moon King (until then known as "Paper Moon"), who were introduced in the manga following the publication of JOJOVELLER.

Making-of
The JOJOVELLER artbook was printed with five types of colored ink instead of the usual four, enhancing the quality of the color rendition.[2]
Commentary
"
The artbook is in five colors, which is not common in France. In technical terms, all books are in four colors which, once they are mixed, create all of the colors we know. With JOJOVELLER, they added what we called a Pantone color on each page.
"
"
Le livre d'illustration est en cinq couleurs, ce qui n'est pas courant en France. En terme technique les livres sont tous en quatre couleurs qui une fois mélangées créées toutes celles que l'on connaît. Sur JOJOVELLER ils ont rajouté sur chaque page ce que l'on appelle une couleur Pantone.
"
Gallery
Videos
See also
External links
References