Ticket to Ride
Jump to navigation
Jump to search
"
Então a deusa existe... E ela está do meu lado!
"
Ticket to Ride (涙の乗車券, Chikettu Raido, lit. "Bilhete de Lágrimas") é o Stand usado por Lucy Steel, apresentado na sétima parte de JoJo's Bizarre Adventure, Steel Ball Run. Ele se manifesta como habilidades que protegem Lucy.
Aparência
Esse Stand é a forma completa do Cadáver Santo e se funde com sua usuária, juntando-se dentro dela e assumindo suas funções corporais. O Stand aparece através das seguintes fases:
A cabeça do Cadáver foi alojado em seu útero. Durante essa fase, ela podia transformar suas lágrimas em laminas e invocar ferimentos de carma a aqueles à sua volta.
Quando o Cadáver inteiro é juntado, a pele de Lucy começa a cair e revelar que as partes do Cadáver estão agora dentro dela.
Lucy começa a ficar inconsciente e seu corpo inteiro é coberto por uma cobertura parecida com aço. Durante essa fase, Lucy começará a ter dificuldade em respirar e será lentamente morta pelas partes do Cadáver que tomam controle dela. Além disso, sua habilidade de Stand completa será ativada.
Esquemas de Cores
A obra é conhecida por sua mudança de cores entre as mídias, a informação apresentada abaixo pode ou não ser cânon.
Habilidades
Ticket to Ride consiste de um conjunto de fracos porém úteis poderes defensivos que servem para proteger Lucy quando ela se torna a hospedeira do Cadáver Santo
Lamina de Lágrimas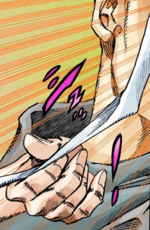 Lucy é capaz de tirar faixas de seus olhos e usá-las como facas. Já que as laminas de lágrimas imediatamente se decompoem ao entrar em contato com alguém,[1] essa habiidade não tem uso real além de ameaçar alguém. No entanto, quando a lamina é usada contra alguém ou algo, eles ficam vulneráveis a habilidade primária de Lucy: A Proteção Divina.
Proteção Divina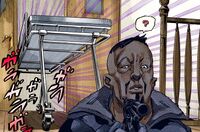 Essa habilidade protege Lucy de qualquer mau feito a ela ao criar uma cadeia de reações de coincidências improváveis através das coisas na circunvizinhança para neutralizar qualquer agressor. Similarmente, o fenômeno também pode forçar um alvo a fazer o que Lucy quer. Essa habilidade, enquanto Lucy é capaz de se mexer, parece apenas funcionar contra aqueles que Lucy tocou com suas laminas-lágrima.
Por exemplo, quando duas pessoas tentaram tranquilizar Lucy, mas ela acidentalmente derruba uma garrafa no chão e derrama um líquido. Um deles repentinamente pisa no líquido e tropeça, deixando Lucy escapar, então o outro a persegue mas pisa em uma garrafa de vidro, fazendo ele quebrar e fazer estilhaços entrarem seu olho.[1]
Isso também pode ser aplicado a objetos não-vivos: Lucy escreve em um pedaço de tecido e o deixa em uma doca, onde Valentine o destrói, apenas para uma série de coincidências recriarem a mensagem inteira e pô-la quase no exato mesmo lugar da doca. Essencialmente, essa habilidade (ou pelo menos até Lucy perder suas capacidades corporais) manipula a sorte do que é cortado para criar o resultado que Lucy quer.
Capítulos

Aparições no Mangá
Capítulos em ordem de aparição
Galeria
Curiosidades
A habilidade de lágrima-lamina do Ticket to Ride foi inspirada pela frase "as lágrimas são as armas de uma mulher".[2]
O nome do Stand foi revelado no livro de Stands de JOJOVELLER, embora ele fosse sugerido nos capítulos intitulados Ticket to Ride.
Referênciass