Catch the Rainbow
Jump to navigation
Jump to search
"
O nome da minha habilidade é 'Catch the Rainbow'. Os pingos de chuva que eu toco... Eu posso 'estabilizar' no ar... Como cruzar um 'arco-íris'... ou andar em uma 'prancha de vidro'... Você não pode assumir que a chuva está sempre caindo.
"
Catch the Rainbow (キャッチ・ザ・レインボー, Kyatchi Za Reinbō) é o Stand de Blackmore, apresentado na sétima parte da série de JoJo's Bizarre Adventure, Steel Ball Run.
Vestido por Blackmore como uma máscara, ele concede a ele a habilidade de andar na chuva e manipular pingos de chuva.
Aparência
Catch the Rainbow toma a forma de uma máscara, vestida por Blackmore. Ele tem sombrancelhas destacadas sobre seus buracos de olhos, não tem nariz, e a parte de baixo tem cinco fendas triangulares, com cinco buracos acima deles.
Ele tem uma cor clara, fora três listras coloridas cruzando de seu olho esuqerdo à sua bochecha esquerda. As listras foram feitas como uma versão arco-íris de uma máscara de hockey.[1]
Paletas de Cores
A obra é conhecida por sua mudança de cores entre as mídias, a informação apresentada abaixo pode ou não ser cânon.
Máscara
(Branco porcelana com listras azuis, verdes e vermelhas (da esquerda para direita).)
Habilidades
Manipulação de Chuva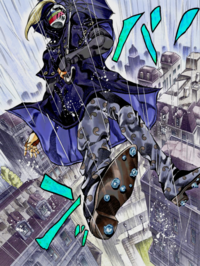 Catch the Rainbow permite que Blackmore utilize ou manipule a chuva de diversas maneiras incomuns, como permitindo viagem rápido ou em combate.
A habilidade mas básica de Catch de Rainbow é parar gotas de chuva e fazê-lo flutuar no ar,[2] ficando sólidas o suficiente para ajudar Blackmore e também refletir projéteis como uma Bola de Aço.[3] Com isso, Blackmore pode trilhar sobre elas e alcançar grandes alturas. Ele pode, ou parar algumas gotas para andar, parar várias delas dentro de uma área ampla[3] ou criar lâminas com elas.[4] Se um alvo tentar se mover na chuva parada por Catch the Rainbow, as gotas eram perfurar e penetrar nele, potencialmente criando feridas fatais.[4]
Blackmore também pode se fundir com a chuva.[2] Ele poder permitir que as gotas o atravessem, criando buracos em seu corpo, com as partes que desaparecem se materializando sob uma distância do seu corpo e continuando a funcionar. Por exemplo, ele pode projetar sua boca e falar com alguém que está longe.[4] Ele pode se fundir completamento com a chuva e se tornar intangível como a água, desviar de tiros, e também viajar em altas velovidades ao longo de grandes distâncias, enquanto ainda chover.[4]
Blackmore demonstra a habilidade para fechar suas feridas com gotas de chuva e parar qualquer sangramento, por mais que isso só funcione temporariamente.[5]
Capítulos

Manga Appearances
Chapters in order of appearance
Galeria
Curiosidades
Referências