Ticket to Ride
Jump to navigation
Jump to search
"
La déesse était à mes côtés.
"
Ticket to Ride (涙の乗車券, Chikettu Raido, lit. "Ticket of Tears") est le Stand utilisé par Lucy Steel, figurant dans la septième partie de JoJo's Bizarre Adventure, Steel Ball Run. Il se manifeste en tant que plusieurs pouvoirs spéciaux qui protègent Lucy.
Apparence
Ce Stand se manifest au moment où le Corps Saint est complété et fusionne avec Lucy, prenant peu à peu contrôle de son corps. Avant le contrôle complet, Ticket to Ride passe par les étapes suivantes :
La tête du cadavre se loge dans le ventre de Lucy. Pendant ce mode, elle pouvait utiliser ses larmes solidifiées en tant que lames et invoquer des blessures karmiques sur les autres autour d'elle.
Lorsque le cadavre entier est rassemblé, la peau de Lucy commence à se détacher d'elle et révèle l'intérieur de son corps, à l'allure de cadavre.
Lucy commence à tomber inconsciente et tout son corps est recouvert d'un revêtement solide. Pendant cette étape, Lucy commence à avoir des difficultés à respirer et sera lentement tuée par les parties du cadavre qui la prennent. De plus, dans ce mode, sa pleine capacité Stand sera activée.
Palettes
Les palettes changent souvent entre les médias. L'information ci-dessous ne devrait pas être considérée comme canonique.
Corps
(Brun et brun argile)
Pouvoirs
Ticket to Ride consiste en un ensemble de pouvoirs défensifs faibles mais utiles qui servent à protéger Lucy une fois qu'elle devient l'hôte du Corps Saint.
Lames de Larmes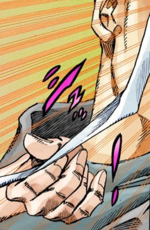 Lucy est capable de solidifier ses larme et de les manipulers comme des couteaux. Comme les lames se détruisent lorsqu'elle touchent quelqu'un,[1] cette capacité n'a aucune utilité réelle au delà de menacer quelqu'un. Cependant, lorsque la lame est utilisée contre quelqu'un ou quelque chose, ils deviennent vulnérables à la capacité principale de Lucy: la protection divine. La capacité de Ticket to Ride a été inspirée par l'expression «les larmes sont l'arme d'une femme».[2]
Protection Divine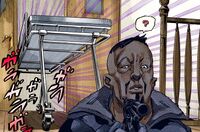 Cette capacité protège Lucy de tout mal qui qu'on pourrait lui infliger. Pour celà, Ticket to Ride cause une réaction en chaîne de coïncidences improbables pour neutraliser tout assaillant. De même, le phénomène peut également forcer une cible à faire ce que Lucy veut. Cette capacité semble ne fonctionner que contre ceux que Lucy a touchés avec ses larmes.
Par exemple, lorsque deux hommes ont tentés d'injecter un tranquilisant dans Lucy, celle-ci fait accidentellement tomber une bouteille de liquide, créant une mare. L'un des hommes glisse dans la mare et tombe, permettant à Lucy de d'échapper de sa prise. L'autre homme la pourchasse mais en courant, marche sur la bouteille et la brise; les éclats de verre volent vers son oeil et le stoppent, ce qui permet à Lucy de partir.[1]
Cette capacité peut s'appliquer aux objets inanimés. Lorsque celle-ci tente d'écrire une note pour que ses alliés la trouve, Valentine remarque cette note et la détruit. Cependant, la note sera replacée là où elle l'avait placée, ce qui a permis à Diego Brando de trouver le message et suivre Lucy, et a fortiori, Johnny et Gyro.[3]
Chapitres

Apparition dans le Manga
Chapitres (ordre chronologique)
Galerie d'Images
Détails
Le nom de Ticket to Ride est révélé officiellement dans le l'almanac des Stand inclu avec l'artbook JOJOVELLER, mais son nom est sous-entendu avec le nom de l'arc narratif Ticket to Ride.
Références