Mandom
Jump to navigation
Jump to search
"
Somente "6 segundos". Nada mais, nada menos. Minha habilidade pode rebobinar o tempo em precisamente "6 segundos".
"
Mandom (マンダム, Mandamu) é o Stand de Ringo Roadagain, apresentado na sétima parte da série de JoJo's Bizarre Adventure, Steel Ball Run. Somente possuindo uma cabeça e ombros humanóides, Mandom concede a Ringo a habilidade de rebobinar o tempo para 6 segundos no passado.
Aparência
Mandom toma a forma de uma cabeça como o centro de que parece um acessório metálico de pulso ampliado, dividindo e extendendo e terminando em gavinhas. Sua é face escura e sem características, fora onde ele tem um padrão de pequenas esferas lembrando olhos; pareado com linhas para formar um padrão de losangos orientados horizontalmente.
Seu design for inspirado pelo "Bracelete de Treinamento da Liga Principal" da série de mangá Star of the Giants.[2]
Paletas de Cores
A obra é conhecida por sua mudança de cores entre as mídias, a informação apresentada abaixo pode ou não ser cânon.
Corpo
(Cabeça e gavinhas rosas, ombreiras salmão, e "olhos" dourados e pretos.)
Habilidades
Mandom nunca demonstra nenhuma forma de habilidade de combate, mas, ao invés disso, ajuda Ringo em seus duelos. Por mais que manter sua habilidade em segredo seria uma vantagem, Ringo prefere explicar seu poder para seu oponente devido a suas crenças.
Reversão do Tempo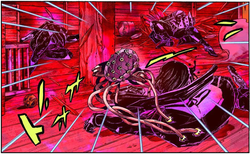 Girando a coroa em seu relógio de pulso, Mandom vai rebobinar o tempo em exatamente 6 segundo, similar a Killer Queen Bites the Dust, voltando tudo para como estava 6 segundos atrás.[3] Ringo não precisa girar a coroa si mesmo para ativar a habilidade; usando algo como uma bala para rodá-la também iria ativar a habilidade.[4]
O relógio de puldo que Ringo usa é, na verdade um gatilho psicológico e é em teoria, desnecessário para a ativação do poder de Mandom.[5] O processo de rebobinar os 6 segundos é supostamente instantânio e imperceptível de acordo com todos os indivíduos afetados, mas ele é visualmente representado no mangá com tudo sendo rebobinado.[3] Ringo afirma que ele pode rebobinar o tempo em 6 segundos sem limitações, além de rodar a coroa=.[4]
Indivíduos próximos irão lembrar os eventos dos segundos que foram rebobinados e, então, vítimas inconscientes da habilidade ficarão desorientadas. Ringo usou essa propriedade para desorientar Johnny, Gyro e Hot Pants em uma floresta desconhecida e fazendo-os se perder dentro dela.[3] Porém, aqueles preparados, como Ringo, tiram vantagem da habilidade para desviar de ataques ou preparar impactos inesperados.[4]
Capítulos

Aparições no Mangá
Capítulos em ordem de aparição
Galeria
Referências