List of German JoJo's Bizarre Adventure chapters
Jump to navigation
Jump to search
This is a list of all current German volumes of the JoJo's Bizarre Adventure manga, as well as the titles of the chapters contained therein. Chapters are arranged by volume, with their appropriate volume titles and chapters listed underneath.
The series is distributed by the German comic book publisher, Cross Cult, manga division, Manga Cult and started on August 5, 2021, and has been releasing the series bimonthly. It is based on the Bunkoban and does not contain color pages. The covers were taken from the Spanish edition.
The first volume had a limited edition, which was limited to 999 copies and was only available at comic book stores. It included a metallic dust jacket. Its ongoing part is currently Stardust Crusaders.
Volume List
Volume 1
Battle Tendency Volume 1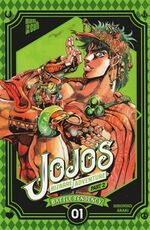 3. Februar 2022
[1]

978-3-96433-398-8
Volume 2
Battle Tendency Volume 2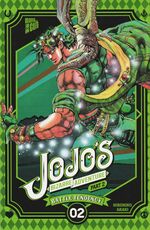 7. April 2022
[2]

978-3-96433-399-5
Volume 3
Battle Tendency Volume 3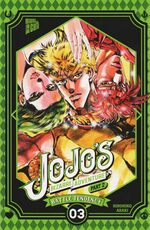 2. Juni 2022
[3]

978-3-96433-474-9
Volume 4
Battle Tendency Volume 4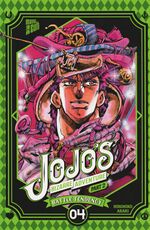 4. August 2022
[4]

978-3-96433-475-6
References