Will Anthonio Zeppeli ★ Video Games
Jump to navigation
Jump to search
A summary of Will Anthonio Zeppeli's history and movesets in video games.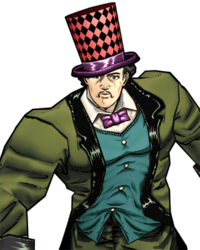 The Phantom Blood PS2 game marks Zeppeli's first appearance in any media other than the manga.
Like in the manga, Zeppeli harnesses the power of the Ripple in his attacks. Aside from his Ripple-based moves, he also uses normal punches and kicks to attack enemies. His two special moves are Sendo Wave Kick (as a non-fully charged special move) and Sunlight Yellow Overdrive (as his fully charged special move). Zeppeli is playable in Chapters 09 and 16, but can be used in most of the intervening stages once Story Mode is beaten. He is also playable in 77 Rings Knights Mode and some battles in Extra Battle Mode.
Will Anthonio Zeppeli




















Running

Running



during damage

(LV0-3)

Sunlight Yellow Overdrive














Available Stages: Chapters 09, 16
Story Mode Replay: Chapters 11, 12, 14, 15
Extra Battles 09, 23, 31, 32
77 Rings Knights Mode: Ripple Warriors