JoJo's Pitter-Patter Pop! ★ Will Anthonio Zeppeli
Jump to navigation
Jump to search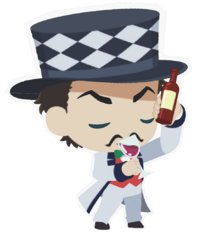 Will Anthonio Zeppeli (ウィル・A・ツェペリ, Wiru Antonio Tseperi) is a playable character in JoJo's Pitter-Patter Pop! with one Gold Rarity (GR) unit. He is named Baron Zeppeli (ツェペリ男爵, Tseperi Danshaku) in the game.
Zeppeli's unit was added to Pitter-Patter Pop! on March 17, 2019, five months after the game launched.
Zeppeli launched with a new type of panel named Cutter Panels and he is the only unit that can create them. They can't be manually moved, but they'll fall down if the panels below them are matched or erased. When tapped, they erase all panels in a horizontal line.

Ripple Mentor's Stone Mask Quest

Baron Zeppeli

Ripple Mentor's Stone Mask Quest ver.
石仮面を追う波紋の師 ver.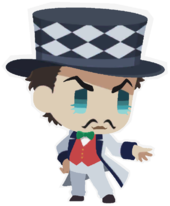 Rarity:

Max Power: 1640
(Lvl 50)
/ 2840
(Lvl 80)
Release Date: March 17, 2019
Favorite Gift and Voiced Gift Reactions:

Skill:
Ripple Cutter

Creates cutters which when tapped, erase one horizontal row




































Skill Lv 1
# of Replaced Panels:
2
Cooldown:
85




































Skill Lv 2
# of Replaced Panels:
3
Cooldown:
85




































Skill Lv 3
# of Replaced Panels:
3
Cooldown:
80




































Skill Lv 4
# of Replaced Panels:
4
Cooldown:
80




































Skill Lv 5
# of Replaced Panels:
4
Cooldown:
75