Kiss/es
Jump to navigation
Jump to search
"
Kiss es mi licencia... ¡para vengarme! (「キッス」は復讐の「許可証」だという事を…ǃ'Kissu' wa fukushū no 'raisensu' da to iu koto o…ǃ)
"
Kiss (キッス, Kissu), a veces llamado Sticker (シール, Shīru), es el Stand de Ermes Costello, que aparece en la sexta parte de JoJo's Bizarre Adventure, Stone Ocean . Es un Stand humanoide de corto alcance que crea pegatinas. Cuando una pegatina se pega a un objeto, crea un duplicado. Cuando se quita una pegatina, los dos objetos se vuelven a fusionar, causando daños graves.
Apariencia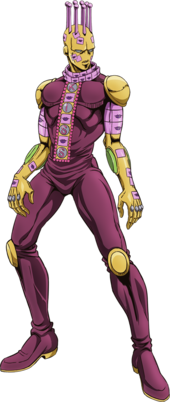 Kiss es un Stand humanoide con una constitución atlética, similar a la de Ermes.
Viste un mono oscuro junto con hombreras ligeras, rodilleras y guantes que comparten una textura metálica. A lo largo de la mitad de su torso hay una losa metálica tachonada vertical grabada con su nombre, "KISS", y las letras están contenidas en círculos separados.
Su cabeza también tiene una textura metálica y es calva a excepción de un par de púas rectas que apuntan hacia arriba con bordes redondeados, lo que le da la apariencia de una corona. Tiene dos tachuelas a los lados de su cabeza que se asemejan a orejas.
Kiss está cubierto de pegatinas con diseño de labios, especialmente en el cuello, los brazos y la cabeza. También hay pegatinas individuales colocadas entre cada letra en su torso.
La mayoría de los medios que presentan a Kiss lo retratan como dorado con un traje morado.
Esquema de color
The series is known for alternating colors between media, the information presented below may or may not be canon.
Cuerpo
(Golden-yellow body, maroon jumpsuit)
Cuerpo
(Golden body, dark magenta jumpsuit)
Cuerpo
(Golden body, dark purple jumpsuit)
Cuerpo
(Cuerpo dorado y verde con púas rosas, mono ciruela)
Habilidades
Kiss es un poderoso Stand de corto alcance que compensa su corto alcance con su velocidad y fuerza física, y sus pegatinas que Ermes usa inteligentemente, lo que lo convierte en una buena adición al equipo de Jolyne.
Ermes recibe este Stand después de recoger el amuleto de Jolyne. Después de que el fragmento de flecha dentro le pincha el dedo, Ermes vende el amuleto a Gwess. Ella descubre su posición después de ser atravesada por el Arrow, durante su primera visita médica en la prisión.
Duplicar pegatinas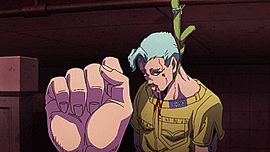 Kiss puede colocar calcomanías con diseños de labios en objetos, lo que hace que produzcan rápidamente una copia exacta del original.[1]
Ermes y Kiss pueden crear pegatinas cuadradas distintivas con sus palmas.[2] Si ponen una pegatina en un objeto, una aparece una copia exacta de la misma con la etiqueta en la copia o en el original.[1][3] No hay ninguna restricción sobre la distancia a la que se puede quitar la copia del objeto. Si Ermes coloca una pegatina en alguien, la extremidad correspondiente, ya sea un dedo,[1] un brazo [4] o la cabeza,[3] brotará del cuerpo como una parte adicional del cuerpo. También es libre de usarlo ella misma.[1]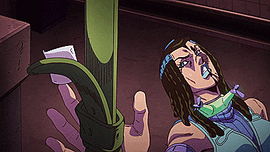 Cuando se quita o destruye la pegatina,[3] los dos objetos saltan uno hacia el otro y se fusionan en un solo objeto con gran fuerza, causando una fisura y dañándolo de manera efectiva.[1] No importa la distancia, las condiciones circundantes como la gravedad desplazada,[5] o el peso que se les atribuye,[6] los dos siempre se dirigirán uno hacia el otro, incluso las partes rotas de la copia volverán al original.[7] Le permite a Ermes crear trampas,[1] o dependiendo del objeto, moverse rápidamente de un lugar a otro. otro, o incluso dañar claramente a alguien desde lejos.
Capítulos

Manga Appearances
Chapters in order of appearance

Anime Appearances
Episodes in order of appearance
Gallery
Trivia
Araki se esforzó en hacer que la silueta de Kiss no se parezca a la de los aliados de Ermes.[8]
References