JOJOTREE
Jump to navigation
Jump to search
JOJOTREE - JoJo's Bizarre Adventure in Tokyo Skytree (JOJOTREE ジョジョの奇妙な冒険 in TOKYO SKYTREE) is a collaboration event between JoJo's Bizarre Adventure: The Animation and the Tokyo Skytree.
The event was announced on April 4, 2022 and is part of the tenth anniversary project of JoJo's Bizarre Adventure: The Animation. Tokyo Skytree is also celebrating its tenth anniversary the same year.
It begins on May 10, 2022 and ends on August 9, 2022.[1][2]
Summary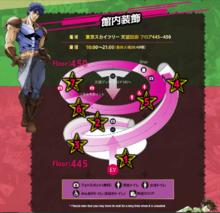 JOJOTREE features new installments in the Tokyo Skytree to celebrate the tenth anniversary of the anime. Normal pricing applies for entry. Location 1 on the map features new graphics on the elevator up to Tembo Corridor with onomatopoeia from the show popping out. Location 2 is a photo spot featuring the key art from the event. Location 3 showcases characters and stories from the series looking back on the last ten years. Location 4 is another photo spot showcasing some of Jolyne Cujoh's key art from the JoJo's Bizarre Adventure: Stone Ocean as well as an LED sign. Location 5 has a large wall of past fight scenes as well as dialogue. Location 6 is a message wall where you can buy a random sticky note for 300 yen to write and place on the wall. Location 7 is an exhibition area for merchandise.
The Tembo Deck's glass windows have scenes from the anime projected onto them. Screening are available multiple times per day. Sorakara-chan, the mascot of Tokyo Skytree will have a limited time outfit themed after Jolyne Cujoh. A photo service will be available for participants to pose with their favorite JoJo character. Prices go from 1,900 yen for one sheet, 3,000 yen for two sheets with third and subsequent sheets being an additional 1,000 yen each. The tower will be lit different colors matching the color scheme of the main protagonists of parts 1-6 during the night.
Food
A collaboration coaster will be presented with the purchase of each collaboration menu item. Set 1 will be available from May 10th to June 19th and Set 2 will be available from June 20th to August 9th. The food items include: Jotaro's "Ora Ora" Omelet (1,500 yen) star shaped rice served with an omelet topped with cheddar cheese and a salad, Jolyne's Ice Cream Cake (1,500 yen) pistachio ice cream in the shape of Jolyne with whipped cream and lychee syrup, Jonathan and Will Zeppeli Melon Soda (950 yen) a melon soda float with ice cream and pineapple, Joseph and Caesar Triple Berry Soda (950 yen) a triple berry soda float with ice cream made to look like Caesar's headband and cranberries, Jotaro and Kakyoin Blue Soda (950 yen) lychee-flavored soda float with a cherry on top, Josuke and Okuyasu Grape Juice (950 yen) grape juice float with ice cream and blueberries, Giorno and Bucciarati Strawberry Calpis (950 yen) strawberry calpis float with ice cream and dragon fruit, Jolyne and Hermes Matcha Milk (950 yen) matcha milk float with ice cream and melon, Hot Café Mocha (850 yen) featuring all six main villians and their quotes.
Merchandise
A promotional poster will be presented to ten people through a lottery, the application period starts May 10th 2022 and ends May 31st 2022. For those who purchase over 3,000 yen worth of goods a special bag will be given. Merchandise includes 12-piece cookie set with extra sticker (1,080 yen), small cans of ramune candy (cider flavored, 580 yen), 9-piece chocolate set with character motifs (1,294 yen), can badges (12 designs, 440 yen for one 5,280 yen for a box), engraved medal keychain (2 types, 900 yen), clear files (7 types, 440 yen), canvas art of key visual (1,980 yen), acrylic keychain (6 types, 990 yen), sticker set (6 types, 880 yen), tote bag (2 types, 2,750 yen), eco bag (2 types, 1,980 yen), 6-piece acrylic stand set (2,200 yen), 6-piece triple keychain set (1,320 yen), genuine leather keychain (2 types, 1,320 yen), shot glass (880 yen), mini towel (990 yen), muffler towel (2,970 yen), ZEBRA "McKee" marker (440 yen), A4 size clipboard (1,980 yen).
Gallery
Trivia
The Part 1 and Part 3 DIO backgrounds available for photo shoots are only offered during sunset
References