Hirohiko Araki JoJo Exhibition: Ripples of Adventure
Jump to navigation
Jump to search
Hirohiko Araki JoJo Exhibition: Ripples of Adventure
(

荒木飛呂彦原画展 JOJO 冒険の波紋

Araki Hirohiko Genga-ten JoJo Bōken no Hamon)
is a special exhibition that was originally held from August 24 to October 1, 2018 at the
The National Art Center, Tokyo
,
Japan
to celebrate
JoJo's Bizarre Adventure's 30th Anniversary
.
A second venue was opened in Osaka from November 24, 2018 to January 14, 2019.[3] Another venue was held in Nagasaki[4] from January 25 to March 29. A venue in Kanazawa[5] was initially announced to be held from April 25 to May 23. However, it was postponed to a later date due to health concerns about the COVID-19 pandemic.[6]
On August 18, 2021 it was announced via Twitter from the official Exhibition account that the Kanazawa venue would be opening in 2022. Said new instance ran from April 30 to May 28, 2022.[2]
Summary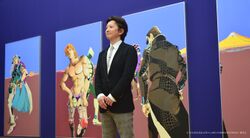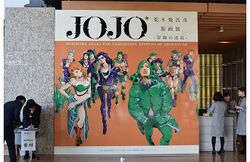 The event encompassed the entirety of JoJo's Bizarre Adventure's history and acted as a culmination of its 30 years of publication. Featuring original artwork from Hirohiko Araki, both old and new, the exhibition hall utilized various technologies to create the "largest displays in the history of the JoJo manga series."
This is the second time The National Art Center, Tokyo (Japan's largest museum) has held a personal exhibition for a Japanese manga artist, the first being Osamu Tezuka back in 1989.[1]
In the press conference of this event held on June 21, 2018, an anime adaptation for Vento Aureo was revealed.
The exposition featured about 200 exhibits and 280 original drawings disposed into several different named spaces. New works of art such as sculptures by Motohiko Odani and Kunihiko Morinaga as well as a display by the visual design group WOW were displayed alongside Araki's drawings and paintings.
One of the key features of the exposition is a series of twelve canvas 2 meters high and 1.2 meters wide featuring several nearly life-sized characters disposed in a U shape to surround the visitors. The disposition aimed to put the characters in the same space as the visitors. Its name and theme is "There is always a traitor".
In the event were sold a lot of different merchandise (keychains, wall posters, stickers, office material...) including the catalog HIROHIKO ARAKI JOJO EXHIBITION RIPPLES OF ADVENTURE with illustrations and manga panels.
Message from Araki
"
It is a very great honor for me to show the compilation of
JoJo'
s 30th anniversary to everyone at the honorary place. At the same time, I am also feeling nervous. What I have tried to draw in the
JoJo
series is 'Growth of the Spirits' through all the phenomena in this universe and the battles between the good and evil. This exhibition will feature images of the characters and their guardian gods gathering together at the same time and place. In addition, I am planning to offer some new drawings. Please look forward to the next summer.
[7]
"
Goods
A variety of goods were sold during the event, requiring a ticket to the event to purchase goods. These included posters as well as reproductions of some of Araki's work, clear files, postcards, towels, paint, keychains, charms, acrylic stands, nail clippers, brooches, bracelets, figures, plates, wallets, art frames, USB sticks, coasters, calendars, playing cards, glasses, paper weights, necklaces, magnets, iPhone cases, pouches, stickers, plushes, bags, cookies, t-shirts, long sleeve shirts, candy, exhibition book and envelopes. New products were added in 2022 featuring magnets, a desk mat and can badges.
Gallery
Visual for Kanazawa's Ripples of Adventure. From left to right: Enrico Pucci, Whitesnake, Noriaki Kakyoin, Johnny Joestar, Ermes Costello, Tamaki Damo, Lucy Steel

Visual for Nagasaki's Ripples of Adventure. From left to right: Jean Pierre Polnareff, Trish Una, Risotto Nero, Prosciutto, Lisa Lisa, Sandman, Pocoloco, Funny Valentine, Jobin and Mitsuba Higashikata, Wamuu, and Giorno Giovanna
Videos
References