JoJo 6251
Jump to navigation
Jump to search
"
Brilliant! Elaborate! Bold! Hirohiko Araki's Illustrative World and popular manga series, JoJo's Bizarre Adventure; the essence of 6251 pages combined into one book!
"
JoJo 6251: The World of Hirohiko Araki (JOJO 6251 荒木飛呂彦の世界, JoJo 6251 Araki Hirohiko no Sekai), first tentatively named JOJO JOBS,[3] is an artbook written and illustrated by Hirohiko Araki and Lucky Land Communications. It includes pictures and information from JoJo's Bizarre Adventure, ranging from Phantom Blood to Diamond is Unbreakable.
The artbook's name is in reference to the approximate amount of pages JoJo's Bizarre Adventure had at the time of the artbook's announcement.
Summary
The first part of the artbook contains mostly artist renditions of characters from the series and Araki's previous works. The book is 11.7 x 8.3 x 0.8 inches and features 98 pages in full, vibrant color.
The second half of the book is comprised of character profiles, the history of JoJo's Bizarre Adventure, a glossary of terms and concepts used in the series, an interview with Hirohiko Araki, a timeline, and a foldout poster.

Making-of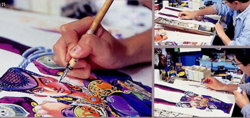 The artwork of Josuke on the cover took Araki 6 hours to complete, half of it spent on coloring alone.[4]
There is an error in the glossary of terms where in the entry for "Danse Macabre Hair", it states that it appeared in Part 2 instead of Part 1 and that Joseph fought Bruford instead of Jonathan.

Interview

Published December 10, 1993
📜
"
Part 4's Theme:
Why did I decide to set Part 4's story in 1999, the near future? (Note: JoJo 6251 was released in 1993.) Well, it's suppose to continue after Part 3, and I figured "1999" could add some type of "turn of the century" feel to it. I was also originally thinking of depicting a world after death, but didn't think anybody could relate to it.
One of the themes of Part 4 is "describing the city, creates the city." In part 3, I came up with the idea of using a neighborhood middle aged woman selling cigarettes who attacks Jotaro and his friends. The problem was that Part 3 was a worldwide trip, so while Jotaro had to move on from the suburban setting, I couldn't. I thought, if the adventure were to happen in just one city, I could take advantage of the concept of several people you'd meet around town suddenly threatening you and lurking about. I thought, maybe I could set a hospital as a battle stage, or involve someone like a mayor in the story. I figured this would enable me to take anything people are familiar with in everyday life and do something creative with it.
Names:
As you already know, most of my character's names are named after foreign musicians. Why do I do this? Well, it makes it easy for me to name characters and easy for readers to remember them. Yep, that's it (laugh), I don't bother coming up with original names. What's worse is that the names I give can sometimes cause confusion; "Kakyoin" for example, is the name of a place that exists in Sendai, my hometown. Part 4's another story though, as I had to come up with so many Japanese names. That was tough! From the very beginning, I had already decided on the name Josuke (Also read as JoJo), but deciding the family name gave me a hard time. (東方 Jojo of the east side) By the way, for Kujo, I looked into the dictionary and found ku meant sky and figured that sounded nice. For Okuyasu Nijimura, I used Niji which meant rainbow and chose "Nijimura" specifically cause it had a nicer ring to it than Nijioka or Nijiki. (Note: mura 村 means village, oku 億 means one hundred million. His big bro, Keicho's cho 兆 means trillion) I combine my favorite kanjis with sound taken into consideration, whether it it's easier to say or not. Though I'm having trouble thinking of any other JoJo puns, so I were to start Part 5, I'd probably have a hard time. (The result ended up having every character named after Italian food.)
Jotaro's School Outfit:
I decided Jotaro must be in a school uniform due to influence from "Babel II," a famous manga of a boy in a gakuran having an adventure in a desert. I've always thought how cool it was to have an adventure in a school uniform. This idea boggled me. It permeated a sense of "a man's spirit of romantic adventure," and "beauty" that could only be found from a boy having an adventure in a school uniform in a desert.
Wanting a sequel to previous works.:
People sometimes ask, "Why don't you draw sequels to Baoh or BT? Well, they're already done in my mind. Similarly, I always get letters asking me to revive Kakyoin, or bring back Polnareff for Part 5. I don't think I will though, since characters with similar natures are already present in Part 4. (Note: He did end up bringing back Polnareff, though in another interview he mentions adding him in was a last minute choice.) Even though I say this, you'll likely ask, "then why did Jotaro and Joseph show up in Part 4, weren't they done too?" Well, they have the advantage of being related to Josuke. Bloodline is important. Really, I don't have anything lingering whatsoever for Part 1-3, my previous works. Although, I'm more of a "forgetting" than "moving-on" type of person (laugh). My works resemble a diary in that I don't put too much thought into what I had previously written, but more so into drawing what I'm feeling NOW. Now is what matters most.
ゴゴゴ:
You encounter ゴゴゴ alot in my works. This sound effect is kinda the "groove, "tempo", or "rhythm" I feel when drawing. The atmosphere of the scene is what decides when I put this sfx. Like when I'm drawing a scene where a "DOOON" (ドーン!) appears, here comes ゴゴゴ to add a more ominous, something-is-happening touch! For Dio's MUDAMUDAMUDA, I add it to give feeling to his shouting. My way of adding SFX's and choosing lines is similar to making music in a way.
How Araki works on Weekly JoJo:
First, I draw the "name" on report paper, which takes about 12 hours. (Name is Japanese, it refers to the draft storyboard.) Then I have a meeting with my editor, and after I begin drawing more elaborate sketches and eventually inking. I never start on the next page until I completely finish the one I'm working on; I work strictly on a one-page-basis. This system allows for my assistants to work on each page more efficiently. I finish the names and begin dividing them into frames on Sunday. Work begins on Monday, where we work from 11 in the morning to midnight, though we do take a siesta for lunch from 3 to 4. On Tuesday and Wednesday we work as we do on Monday, and I make sure it's all finished by 6pm on Wednesday. For the rest of the time on Wednesday, I deal with determining the plot for the next chapter. On Friday and Saturday, I sit back and relax, draw illustrations, go somewhere to interview people, look for ideas or info for my works. I'm not really good at research though (laugh), or talking to people I first meet. I remember my stomach being filled with butterflies when I tried talking to the people who take care of the animals at the zoo. Either way, I'm quite strict when it comes to my schedule, and I deal with my work quite squarely. Otherwise, if we get too lazy, we never actually get any work done. During daytime, I have to give instructions to my assistants, which often stops our work, so ironically the time when I get the most work done is when my assistants go home.
At times I'm on a roll when it comes to coming up with ideas, and other times, it's hard for me to come up with anything. So whenever I am on a roll, when the ideas start cascading, I take advantage of that moment to try to write down everything for later use. I've never experienced a "slump" (the time a mangaka cannot draw anything, and gets nowhere), but there are times where I don't FEEL like doing anything. Everyone feels like that at some point, right? I always have so much work that if you ask me it it's tough, I'd say it very much is.
Characters:
If you ask me who my favorite is, It'd definitely be Josuke. Definitely Josuke...and Jotaro, and Dio, N'Doul, D'Arby. I love characters that have their own aesthetics. Characters I hate are ones I really tried to make look disgusting, unpleasent e.g Vanilla Ice. I gradually felt sick while drawing them.
Which type of character is easier for me to draw, good guys or bad guys? I can't say which is easier, because good/bad are like heads and tails, they're two sides of a coin and there is a really fine line between the two. Good characters tend to be bound by rules, but it's fun to work with them because at a certain times they begin to have a weird eccentricity. Depicting good characters is fun, but I guess depicting bad ones can be more fun since I can make them do anything (illegal) or destroy everything.
My Childhood:
I began drawing by imitating Shirato Sanpei's "Watari" or Chiba Tetsuya's "Harisu no Kaze" when I was 5 or 6. It seems so long ago, back when you could watch "Ultraman" on TV. I also made original stories, like muscle men fighting villains. I loved period plays (Stories that take place in Feudal Japan). There were so many manga titles I loved back then...sports comics, ghost related, I even bought the very first issue of Jump! Among all those mangakas, the one who moved me most is Yokoyama Mitsuteru (Babiru the second). I read his comics until they were worn out.
I was quite a normal child, but I was much more cool-headed than others. I was like that kid calmly looking at others raising hell. My hobbies were manga or movies. I didn't show any interest toward plastic models or radio-controlled model cars. I was such a pushover for "Spaghetti Western movies" and "Clint Eastwood." My dad loved them too.
I commented "My parents don't understand my manga" on the cover of a comic before. They still don't understand, which is puzzling to me because I draw manga with respect to Eastwood, whom my Dad loves. Why the heck can't they get to like my work? What is at the very core of my works is same as Eastwood's. Maybe the JoJo anime will help them get interested.
Other than Eastwood's, I loved the Godzilla series, or panic-filled movies. I couldn't see movies so often with the small amount of allowance I had, though.
Sports? I practiced Kendo. Group sports such as basketball or soccer were not my thing. I joined the baseball team once, but when I failed to catch, pitch or hit, everyone stared at me. I didn't like that part of group sports. Like it's ok for me to run alone, but I could not do relay races; I didn't want the responsibility. I couldn't work as a team. (laugh) What I did I love was magic tricks and playing cards, I even bought a How-to book and practiced them.
I've always loved Rock 'N Roll. From the late 1960's I began to listen to "Chicago," and "Led Zeppelin." In the 80's, "Prince," which is actually what I was listening to when I was drawing the cover for JoJo 6251. Foreign music with an ancient time's atmosphere and a baroque feel stir up my imagination. I couldn't afford expensive records back then so I listened to music from the radio. I recorded songs with a gigantic cassette deck my parents bought for my studies in English. I remember trying to stay perfectly still so I'd be quiet while recording (laugh). I didn't listen to Japanese songs at all at the time, and I still don't.
I had really wanted to become a mangaka since I was very little, but I tried to keep it a secret. Once I was asked, "What do you want to be in the future?" and I replied, "mangaka." The one who asked said "Good luck," though I could read from their eyes that they were really saying, "You can't become a mangaka!" So I ended up not telling anybody, not even my parents. I didn't even work on any kind of "doujinshi" either.
At some point, I began to think that I should immerse myself into the world of my stories and illustrations, so I started studying at a designer school. At the time, I had drawn two western manga, which I entered for a manga competition sponsored by Shonen Jump. I used to like Shonen Magazine too, but from the 1980's they started to focus on love-comedy. I hated that type of thing, so I didn't enter any contests Shonen Magazine sponsored. Despite entering the competitions with my "masterpieces" I never did receive any calls. I wondered why, so I went to the Shueisha HQ in Tokyo to ask their opinions on it directly. The one editor I showed it to, before even reading it, pointed out that I forgot to erase the black lines. He boggled my mind (laugh), but I learned a lesson that day. Back home, I began improving on my story, after 4 months I finished 30 pages worth. This work was called Poker Under Arms and it is what I made my debut with.
Fashion-conscious:
I am interested in fashion. I take Italian fashion into account when deciding what my characters wear. Versace and Moschino's clothes are so loud and gorgeous, they make my illustrations beautiful. However, they do have their weaknesses. I get bored with them if I draw them for too long (laugh). Similar to how certain clothes go out of fashion througout the years. I used to check out Japanese fashion books, but they are something different; they seem out of date.
Stands:
My doubt over supernatural powers helped me come up with Stands. I doubt such powers like, "Just think hard enough and things will begin to move." I don't see anything? How can you say your "willpower" moved things? I wanted something visible that could explain these powers. For example, if a person is in the dark and something moves, you can't really see what's happening. But, if something visible pops out from the person and actually touches things and moves them, then you'd say, "Oh, I see!" Stands are proof of those superpowers, basically my way of explaining how these invisible powers work. Well, they're kind of like "pseudo" proof, but they still work as an explanation (laugh).
I called it a "stand" after "light stands," the type that sit beside your bed in a "looming" manner when you read. With stands, I thought I could describe loads of things. "What a good idea", I thought. In part 3, I connected stands with tarot cards cause I wanted each stand to be unique. I thought 22 would be enough, but I ended up running short (lol). The stand's designs were inspired by Yokai's and eerie folkcrafts. I first decided the abiity, and then the appearance with which readers can associate with the ability. What I love about stands is that I can express psychological warfare. The Stand's physical powers are not what matters most. e.g. A stand with no physical power but with the the ability to make enemies tell lies can still be very formidable (Which ended up being the basis for Talking Head.)
Miscellaneous:
"Cool Shock BT." My First serialization. I worked on it in Sendai, my hometown. It was around the time the delivery service was first established, so I would send copies of rough sketches through that and talk with my editors by phone, just like Kishibe Rohan (laugh). My editor back then was so severe. After I had sent all of my work, he'd end up calling me to Shueisha in Tokyo anyways. I had to use an ashtray as a palette to practice and had to sleep on the train the next morning. That trained me as a mangaka; my editor is a man I respect as a severe teacher and also a god. He was the one that decided that Dio should be in Egypt since he loved Egypt and was very knowledgeable of it. (He was the one who tried hard to get BT serialized in Jump, when other editors were against it.)
"Baoh." I was thinking about Baoh when I drew BT during it's Jump serialization. By "the visitor," I meant "Strike Back." Back then, everyone was talking about Biotech, so I named Baoh after Biotech. I also wanted to pursue physical power.
"Gorgeous Irene." I came up with Irene's plot while pursuing physical power. I named her "Irene", which sounded cute. I started to draw Irene to see If I could actually draw girls. The result: I realized I couldn't draw girls. That's why you generally don't see that many girls in JoJo. Recently though, I've been incorporating more and more girls, and now I think I can draw them.
Starting JoJo:

I earned alot of money from drawing Baoh, which allowed me to go abroad for the first time in my life. I ended up going to England for 10 days, where I was at a loss, since I couldn't order food at restaurants due to my inability to speak English. I had a rather hard time there, but the experience inspired me to draw JoJo. By the way, two years after the trip I tried to write off the expense. The tax office refused me, so I had to pay surcharge; I've had a grudge against them ever since.
"

[Translated by ???]
Gallery
Trivia
References