Heritage for the Future ★ Mariah
Jump to navigation
Jump to search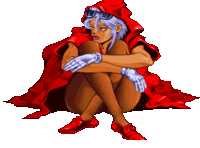 Mariah makes her playable debut on the Capcom game, being included in the second version of the game. She appears as a playable character with a style based on ranged traps.
Her game style is focused on middle-long range, keeping the enemy away with her moveset. Even without an active Stand, her Bast no Jiryoku, when activated, instead of summoning Bast, will place a magnetism-trap on the screen (always near her). If the opponent gets hit by this trap, their "magnetism" level will rise one level (with 8 being the maximum), making all Mariah's attacks stronger. She's one of the only characters in the game to fight at middle-long range, the other being Hol Horse.
Most of her moves are based on the objects she uses in the fight against Joseph and Avdol, such as knives, forks and electrifying energy cables. During her first super move, she uses the magnetism on the opponent to attract the screws, nuts, and bolts hidden in her bra and damages the enemy. During her second super move, she performs a rising uppercut on the opponent, launching them into the air and attracting a lot of metal objects, causing massive damage. It ends with a car smashing the opponent (the same car that defeated her in the story).
Along with Midler, Mariah is one of the only two playable female characters in the game. Mariah is also one of the special characters in the game that do not turn into a child when hit by Alessi's Stand; instead she turns into the old woman that Joseph encounters during his and Avdol's battle against Mariah.