Jota Kujo
Jump to navigation
Jump to search
"
Urya Urya, prepare for divine punishment!
"
Jota Kujo (空条丞太, Kūjō Jōta) is a primary character featured exclusively in the non-canon JoJo's Bizarre Married Life dōjinshi series, written and drawn by Japanese manga group, CLAMP.
Jota is the son of Jotaro Kujo and Noriaki Kakyoin, first introduced in CLAMP in Wonderland 1994 Summer.
Appearance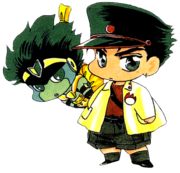 Jota during his childhood years has a chibi-like appearance with a large head and stubby limbs. His attire generally consists of his school outfit, which features a ripped student cap that blends into his hair, not unlike Jotaro's, an undershirt with a long-sleeve open dress shirt over it, a pair of shorts, sock and shoes and a backpack. The collared shirt has an emblem of what appears to be a flame on one side.
In his teenage years, Jota has a build and stature similar to Jotaro's. His outfit is primarily green, featuring the same ripped student cap, a blazer over a red turtleneck sweater, a matching pair of pants, dress shoes and fingerless gloves. He also wears a large chain attached to his collar and a necklace consisting of a black strap attached to a metallic emblem with a cross on it.
Color Schemes
The series is known for alternating colors between media, the information presented below may or may not be canon.
Hair
(Black with green highlights)
Outfit
(Green hat with a red pin and trimmings. Green blazer with gold trimmings over a red turtleneck. Golden necklace and chain. Green gloves.)
Hair
(Black with dark teal highlights)
Outfit
(Black hat with a red pin and trimmings. Black blazer with white trimmings and green collar over a red turtleneck. Golden necklace and chain. Black gloves)
Personality
Jota comes across as a typical Japanese student with a somewhat carefree attitude, but he's prone to getting into fights like a delinquent. He is very affectionate with and respects his birthparent, Kakyoin, but has a reciprocated hatred for his implied father, Jotaro. This hatred is so apparent that his friendship with Josuke Higashikata was put into danger simply because Josuke admired Jotaro.
Abilities
Main article: Charmy Green
Developed at a very young age, Charmy Green has both physical features and abilities that are similar to Jota's parent's Stands. Its appearance closely resembles Star Platinum, but with a color scheme that matches Hierophant Green. Its abilities include being able to unravel itself into string-like appendages that can create barriers, much like Hierophant Green, and perform a fist barrage like Star Platinum. It can also fire emeralds from its fingers, which Jota calls, "Emerald Star Finger."
Charmy Green
(
チャーミー グリーン
)

Ability
Superhuman Capabilities & Coiled Body
History
Background
The information below derives from a source not written by Araki. As such, it may or may not be considered canon.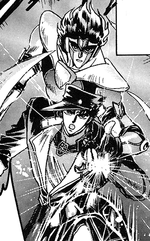 Sometime after the events of Stardust Crusaders (and Jotaro and Kakyoin's marriage), a mysterious large egg appears in Kakyoin's room overnight. The egg hatches revealing a small child with a Joestar Birthmark and stern glare, giving the impression that it belongs to Jotaro and Kakyoin. The child is named "Jota" by Joseph, and while the rest of the crusaders seem to have taken a liking to him, Jotaro appears hostile.
A week after Jota is born, he has grown quickly enough to go to school where he is known to get into fights. One day after returning from classes, he gets into brief conflict with Jotaro before unlocking his own Stand, which appears to have inherited traits of both Star Platinum and Hierophant Green. Jotaro decides to name it "Charmy Green" after the dish detergent in the kitchen.
10 years pass, and Jota has grown enough to go to high school. During these years, he would often visit Morioh to deliver packages to Jotaro upon Kakyoin's request. As a result, he became very acquainted with the town and became friends with Josuke Higashikata. His friendship is somewhat jeopardized however, by how much Josuke admires Jotaro and his relationship with Kakyoin. Jota would continue to hate his father.
CLAMP IN WONDERLAND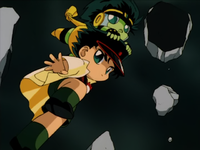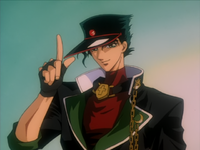 CLAMP IN WONDERLAND is a series of animated music videos produced by Studio MADHOUSE and Animate to celebrate CLAMP's works over the years.
The first music video was released during a special event hosted by CLAMP called Clamp in Wonderland and featured characters from their previous works created between 1989 and 1994. Within this music video, a younger Jota and Charmy Green, along with an older Jota, can be seen at the end right before the credits.
Gallery
References