JoJo's Pitter-Patter Pop! ★ Boingo
Jump to navigation
Jump to search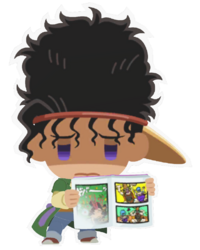 Boingo (ボインゴ) is a playable character in JoJo's Pitter-Patter Pop! with one Gold Rarity (GR) unit.
He was added to Pitter-Patter Pop! on August 19, 2019 in the "'God Khnum' Oingo and 'God Tohth' Boingo" event.

Future-Predicting Comic

Boingo

Future-Predicting Comic ver.
未来を予知するマンガ ver.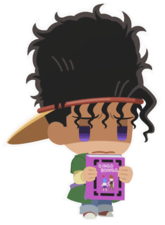 Rarity:

Max Power: 1601
(Lvl 50)
/ 2771
(Lvl 80)
Release Date: August 19, 2019
Favorite Gift and Voiced Gift Reactions:

Skill:
Tohth

Replaces random panels with Book panels. Book panels erase 5 panels in a cross shape when tapped. If they're not tapped after a certain period of time, they will be replaced with Block panels.

Skill Lv 1
# of Replaced Panels:
2
Cooldown:
85

Skill Lv 2
# of Replaced Panels:
3
Cooldown:
85

Skill Lv 3
# of Replaced Panels:
3
Cooldown:
80

Skill Lv 4
# of Replaced Panels:
4
Cooldown:
80

Skill Lv 5
# of Replaced Panels:
4
Cooldown:
75