20th Century BOY
Jump to navigation
Jump to search
"
Quand tu prends ta posture défensive, personne sur cette Terre ne peut te vaincre...
"
20th Century BOY (20th Century BOY, Towentīsu Senchurī Bōi) est le Stand de Magent Magent, figurant dans Steel Ball Run. Fixé aux épaules de Magent Magent comme un casque et des épaulières, il protège Magent de tout heurt tant qu'il est agenouillé.
Apparence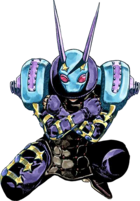 20th Century BOY apparaît généralement comme une pièce d'armure creuse composée d'un casque (la tête du Stand) avec deux longues antennes droites, de deux grandes épaulettes cylindriques cloutées auxquelles pendent deux longues sangles ramifiées et d'une plaque d'armure segmentée à son dos à partir de laquelle surgissent deux sangles relativement simples. Sa tête porte deux longues antennes verticales. Son visage a deux grands yeux vides, un boulon le traverse d'épaule en épaule. Le bout des sangles de 20th Century BOY s'étirent en trois pointes.
Magent Magent porte littéralement son Stand sur lui comme une sorte d'armure.
20th Century BOY est violet et cyan dans le manga couleur.
Palettes
The series is known for alternating colors between media, the information presented below may or may not be canon.
Corps
(Tête et épaules bleues, antennes, yeux et sangles cyan.)
Pouvoirs
20th Century BOY n'a pas de capacités offensives spéciales, mais sa défense est exceptionnelle. Bien que Magent Magent doive être immobile dans son état invulnérable, il n'y a presque moyen de contourner sa défense.
En conséquence, seules les attaques surprises et retourner l'immobilité de Magent Magent contre lui sont efficaces si on doit le combattre.
Défense Absolue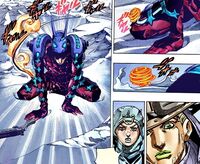 Quand Magent Magent active 20th Century BOY et s'agenouille, il devient invulnérable aux dégâts.[2]
Toute l'énergie et les projectiles qui touchent Magent Magent sont redirigés loin de ce dernier dans la terre ou l'air, ce qui l'immunise contre tout dommage, que ce soit des attaques de Stands, des Boules de Métal, des balles d'un pistolet ou des explosions.[2] Il protège même Magent de danger environnementaux; par exemple de la noyade.[3] La capacité de 20th Century BOY a été expliquée comme étant une redirection de l'énergie des attaques ennemies vers le sol grâce aux sangles qui agissent comme des fils de terre.[4]
On peut voir un exemple probant de la protection qu'offre 20th Century BOY contre Jayro Zeppeli, le Stand dispersant l'énergie d'une Boule de Métal dans le sol, et aussi déviant une balle que Jayro lance vers Magent.[5]
La grande faiblesse de ce Stand est qu'il force Magent à rester immobile. Ainsi, Wekapipo a pu forcer Magent à prendre sa posture défensive puis l'a ligoté avec un câble pour le faire couler au fond du Delaware. Comme 20th Century BOY ne peut que défendre Magent, ce dernier s'est retrouvé piégé au fond de l'eau, incapable de baisser sa garde sous peine de se noyer mais alors étant incapable de se libérer aussi.[3][5]
Chapitres

Apparition dans le Manga
Chapitres (ordre chronologique)
Galerie d'Images
Références