Phantom Blood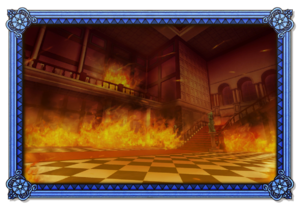 Joestar Mansion (ジョースター邸, Jōsutā-tei)
Stage Gimmick 1: Zombies may grab any combatant near a broken window, inflicting damage and leaving the victim open to attacks.
Stage Gimmick 2: Throughout the match, fire will slowly break out within the mansion, inflicting gradual damage on those caught in the blaze.
Situation Finish: The defeated combatant is thrown onto the statue of the goddess of love, recreating Dio's first defeat.