Centre Spatial Kennedy
Jump to navigation
Jump to search
ATTENTION AUX SPOILERS: Des spoilers pour la partie 6 sont à prévoir.
Le Centre Spatial Kennedy (ケネディ宇宙センター, Kenedi Uchū Sentā) est un point d'intérêt majeur qui apparait dans Stone Ocean.Situé sur le Cap Canaveral (ケープ・カナベラル, Kēpu Kanaberaru), le centre spatial Kennedy est l'endroit exact que Pucci doit atteindre pour débloquer le pouvoir d'atteindre le Paradis, et où il acquiert C-MOON et Made in Heaven.
Sommaire
Le Centre Spatial Kennedy est une base de lancement gérée par la NASA situé très précisément sur Merritt Island, en Floride. Cette base a été construite dans les années 50 et depuis, a été utilisé pour le lancement de nombreuses fusée transportants astronautes et satellites en orbite. Le centre a été construit à Cap Canaveral dûe à sa proximité avec l'Equateur, là où la gravitation de la Terre est compensée par la force centrifuge causée par la rotation de la Terre. Ainsi les lancements sont plus facile car moins d'énergie est requise.[1] Le centre spatial lui-même a une superficie importante avec beaucoup de bâtiments éloignés d'au moins de 5 kilomètres les uns des autres. Il y a quelques endroits d'intérêt particulier comme la rampe de lancement, la tour de contrôle, une navette spatiale exposée au public, ou encore le site de construction des fusées, ainsi que le centre des visiteurs qui sert d'entrée publique.[2] Il n'y a pas de train, ou de ligne de bus qui relient le site et il faut donc y aller en voiture.
Le centre spatial Kennedy est une attraction touristique populaire, bien que l'on soit cantonné à des cars durant la visite. Les visiteurs entre exclusivement via le centre de visite spécialement aménagé pour accueillir les visiteurs. Là, ils doivent acheter des billets sur place et faire la queue pour entrer par groupe dans des cars pour faire un tour de la zone. Le nombre de visites par jour est régulé, ainsi, un groupe limité de visiteur peut faire la visite toutes les 15 minutes.[3]
Lorsque C-MOON apparait, son pouvoir fait pivoter le sens de la gravité sur le côté, ce qui ravage le centre, et en fait virtuellement une falaise géante dont il est très difficile de s'approcher.
Cap Canaveral est localisée aux coordonnées suivantes : 28°24′N 80°36′W. C'est un bout de terre large de 34 000 hectares. Il abrite le Kennedy Space Center depuis les années 50. Il est révélé que le niveau de la mer ici est en fait 50 mètres plus haut que le rivage et peut atteindre une différence de 100 mètres selon la position de la lune, ce qui montre que l'attraction gravitationnelle y est plus faible.[4]
Chapitres

Manga Appearances
Chapters in order of appearance
Jeux Vidéo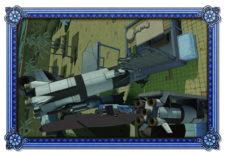 Le Centre Spatial Kennedy apparait dans Eyes of Heaven et dans All-Star Battle en tant qu'arène.
Danger d'arène: C-MOON bombarde l'arène avec divers objets qui tombe là où se trouvent les combattants, pendant qu'Emporio crie pour avertir les combattants. Ceci arrive sans limite de temps.
Situation Finish: Le perdant est propulsé du bord du terrain, se cognant la tête sur un garde-fou et tombant alors vers l'horizon.
Gimmick d'arène: A un moment durant le combat, la gravité change de sens, ce qui ravage le terrain et change complètement la configuration de l'arène.
Galerie d'Images
Références