Weekly Shonen Jump: Ore Collection!
Jump to navigation
Jump to search
Weekly Shonen Jump: Ore Collection! (週刊少年ジャンプ オレコレクション!, Shūkan Shōnen Janpu Ore Korekushon!, lit. Weekly Shonen Jump: My Collection!), abbreviated as OreColle, was a free mobile game for Android and iOS developed by Drecom and distributed by Bandai Namco Entertainment.
The game released on July 6, 2017. It was a collectible card battle game which featured a collection of characters from Weekly Shonen Jump serialized series for the magazine's 50th anniversary.
On November 21, 2018, it was announced that the development team was giving OreColle a major rework. The rework released as a new game titled Jump Hero Taisen: Ore Collection 2 on November 20, 2019.[1][2]
Gameplay
Basics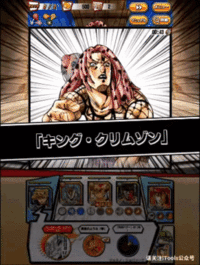 Ore Collection has collectable Character Cards and Scene Cards. Character Cards are playable in battle. In addition to ordinary attacks, they can use up to three special skills. Players can organize their party with up to 5 characters, consisting of three main characters and two support characters. Character cards can be evolved to increase their rarity. Some characters are Jump Units which can Jump Awaken to surpass 5★. Characters may have different Leader Skills and Passive Skills, which can either boost HP, Attack, Defense, or Critical Hit chance.
Scene Cards can raise the stats of characters and have different abilities. Players level up by collecting these cards. Scenes can be earned by using Memorial Stones. Jump Gold is used for leveling up characters, skill ups, evolutions, and more. Jump Orbs are used to summon characters, refill stamina, and to expand the character storage box.
There is a Stamina gauge for playing events. Stamina will sometimes increase when the player levels up. When players get a stamina refill either leveling up, using orbs, or from a stamina bottle, if the amount of stamina that is being refilled is greater than the size of the player's stamina bar, the excess stamina will go into Stamina Overflow. If Stamina Overflow reaches 100, players receive a +100 Stamina Bottle, allowing them to refill 100 stamina whenever necessary.
Character Types
Characters have different types and classes which can affect their Leader Skills and Passive Skills as well as make them vulnerable to the skills of other characters.
Panels
A "Koma" (or Panel) is an equippable item for characters. Panels have various effects, including stat increases, allowing units to inflict status effects, block debuffs, etc. These items are obtainable as rewards from quests and other events.
Panels can be enhanced by using Jump Gold. However, there is a chance for a Panel enhancement to fail. By enhancing them, players can increase their strength or add bonus effects. Bonus effects are earned at levels 4, 8 and 12. The max level for all obtainable Panels of all rarities is level 12. There are six Panel slots for each character. Equipping multiple of the same kind of Panel will result in a bonus, such as +25% attack.
Legend Arena
Legend Arena is a mode where players can fight other players. Players can challenge the teams created by other players in order to earn AP and BP. Legend Arena is unlocked by finishing Jump Story (Story Mode) Volume 2.
AP (Arena Points) allows players to purchase items such as Power Up tickets, Gacha tickets, character cards, and more.
BP (Battle Points) determine the player's arena rank. The rank determines what rewards are received at the end of the season.
Characters
From JoJo's Bizarre Adventure, the following characters are playable:
Gallery
Trailer
References