JoJo's Bizarre Adventure: Golden Hymn
Jump to navigation
Jump to search
JoJo's Bizarre Adventure: Golden Hymn (乔乔的奇妙冒险 黄金赞歌, Qiáo Qiáo De Qímiào Màoxiǎn: Huángjīn Zàngē)[a] is an upcoming Chinese mobile game being developed by KLab Games and published by Shengqu Games.
Announced on December 25, 2020, the game is planned to feature characters from the first four seasons of the JoJo's Bizarre Adventure anime. The app will be available in in all regions, excluding Japan.[1]
Summary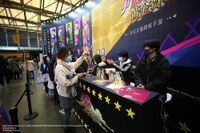 On December 25, 2020, it was announced that a panel for Golden Hymn would be exhibited at COMICUP27, one of the largest anime and manga conventions in China, in Shanghai from January 1 to January 2, 2021.[2][3] On January 20, 2022, KLab announced that they had acquired the rights to distribute the game worldwide, excluding Japan.[4] At some point prior to October 6, 2022, the game was removed from the list of games on the publisher's official website.[5][6]
On December 1, 2022, the official website and social media accounts on Weibo and WeChat were rendered in black-and-white to pay tribute to former Chinese leader Jiang Zemin.[7]

Characters
Questionnaire
Questionnaire
1. Have you ever watched the anime or manga for JoJo's Bizarre Adventure?

---

2. How long have you been a fan of the series for?

1-2 years
2-4 years
4-6 years
6-8 years
8-10 years
10+ years

---

3. Which part of the series is your most favorite?

Part 1: Phantom Blood
Part 2: Battle Tendency
Part 3: Stardust Crusaders
Part 4: Diamond Is Unbreakable
Part 5: Vento Aureo
Part 6: Stone Ocean
Part 7: Steel Ball Run
Part 8: JoJolion

---

4. Which of the following have you done before? (multiple choice)

Brought figures related to the series
Wore cosplay related to the series
Been interested in sharing content related to the series online
Actively shared content about the series online
Re-enacted a JoJo pose
Watched the anime, but not the manga
Watched and read both the anime and manga

---

5. Which of the following shows have you watched? (pick up to five)

Sword Art Online
Is It Wrong to Try to Pick Up Girls in a Dungeon?
Lapis Re:Lights
Love Live! School Idol Project
Demon Slayer: Kimetsu no Yaiba
Fate/Zero
Fate/Stay Night
A Certain Magical Index
Guilty Crown
Re:Zero − Starting Life in Another World
Attack on Titan
None of the above

---

6. How much time would you say you spend playing mobile games a day?

Less than an hour
1-2 hours
2-4 hours
More than 4 hours
I don't play mobile games

---

7. Which of the following mobile game genres would you say you have played the most in the past 6 months?

Turn-based MMORPG
Business simulation
Trading card game
Strategy
Turn-based card game
Action
MOBA
Shooter
Asymmetrical multiplayer
Rhythm
Racing
Casual
Games for women
Other (Please enter here)

---

8. What the main factors you consider when downloading a new mobile game? (pick up to three)

The game's rating
The player base and how active it is on social media
The game's ranking on the store
What my friends think about the game online and in real-life
What series the game is about
Graphics, art style, sound quality, etc.
Whether or not I'll have the time to play it
Who the game was made by
The game's story
The game's genre
Character art and voice acting
The personality of the characters in the game and their backstories
Recommend by a friends
Other (Please enter here)

---

9. Which scenario would best describe your method of finding out about an upcoming game? (pick up to three)

Seeing others on social media post about it
Seeing friends or followers discuss it in real-life or online
Seeing it on highly discussed on a relevant gaming forum
Watching videos about it on video hosting sites
Finding it on a short video app related to gaming
Seeing it streamed on popular live streaming sites
Seeing ads and promotional material related to it on gaming media
Actively follow gaming news sites
Checking the rankings on the app store
I saw an artist/write/internet personality trying it out
After seeing v-tubers and people on Lofter trying it out
After seeing material related to in at an anime convention and or any offline even
Other methods

---

10. Which of the following social media apps do you use the most often?

Hobby Buluo
Douban
Xiaohongshu
Qzone
Zhihu
Baidu Tieba
NGA
Sina Weibo
Short video apps like TikTok and Kuaishou
QQ Group
Bilibili
Lofter
Other (Please enter here)

---

11. When you usually play a game, which of the following are the most important factors for having fun? (pick up to three)

Overall plot, world immersion, plot, characters, gameplay
Being able to socialize with others and make new friends
Levelling up and striving to get better at it
Thinking of strategies to win and enjoying the joys of battle
Being able to collect new art, characters, equipment, etc.
Experiencing the pleasure of completing difficult missions
The uncertainty and randomness of events in the game
Having characters in the game that I really like
Being able to eliminate high level opponents in pvp matches
Other ways of having fun (Please enter here)

---

12. When playing a game, what is it that motives you to keep playing? (pick up to three)

Being able to continuously unlock new characters, improve at the games combat, get new equipment, and continue to face more challenging events
Just enjoying the gameplay and experiences the game has to offer
Being able to unlock characters you like over and over again
Being able to beat opponents over and over again by training in the pvp
The sense of accomplishment after unlocking all the illustrations and completing achievements
There are friends in real life playing it and it's still a popular topic
I really like the series its related to
I've met new friends through playing the game and I want to continue playing with them
Participating in gameplay by unlocking voices, cards, story and more of the characters that exist in the game
The accumulation of activities/daily task and obtaining being able to obtain rarer and more powerful equipment
Other motives (Please enter here)

---

13. How much money do you spend while playing games per month?

1¥-50¥
1¥-5¥
51¥-100¥
101¥-500¥
501¥-1,000¥
1,001¥-2,000¥
2,001¥-5,000¥
5000¥ or more
I don't have a habit of spending money while playing games

---

14. Among the following list of games, which mobile game would you say you've played the most in the past 6 months?

Arknights
Princess Connect!
Fate/Grand Order
Fantasy Westward Journey
Dragon Nest II
Honkai Impact 3rd
Genshin Impact
AFK Arena
Yi Meng Jiang Hu
Shuai Tu Zhi Bin
Xin Xiao Ao Jiang Hu
None of the above

---

15. Which type of content do you prefer to pay for when playing mobile games?

Unlocking new characters
Decorative items (Objects, skins, costumes, furniture)
In-game currency
Power ups
EXP
New equipment
Enhancing and refining equipment
Items to increase equipment stats
Other

---

16. Which type of content do you prefer to pay for when playing mobile games?

Gacha
Unlocking new characters
Decorative items (Objects, skins, costumes, furniture)
In-game currency
Power ups
EXP
Materials needed to level up characters
Other content (Please enter here)

---

---

18. What is your age?

Under 16
16-17 years old
18-22 years old
23-26 years old
27-30 years old
31-35 years old
Over 35

---

19. Which city do you currently live in?

Beijing
Shanghai
Guangzhou
Shenzhen
New first-tier city (Hangzhou, Wuhan, Nanjing, etc.)
Second-tier city (Dalian, Hefei, Foshan, Fuzhou, etc.)
Third-tier city (Haikou, Shantou, Yangzhou, etc.)
County-level city
Other city (Please enter here)

---

20. What is your occupation?

Primary school student
Middle school student
High-school student
University (Including college, undergraduate, graduate and the above)
Business Employee
Business Manager
Organisation/Government agency personnel
Professional staff (teacher, lawyer, ect.)
Sole trader
Freelancer
Currently unemployed
Other occupation (Please enter here)
Gallery
Notes
References