JoJo's Bizarre Adventure/es
Jump to navigation
Jump to search
"
Diría que vivir con una visión positiva es la temática de JoJo. Es una celebración de la humanidad.
"
JoJo's Bizarre Adventure (ジョジョの奇妙な冒険, JoJo no Kimyō na Bōken lit. Las Extrañas Aventuras de JoJo) (a menudo abreviado JoJo o JJBA) es un manga

shōnen

y seinen

escrito e ilustrado por Hirohiko Araki, y el tema principal de este proyecto wiki.
Perfil
JoJo fue serializado en Weekly Shonen Jump desde 1987[3] hasta el 2004, cuando fue entonces transferido a la revista seinen

mensual Ultra Jump, donde la historia actualmente continúa. La serie está recolectada en una variedad de formatos desde los Tankōbon

estándar hasta los volúmenes de edición especial tales Bunkobans y Kanzenbans, todos los cuales contienen el manga tal y como fue serializado en Weekly Shonen Jump y Ultra Jump con pocas diferencias como nombres de capítulos diferentes y cambios en los diálogos.
La serie tiene más de 100 millones de copias impresas,[4] haciéndola una de las series de manga más vendidas

de la historia. Llenando más de 120 volúmenes, es la segunda serie de manga más duradera de Shueisha. La publicación de las primeras partes al inglés, español y otros idiomas está en curso.
El género de JoJo abarca Acción, Aventura, Sobrenatural, Suspenso, Comedia, Tragedia, Misterio, Recuentos de la Vida, y Terror. Es quizás conocido más popularmente por su fenómeno Stand; el arco de Stardust Crusaders y sus personajes Dio Brando/DIO y Jotaro Kujo; la expresiva rendición de sus orgullosas y glamorosas personalidades; y sus cientos de referencias nominales a la música popular occidental.
Añadiendo al canon de JoJo en varias medidas, Araki ha escrito varios spin-offs y libros de arte relacionados; y también se han producido varias novelas ligeras, todas conteniendo sus ilustraciones.
JoJo era previamente la serie de manga de Shueisha con más tiempo sin recibir una adaptación animada para televisión. Sin embargo, la serie anime de TV oficial finalmente hizo su debut el 6 de Octubre del 2012 (separando los debuts del manga y del anime por veinticinco años); diseñada por el estudio de animación David Production.
Su alcance de otra mercancía incluye varias adaptaciones en videojuegos, entre estas tres juegos de peleas con lanzamiento internacional; Heritage for the Future por Capcom

(en la placa CPS-3

) en 1998; All Star Battle por Bandai Namco Games

para la PS3 en el 2014; y Eyes of Heaven para la PS4 en el 2016.
Guía
Resumen
La historia en JoJo está dividida entre dos continuidades. La primera incluye las Partes 1 a 6, detallada en Weekly Shonen Jump de 1987 al 2003, mientras que la segunda incluye las Partes 7 y 8, detallada en la revista seinen Ultra Jump del 2004 hasta el presente. La trama a lo largo de estas historias es abastecida en arcos de múltiples capítulos detallando conflictos precarios y melodramáticos entre personas definidas tanto por únicos poderes sobrenaturales, principalmente el versátil fenómeno Stand, y exclusivas ambiciones, actitudes y estándares morales. Estos arcos varían en tono, alternando aventura, suspenso, misterio y terror; siempre por medio de acción, y con comedia frecuentemente incorporada. Típicamente, una carrera emerge entre los héroes de una historia para interceptar a un poderoso antagonista central.
Muchas referencias al cine moderno, televisión, moda, artes finas y música popular son fácilmente identificables a lo largo de JoJo en muchos ambientes y en tanto la caracterización como la nomenclatura del elenco. Ejemplos de teoría física, matemática y psicológica, biología, tecnología, mitología, fenómenos naturales, eventos históricos, y segmentos de otras obras artísticas informan el diseño y funcionalidad de la multitud de únicos Stands. La serie ocasionalmente hace extravagantes avances de teoría científica contemporánea en la creación de las rutas por las que ciertos Stands y otros poderes ejercen su influencia en la naturaleza.
Morioh, un pueblo japonés ficticio y la ubicación de Diamond is Unbreakable junto con su encarnación distinta en el actual JoJolion comparte sus coordenadas con el pueblo natal de Araki, Sendai

,[5] asumiendo una descripción más culturalmente detallada y haciendo referencia a temas más contemporáneos (tales como el terremoto de Tohoku del 2011

) que otras ambientaciones. Además, el mangaka portador de Stand Rohan Kishibe, un residente de Morioh introducido en Diamond is Unbreakable, regresa como un guía en un número de spin-offs de JoJo.
Cuando se le pidió en el 2006 describir el tema de JoJo en una frase, Hirohiko Araki respondió "el enigma de los seres humanos" y "un elogio [al] humano";[6] y como su actitud hacia el manga, "la salvación del corazón".[7] Los temas en el texto del manga pueden ser condensados bajo las temáticas del Destino

, el Coraje

y la Justicia

.
Continuidad del Universo Original
La primera continuidad sigue una contienda intergeneracional entre la Familia Joestar y varias fuerzas del mal, de los cuales los más prominentes son Dio Brando y sus seguidores.
Phantom Blood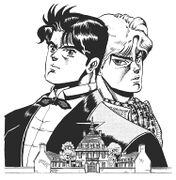 La primera parte, Phantom Blood, ambientada en Inglaterra en 1880, sigue a Jonathan Joestar a medida que madura junto y eventualmente combate a su hermano adoptivo, el astuto y despiadado Dio Brando quien se convierte en un Vampiro con la ayuda de una antigua Máscara de Piedra. Jonathan es entrenado por Will Anthonio Zeppeli en la vibrante energía de la Onda, albergada en el cuerpo humano y transferida en combate mano-a-mano, la cual es la única manera segura, aparte de la luz del sol, de derrotar Vampiros y sus secuaces Zombi.
Battle Tendency
La segunda parte, Battle Tendency, ve al nieto de Jonathan, Joseph Joestar, cruzando el mundo durante los días previos a la Segunda Guerra Mundial en 1938 para combatir a los Hombres del Pilar, una antigua raza de seres hostiles responsables por la creación de la Máscara de Piedra. Igual que su abuelo, Joseph se somete a un extenuante entrenamiento con la Onda junto a Caesar Anthonio Zeppeli, el nieto de Will, por la reservada Lisa Lisa e intenta proteger la Piedra Roja de Aja, una gema buscada por los Hombres del Pilar para completar la Máscara de Piedra y otorgarles inmunidad al sol.
Stardust Crusaders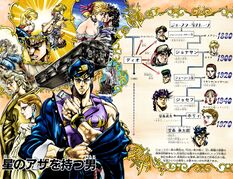 La tercera parte, Stardust Crusaders, toma lugar durante 1988-1989 mientras el nieto de Joseph, Jotaro Kujo, viaja junto con Joseph, Muhammad Avdol, Noriaki Kakyoin, Jean Pierre Polnareff e Iggy desde Tokio hasta El Cairo en orden para pelear contra DIO quien ha regresado de las profundidades del mar y salvar a su madre de la mística influencia de DIO. A partir de ahora, aliados y villanos por igual primariamente usan Stands, una representación usualmente humanoide del espíritu de una persona, la cual se volvió una de las características más prominentes de la serie.
Las primeras tres partes constituyen una trilogía tras la cual Hirohiko Araki tenía la intención de terminar la serie, pero a pesar de ello JoJo's Bizarre Adventure continuó luego del final de la tercera parte.[8]
Diamond is Unbreakable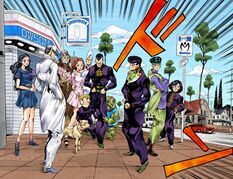 La cuarta parte, Diamond is Unbreakable, toma lugar en el ficticio pueblo de Morioh, Japón, en 1999. Sigue al hijo ilegítimo de Joseph, Josuke Higashikata, a medida que conoce amigos y enemigos entre una multitud de nuevos usuarios de Stand en la población de Morioh creados con el Arco y Flecha, dos objetos que le dieron a DIO su Stand. Él, Okuyasu Nijimura, Koichi Hirose, Jotaro Kujo y Rohan Kishibe eventualmente persiguen al asesino en serie Yoshikage Kira.
Vento Aureo
En la quinta parte, Vento Aureo, ambientada en Italia del 2001, el hijo de DIO, Giorno Giovanna, combate en su camino hacia la cima de Passione, la pandilla más poderosa en Italia, mientras trama derrocar al misterioso Jefe de la banda en orden para proteger a la población civil del narcotráfico de la pandilla. Para logarlo, él coopera con el miembro de la banda Bruno Bucciarati y su propio equipo de Leone Abbacchio, Guido Mista, Narancia Ghirga y Pannacotta Fugo mientras se les encarga proteger a la hija del Jefe, Trish Una, de los equipos asesinos La Squadra Esecuzioni y Unità Speciale.
Stone Ocean
La sexta parte, Stone Ocean, toma lugar en el 2011 cuando la distanciada hija de Jotaro, Jolyne Cujoh, es incriminada de homicidio y es encarcelada en la Prisión Green Dolphin Street. Jotaro luego tiene tanto sus recuerdos como su Stand robados por el Stand Whitesnake tras un intento de liberar a Jolyne. Ella luego decide permanecer presa en orden para averiguar quién es el usuario de Whitesnake y lo que planea hacer con los recuerdos y Stand de Jotaro. Durante su aventura, Jolyne gana aliados en Emporio Alnino, Ermes Costello, Foo Fighters, Narciso Anasui y Weather Report.
Continuidad del Universo Alterno
Steel Ball Run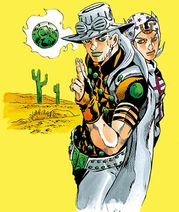 Ambientada en 1890 en los Estados Unidos, Steel Ball Run sigue una carrera alrededor del continente de los Estados Unidos de América. Esta se llama la carrera de caballos Steel Ball Run y es nombrada en honor del patrocinador, Steven Steel. Los protagonistas son Gyro Zeppeli, un maestro de la singular técnica del Giro buscando el premio en efectivo; y Johnny Joestar, un ex-jinete parapléjico buscando curar sus piernas a través del Giro; ambos cooperando para ganar la carrera. Johnny y Gyro descubren que la carrera es un encubrimiento del Presidente Funny Valentine para descubrir las poderosas e invaluables reliquias de Jesucristo, eventualmente también buscando dichas reliquias mientras eluden a los varios agentes de Valentine.
JoJolion
Saltando al 2011 en JoJolion, la estudiante universitaria Yasuho Hirose descubre a un hombre amnésico provisionalmente llamado "Josuke" en Morioh tras el (contemporáneo en ese entonces) gran terremoto de Japón oriental. Ambos entonces deciden investigar la identidad pasada de Josuke, inicialmente creída a ser la del doctor náutico Yoshikage Kira, y las circunstancias de su presencia en el pueblo, dejándolo al cuidado de la acomodada Familia Higashikata mientras ambos develan los secretos más oscuros de la familia y un tráfico de drogas involucrando a una misteriosa raza de seres humanoides y una igualmente misteriosa fruta.
La segunda continuidad presenta muchos guiños a personajes de la antigua continuidad incluyendo reestilizados personajes principales, Stands y ubicaciones.
Parts
No.
Title
Original Run
Volumes
1
1987 – 1988
5
Beginning in 1880, Part 1 follows Jonathan Joestar as he matures with and eventually combats his adoptive brother, the cunning, merciless Dio Brando.
No.
Title
Original Run
Volumes
2
1988 – 1989
7

Set in 1938, Part 2 follows Joseph Joestar, grandson of Jonathan, who finds himself embroiled in a war against ancient super-beings named the Pillar Men, creators of the Stone Mask.
No.
Title
Original Run
Volumes
3
1989 – 1992
16
Part 3, set in 1989, follows Jotaro Kujo, who has acquired the power of Stand, and his allies as they journey from Tokyo to Cairo to save his mother's life by defeating his family's archenemy, DIO.
No.
Title
Original Run
Volumes
4
1992 – 1995
18

In Part 4, set in 1999 in the fictional town of Morioh, high-schooler Josuke Higashikata and his friends seek out the Arrow, which has the power to give Stand abilities, as well as the serial-killer Yoshikage Kira.
No.
Title
Original Run
Volumes
6
2000 – 2003
17

In Part 6, 2011, Florida, Jolyne Cujoh, daughter of Jotaro Kujo, is framed for murder and thrown in the Green Dolphin Street Prison. She and her allies struggle to discover who is responsible for what and what are they planning to do.
No.
Title
Original Run
Volumes
7
2004 – 2011
24

Beginning another continuity, Part 7 follows Gyro Zeppeli, master in a mystic art named the Spin, and Johnny Joestar, a paraplegic ex-jockey, as they compete with a vast number of others in the highly rewarded Steel Ball Run race in the U.S. in 1890, designed in part by the American government.
No.
Title
Original Run
Volumes
8
2011-Ongoing
25

Part 8 begins in 2011 and follows Josuke Higashikata, a young man afflicted by retrograde amnesia, on his search to uncover his identity in Morioh, a coastal Japanese town affected by the Tohoku earthquake.
Publication
Chapters are serialized in Weekly Shonen Jump and Ultra Jump, under Shueisha. While in Weekly Shonen Jump, the series was published under the tagline "Romantic Horror! -A Crimson Tale-" (ロマンホラー!—深紅の秘伝説—, Romanhorā!-Shinku no hi densetsu-). The tagline was created by the editorial department at Shueisha and was included in every chapter up until Stone Ocean.
In North America and the United Kingdom, Stardust Crusaders was translated into English and published in 16 volumes by VIZ Media from November, eighth 2005 to December 7, 2010 under the title of JoJo's Bizarre Adventure, skipping both Phantom Blood and Battle Tendency. On June 9, Viz Media published the first three parts of JoJo's Bizarre Adventure from the JoJonium line of manga, from February 24, 2015 to February 5, 2019, marking the first English publications of Phantom Blood and Battle Tendency. On July 6, 2018, Viz Media announced they would be releasing an English publication of Diamond is Unbreakable. The first volume of Diamond is Unbreakable was released on May 7, 2019. Diamond is Unbreakable is still currently being released.
In Italy, Star Comics began publishing the series in a monthly format under the title Le bizzarre avventure di JoJo from November 1993 to April 2004,[9] these monthly releases contained around five chapters in each trade paperback with 126 paperback volumes released. These releases would then be followed up in March 2006 with translations of the Steel Ball Run volumes that were published until February 2012. During this time, Star Comics published the JoJo's Bizarre Adventure (Bunko Edition) volumes with their Italian translation of the series starting from 2010. Currently, they have been publishing JoJolion since February 2014 and have begun releasing the JoJonium volumes since October 2019 with further releases still on-going.
In France, the first four parts were published by J'ai lu[10] from January 2002 to December 2005. In 2007 publisher Tonkam (now a subsidiary of editions Delcourt resumed the publication of the following parts starting with a publication of Vento Aureo, the previous parts would later see revised releases under Tonkam's publication starting with Stardust Crusaders and then going back to Phantom Blood and continuing from there. Currently, they are publishing JoJolion.[11]
In Spain, the entire series is being published by IVREA. Phantom Blood started publication on June 30, 2017. This publication uses the same volume count as the Bunko Edition volumes, these volumes come out monthly. They are currently publishing Stone Ocean as part of their publication.
In Argentina, the first four parts are being published by IVREA Argentina.
In Mexico, the first five parts are being published by Panini. Publication started on August 1, 2018 with Phantom Blood using the same volume count as the Bunko Edition volumes, these volumes come out monthly. The current part in publication is Diamond is Unbreakable.
In Brazil, the first three parts are being published by Panini.
In China, JoJo was illegally distributed under the title Strongman Front (強人陣線) by Tong Li Comics for many years until Daran Comics obtained the official publishing license for JoJo, renaming the comic JoJo Adventure Wild (JoJo冒險野郎). On March 31, 2003 Daran Comics shut down their offices and their license for JoJo was officially obtained by Tong Li Comics who now officially distributes the series in Taiwan and reverted the title of the series back to JoJo's Bizarre Adventure (JoJo的奇妙冒險). Currently, the series is being published by World Publishing Limited as they are currently releasing a publication of JoJolion.[12]
In Poland, the series is being published by J.P.Fantastica. Publication started in May 2020 with Phantom Blood using the same volume count as the JoJo's Bizarre Adventure: Shueisha Comic Bunko. The current part in publication is Battle Tendency.
Making-of
When he first conceived JoJo's Bizarre Adventure, Araki was throwing around several core ideas he wanted to portray such as an idea of succession between generations, but also to show travelling heroes. From there he began to set up his ideas for Phantom Blood. Araki notes that the process of creating JoJo went from fight to a more spiritual aspect, and that concepts like friendships took a greater place over time.[13] Araki had several themes in mind too, such as the idea of "mystery",[14] and notably the mystery coming from bloodlines. He also asked himself "Who is the strongest person in the world?" and derived from this question themes such as immortality, seeking life, or justice.[14] More importantly, Araki felt that he could create something unique among the current series at Weekly Shonen Jump with these ideas. Araki had initially only planned for three parts,[15] but decided to continue with his series.
Writing JoJo
Araki gives precedence to emotion and inner thought over plot structure, trying to portray the protagonists' destiny.[14]
Araki follows a particular narrative style called the "golden road", characterized by strong and determined protagonists who constantly advance towards their objectives. This "golden road" is, according to him, the best way to draw in the audience. One example of his "golden road" is the plot of Stardust Crusaders during which the heroes always manage to defeat the enemies on their paths and inexorably approach Egypt. Araki is not avert to killing off his protagonists like Jonathan Joestar but feels that if the death served a greater purpose then he still abides by the "golden road".[16] Araki thinks the basic plot of his parts around a particular predicament and likes to throw his protagonist quickly into said predicament before continuing off his story from there (e.g. Johnny Joestar is paraplegic and wants to find a way to heal his legs).[16] Araki also use a rather original plot structure for the series. Instead of the classical "tournament" format of most other series at the time where the heroes fought enemies in a predictable increasing order of strength, Araki adopted a sugoroku style (sugoroku is a table-top game similar to snakes and ladders) where the heroes would travel and then meet enemies at particular points in said journey and the fights would be more varied due to a better variety of powers, and an emphasis on wit rather than force.[17] Araki also denounces the long-term limitations of always increasing the strength of enemies in a serialized manga.[14][18]
Araki takes inspiration from a variety of sources to write his series. He has confirmed several times that he uses Western music to name his characters, but also copies designs from varied sources such as artbooks, comic books, the news, or movies. Araki extensively uses books rather than online research.[19] One lesser known aspect of his research is that he often travels to the places he depicts in the series in order to have a better feeling of the place and gather details that an online research wouldn't give. His first tanto Ryosuke Kabashima encouraged him to see movies for inspiration and also travel.[20] Kabashima notably coerced Araki into travelling to Egypt to later depict it in Stardust Crusaders.[21] Araki would later on keep this habit and went to Italy for Vento Aureo[22] and went to a correctional facility in Florida too to get inspiration for Green Dolphin Street Prison,[23][24] as well as Orlando.[25] He also went on several long journeys in the USA and Japan to better write Steel Ball Run too.[26] His habit of travelling to research places extended to individual buildings such as a hospital or a drug store.[27]
Araki makes it a point to never rest on his laurels and always find new ideas. For instance, Araki was displeased to think he had reached a summit with Stone Ocean in terms of idea and had decided to erase the original continuity and revisit his old ideas in a second continuity.[28] His will to always change is also notable on his art (though he explains it as avoiding drawing old art rather than deliberately change).[29] Araki's art style has changed considerably over the years, although he had always kept core ideas about his art such as his dramatic poses and representation of an ideal human body. For instance, muscle-bound heroes were popular in the 80s so Araki drew these types of characters (e.g. Jonathan), but as trend changes, Araki transitioned to more normal-looking characters like Giorno, a slimmer pretty boy character type.[13][30] The unusual sound effects Araki inserts in his page are inspired from horror movies and rock music, akin to scare chords and other noises produced by synthetizers and mellotrons.[30]
During its publication in the Weekly Shonen Jump magazine, Araki continuously tried to push for unique ideas, often infringing on what was considered acceptable for the magazine. Araki notably decided to make his first protagonist a foreigner and then kill him off to replace him, which was a taboo. Araki also had tried to write female protagonists for the series, with notably Giorno Giovanna being initially thought as a young woman. This would be eventually portrayed with Jolyne Cujoh, whose sex he insisted on despite his editor's requests. Araki notably thought that it was then acceptable to portray women being subjected to violence as intense as male characters were being exposed to.[30][31] It led to several conflict with the editorial team who tried to tone down the violence and themes Araki wanted to write about.[32]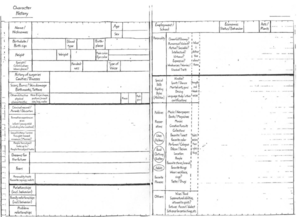 When Araki creates a character, he thoroughly completes a datasheet about said character, which includes their physical characteristics, their tastes, and background information like a potential family.[33] Araki notes that his habit of naming characters after bands and albums is a simple hobby, and a way to pay his respect to the musicians he likes.[14]
During his time at the Weekly Shonen Jump, Araki had the following schedule: Sundays were spent finding ideas, Mondays were spent making the draft storyboard for the chapter. He then met with his editor and began drawing more elaborate sketches, one page at a time. Tuesday, Wednesday and Thursday were spent finishing drawing the chapter for the publication of the Weekly Shonen Jump magazine, and Friday and Satudary were spent resting.[34] This schedule that Araki followed strictly was set up by Kabashima too.[20] This notably allowed Araki to keep in shape, and he was also noted as being always on time for his chapters.[35] His currently monthly schedule seems to have stayed the same as his weekly schedule, with Fridays and Saturdays off. Araki adds that he wakes up at 10 AM, begins working at 11 AM, takes a break at noon, and finishes his work day at 12 PM.[36] Araki says that his current 45 pages a month match his natural pace better.[19] Thanks to his strict schedule, Araki has never missed a deadline in his career.[19][35]
Trivia
References