CyberConnect2
Jump to navigation
Jump to search
CyberConnect2 Co., Ltd. (株式会社サイバーコネクトツー, Kabushiki gaisha Saibā Konekuto Tsū) is a Japanese video game development studio and publisher, based in Fukuoka, Japan. They are mostly known for creating the .hack series and many Naruto fighting games.
CyberConnect2 is constantly expanding their workforce into the international market. In 2016, they created a studio in Montreal, Canada.[1] Along with recently publishing their own games, they work with Bandai Namco and other publishers.
CyberConnect2 developed All-Star Battle and Eyes of Heaven. Their models are used in Stardust Shooters and they also assist with 3D CG in the anime adaptation of JoJo's Bizarre Adventure by David Production.
History
Initially named "CyberConnect", the company was founded by Hiroshi Matsuyama, his friend Shinjiro Sugitani, and eight other employees on February 16, 1996. Matsuyama was working at a cement company at the time when he was contacted by Sugitani, his university friend from the manga club they both attended. Sugitani along with eight others were working at Taito when they decided to branch out, disliking the rigidity of Taito. Sugitani was considered the President and CEO of their new company, but all ten members had a democratic method of making decisions and pitched in an equal amount of money to start the company.
They released their first game published by Bandai named Tail Concerto in April 1998, and their following work named Silent Bomber in October 1999. Both games were unsuccessful, leading to an argument between Matsuyama and Sugitani at some point in 2001. At that time, they had around 20 employees. Sugitani suggested that they should go their own ways or separately work towards making mobile games, whereas Matsuyama thought they should work together and make PlayStation 2 games. Sugitani left the company and Matsuyama became the new president and CEO, changing its name to CyberConnect2. The remaining employees stayed with Matsuyama.[2]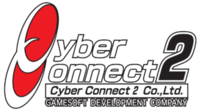 Matsuyama persevered and created the concept for the .hack series, releasing their first .hack game on June 20, 2002. The game was a worldwide success and eventually led to several more games in the franchise. Later in 2002, Matsuyama pitched the idea to create Naruto games, furthering the growth of CyberConnect2 after the success of each "Ultimate Ninja" game.
On October 23, 2007, CC2 redesigned their logo to the current one and expanded beyond video game production. Matsuyama formed a sub-studio named Sensible Art Innovation for movie production with LieN (made up of vocalist Tomoyo Mitani, performer of the ".hack//G.U." theme songs, along with Chikayo Fukuda, composer of the music for all CC2 games).
On February 21, 2012, CC2 developed Asura's Wrath, published by Capcom. A year later on August 29, 2013, they released All-Star Battle, published by Bandai Namco. In between their console games on PlayStation 3, CC2 started developing handheld and mobile games, such as Solatorobo: Red the Hunter, Shadow Escaper, Shinigami Messiah, Little Tail Story, and FullBokko Heroes X.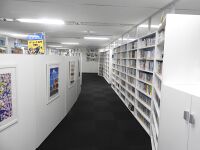 On December 17, 2015, CC2 released Eyes of Heaven with Bandai Namco. CC2 also has an office in Tokyo, Japan. For the company's 20th anniversary on February 16, 2016, they created a studio in Montreal, Canada, which they had planned to do for five years. Koji Yamanouchi, a veteran developer at CyberConnect2, became the studio manager in Montreal.[1]
CyberConnect2 was tasked with developing the Final Fantasy VII Remake, but Square Enix announced that they moved the development of it in-house in May, 2017.[3]
They are continuing to create games for various anime such as Dragon Ball Z: Kakarot, released on January 16, 2020, as well as Demon Slayer: Kimetsu no Yaiba – The Hinokami Chronicles, released October 15, 2021. CC2 also released their first self-published title, Fuga: Melodies of Steel, on July 29, 2021, as part of its "Trilogy of Vengeance" project.[4]
JoJo Video Games
Gallery
References