20th Century BOY
Jump to navigation
Jump to search
"
Una vez tomas tu pose defensiva, no hay ni un alma que pueda vencerte..
"
20th Century BOY (20th Century BOY, Towentīsu Senchurī Bōi) es el Stand de Magent Magent, que aparece en Steel Ball Run, la séptima parte de la serie JoJo's Bizarre Adventure.
Fijado en los hombros de Magent Magent, lo protege de todo daño mientras esté sentado en el suelo.
Apariencia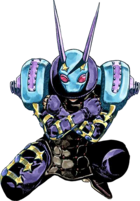 20th Century BOY aparece generalmente como una pieza de armadura hueca, compuesta de un casco, dos grandes hombreras de las que cuelgan dos correas largas y ramificadas, y una concha en la parte trasera de la cual crecen dos correas relativamente más sencillas.
Con los ojos en blanco, su cabeza lleva dos largas antenas verticales; un perno lo atraviesa de hombro a hombro; y está marcado por un motivo que se asemeja a una pequeña mano de tres dedos simples, tanto en su cabeza como en cada extremo de sus correas de ramificación.
Esquemas de color
The series is known for alternating colors between media, the information presented below may or may not be canon.
Body
(Cabeza y hombros azules, antenas, ojos y correas cian.)
Habilidades
20th Century BOY no tiene habilidades ofensivas especiales, pero su defensa es excepcional. Aunque Magent Magent debe estar inmóvil en su estado invulnerable, no hay forma de eludir su defensa.
Como resultado, solo los ataques furtivos y la inmovilidad contra Magent Magent son efectivos contra él.
Defensa absoluta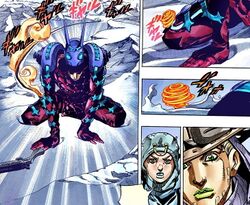 Siempre que Magent Magent activa a 20th Century BOY y se arrodilla en el suelo, se vuelve inmune a todo daño.[1]
Toda la energía y los proyectiles entrantes se redirigen lejos de Magent Magent hacia la tierra o el aire, haciéndolo inmune a cualquier daño, ya sea de ataques Stands, Steel Balls, balas o explosiones.[1] Incluso previene a Magent de otros peligros como el ahogamiento.[2] La habilidad de 20th Century BOY se ha explicado como cinturones que se extienden como cables de tierra y redirigen toda la energía de los ataques enemigos hacia el suelo.[3]
Demostrada primero contra los golpes de Gyro , esta habilidad demuestra ser efectiva en medio del ataque directo cuando una bala que ya comienza a perforar la cara de su usuario es desviada.[4]
La desventaja de esta habilidad es cómo se activa, lo que requiere que Magent Magent se exponga o permanezca inmóvil. Por lo tanto, uno puede atraer a Magent para que baje la guardia y sepa que no podrá reaccionar a los ataques furtivos lo suficientemente rápido, o aprovechar la inmovilización de Magent para atarlo a una situación precaria y así atraparlo.[2][4]
Capítulos

Apariciones en el manga
Capítulos en orden de aparicion
Galería
Referencias