List of Indonesian Phantom Blood Chapters
Jump to navigation
Jump to search
This list contains all current volumes of the JoJo's Bizarre Adventure series published in Indonesia, listed along their corresponding name, volume, cover, release date, ISBN and the chapters contained on them.
The distribution of the series in Indonesia is in charge of editorial Elex Media Komputimundo and done under the Level Comics label for adult manga (not necessarily classified as seinen).[1]
Publishing started on May 18, 2022 following the bunkoban edition. As of July 2023, the volumes are released on an irregular basis. The current ongoing part published in Indonesia is Battle Tendency.
Volume List
Volume 1
Phantom Blood Volume 1



May 18, 2022
[2]

978-6230031694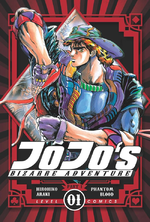 Volume 2
Phantom Blood Volume 2



August 10, 2022
[3]

978-6230032158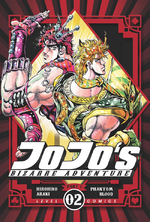 Volume 3
Phantom Blood Volume 3



October 5, 2022
[4]

978-6230034312
References