User
:
KojoB/Wiki Guide
Jump to navigation
Jump to search
Note: This is a user page!
This article is not related to JoJo or Araki and is not associated with the wiki. As such, it may not adhere to our policies.

To keep pages consistent, it's important that editors understand the preferred formats and whatnot across the JoJoWiki.
Files
With so many files being uploaded to the wiki, it's important to keep them organised and of good quality.
Ripping
Before Uploading
While files should be of top quality, it is best that they remain under 3MB when possible. This is particularly a thing to look out for when uploading videos, which should typically be short clips of around 480p in quality. If a video exists on YouTube or elsewhere, it's best to simply embed them instead so as not to waste wiki storage unnecessarily.
There are a variety of file formats that can be uploaded, although as a general rule of thumb, try to use:
.png for images, transparent or not
.mp4 for videos
.ogg for audio
.gif for gifs (duh)
Regarding Videos vs Gifs
As videos actually take up less storage than gifs while maintaining audio and higher-quality, they are preferred to be used when possible - for example, in character videogame moveset galleries. Gifs should still be used for thumbnails to demonstrate scenes next to paragraphs however.
Uploading
To upload a file, go to Special:Upload which can be easily accessed through the button on the top-right of all wiki pages.
Filename
First off, you need to name your file appropriately. This will be the main way for people to find your image, so make sure to give it a title that is short but informative.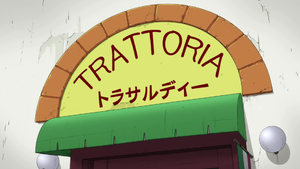 For example, if I was to upload an image of the sign for Trussardi's Trattoria from the DU Anime, I'd simply name it "AnimeDU TrattoriaSign.png":
"Anime" to signify the form of media
"DU" to specify the featured Part (may not be necessary in some cases)
"TrattoriaSign" as it is shows the sign to Trussardi's Trattoria
".png" as that is the image's format and extension
Another example is File:ASBR Jotaro GHA.mp4:
"ASBR" to state that the clip is from 'All-Star Battle R'
"Jotaro" to specify that Jotaro is the character being presented
"GHA" to specify the move being performed
".mp4" as it is once again the file's format
Summary
File summaries are not only useful for navigating wiki editors, but for users as well who want more information on what the file shows/represents. A summary should be concise - brief but comprehensive - explaining the contents of the file and including hyperlinks to appropriate pages.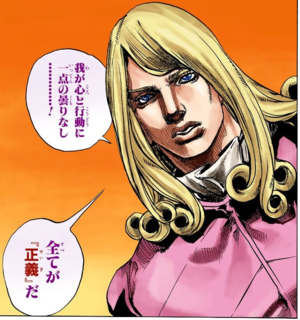 For example, take this summary from File:Valentine heart and actions speech.png:
It includes...
the edition of which the scan is from (JOJO-D)
the context of the situation, including hyperlinks to the involved characters and chapter of origin
the quote itself, copied out with the english translation and romanization
It provides all the information a user would need to understand the image.
In some cases, summaries aren't completely necessary, as the filename and categories may reveal enough, but are useful nonetheless.
Images
Uploaded images should preferably be in .png format (for still images). If needed, images can be easily converted to the .png format using simple, free online converters (for example).
A good example of these is File:Valentine heart and actions speech.png