Meryl Mei Qi
Jump to navigation
Jump to search
"
Will you take the mission? Or will you back out?
"
Meryl Mei Qi (メリル・メイ・チー, Meriru Mei Chī) es un aliado secundario presentado en la novena parte de JoJo's Bizarre Adventure, The JOJOLands.
Públicamente, Meryl Mei es la directora de una escuela secundaria y la dueña de una pequeña boutique de moda, pero estas son solo tapaderas para su verdadera ocupación: la jefa de una pandilla menor conformada por Jodio Joestar, Dragona Joestar, Paco Laburantes, y otro de sus estudiantes.
Apariencia
Meryl Mei es una mujer extremadamente alta y robusta. Es mucho más alta que todas las personas que la rodean, superando por dos cabezas a Dragona y alzándose sobre el nivel de la puerta de entrada de Iko Iko. Tiene cabello ni claro ni oscuro atado en una cola de caballo, que le llega hasta la barbilla.
Meryl Mei viste un vestido largo similar a un muumuu, abierto en las piernas, decorado con un patrón de hojas y con flecos en la cintura.
Personalidad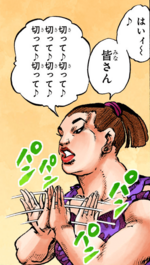 Meryl lleva una vida triple como educadora, diseñadora de moda talentosa y líder criminal.
Tras su fachada de figura pública, querida y respetada, se esconde en realidad una meticulosa mente criminal. Públicamente, Meryl es la directora de una escuela secundaria, apreciada por sus estudiantes quienes la saludan y a quienes saluda en respuesta.[2] Es también la dueña de Iko Iko, una boutique en Kalihi. Meryl participa activamente en la boutique, diseñando ropa, mercancía y pósteres. Jodio admira su trabajo y opina que podría ser una diseñadora exitosa en París o Milan si se lo propusiera.[3]
Sin embargo, secretamente Meryl Mei vive una vida criminal como líder de su propia pandilla. Como jefe criminal, Meryl es altamente cautelosa y prefiere no dejar ningún rastro de sus crímenes. Por ejemplo, les pide a sus subordinados que apaguen sus celulares mientras se discuten sus crímenes, y les oculta su dirección.[4] Su tienda es también una tapadera para su actividad criminal.[3] Como líder criminal, tiene conexiones preciosas, contando con espías en las aduanas de Hawái y lazos lo suficientemente fuertes con el mercado negro como para poder vender un diamante de gran valor.[5]
Sus dos lados parecen superponerse más de lo que aparentan, pues de cierto modo trata a sus subordinados como estudiantes de secundaria, dando palmadas y canturreando para hacerles apagar sus teléfonos. Sin embargo, no está claro si esto no es así solo por el hecho de que estos son efecto estudiantes de secundaria.[3]

Historia
Trasfondo
Supuestamente, Meryl Mei vive con un esposo encantador y un hijo, aunque su dirección es desconocida. Es principalmente la directora de la Secundaria McKingley. Sin embargo, Meryl es también la jefa de una organización criminal y aparentemente recluta alumnos en su pandilla.
Meryl es propietaria de la boutique Iko Iko, con la intención de esconder las ganancias de sus actividades ilegales. Los diseños de los pósteres detrás de ella, así como la ropa y mercancía de Iko Iko, fueron diseñados por la misma Meryl Mei.[1]
Meryl Mei convoca a Jodio, Dragona y Paco a Iko Iko para su próxima misión. Da la orden de cerrar la tienda y les ordena a los tres pandilleros que apaguen sus celulares. Meryl Mei les muestra una foto de un diamante natural azul de 24 quilates en su teléfono, declarando que este tiene un valor de por lo menos 6 millones de dólares. Sus contactos en la aduana del Aeropuerto Internacional de Kona le han hecho saber que un turista japonés declaró un diamante en su posesión, y que poseé una casa de verano en la isla de Hawái en la que este se quedará, casi seguramente, por los siguientes 12 días. Tiene la intención de vender el diamante en el mercado negro, tomando un 18% del valor para si misma y dejándole 2% a sus subordinados. Mientra Jodio predice su rol en la misión, Paco y Dragona deciden tomar el encargo. Sin embargo, ella revela que irán en un grupo de cuatro, revelando que el cuarto miembro es el estudiante al que Jodio le había vendido drogas más temprano ese mismo día. Si bien Dragona y Paco se quejan sobre la inclusión de un cliente en la misión, Meryl Mei les asegura que este no es un adicto y que les va a ser de ayuda.[1]
Capítulos

Apariciones en el manga
Capítulos en orden de aparicion
Quotes

Quotes
"

Everyone, my sincere apologies. To all customers in the store, unfortunately, we're already closing today. I'm really sorry it's too early for your time.

"

"

Now then, put your phones away, everyone! What are you doing? Put that away right now. You too, Jodio! Turn it off! Put them away! Okay! All of you! Off, off, off, off, off, off!

"

"

Now, the only phone you should be looking at is mine! You're all going to memorize what's on this screen... I'm not sending you any photos!

"

"

Will you take the mission? Or will you back out?

"
Galería
References