Phantom Blood (PS2 Game) ★ Bruford
Jump to navigation
Jump to search
Bruford appears as a boss character in Chapters 13 and 14. In Chapter 13, the player plays as Jonathan Joestar and faces Bruford in an underwater battle. During the match, Jonathan is unable to charge Ripple naturally, and must stay near the air bubbles that dot the stage to charge his Stamina Meter: if the Stamina Meter completely depletes, Jonathan's health will begin draining. Bruford swims around the stage, and only approaches Jonathan in order to attack. If Jonathan lands an Overdrive move on Bruford, a unique cutscene will play showing Jonathan using Turquoise Blue Overdrive on Bruford, ending the battle.
The player faces Bruford on land in Chapter 14. During the fight, Bruford uses punches, kicks, and special attacks from his hair.
Bruford appears as a playable character during one fight in Extra Battle Mode, and he can be selected as a playable character in 77 Rings Knights Mode.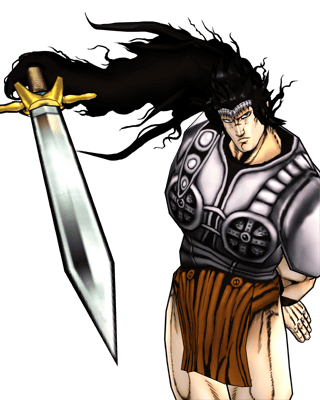 Bruford








Danse Macabre Hair (Earth)



Danse Macabre Hair (Sweep)




Danse Macabre Hair (Rotating)





Danse Macabre Hair (Chaotic)
Running

Running

Danse Macabre Hair (Beheading)

Danse Macabre Hair (Flowing)

during damage

(LV0-3)
Danse Macabre Hair (Serpent)
Available Stages: Extra Battle 14
77 Rings Knights Mode: Living Corpses