User:The amazing owen/Sandbox
Jump to navigation
Jump to search
The contents of the diary, as remembered by Jotaro, follow:[1]
"
What you need is my Stand "
The World
".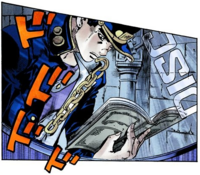 What you can find beyond the powers of my Stand is where you need to go in order to find Heaven. What you need is a trustworthy friend. He must be someone capable of controlling his own desires. He must be someone who is not interested in political power, fame, wealth, or sexual desire, and who chooses the will of God before the law of humans.
Will I, DIO, be able to meet someone like this one day?
What I also need is the lives of more than 36 humans who have sinned, because those who have sinned harbor a strong power within.
There are 14 phrases that one must keep in mind:
Spiral staircase (

らせん階段

Rasen Kaidan)
Rhinoceros beetle (

カブト虫

Kabutomushi)
Desolation Row (

廃墟の街

Haikyo no machi)
Fig tart (

イチジクのタルト

Ichijiku no taruto)
Rhinoceros beetle (

カブト虫

Kabutomushi)
Via Dolorosa (

ドロローサへの道

Dororōsa e no michi)
Rhinoceros beetle (

カブト虫

Kabutomushi)
Singularity point (

特異点

Tokuiten)
Giotto (

ジョット

Jotto)
Angel (天使 Enjeru)
Hydrangea (

紫陽花

Ajisai)
Rhinoceros beetle (

カブト虫

Kabutomushi)
Singularity point (

特異点

Tokuiten)
Secret emperor (

秘密の皇帝

Himitsu no Kōtei)
I'll engrave these words onto my Stand so I won't forget them. What is most necessary is "courage"; I must have the courage to destroy my Stand momentarily. As it disintegrates, my Stand will absorb the souls of the 36 sinners and will give birth to something utterly new.
Whatever is born will "awaken". It will show interest in the 14 words that my trusted friend will utter... My friend will trust me and I will become his "friend".
Lastly, I need an appropriate location. North latitude, 28 degrees, 24 minutes, West longitude 80 degrees, 36 minutes...
Go there and wait for the New Moon...
That's when
Heaven will come
.
"
"
必要なものは『わたしのスタンド』である。
『ザ・ワールド』
。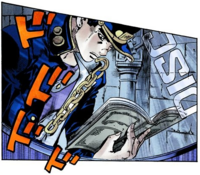 我がスタンドの先にあるものこそが人間がさらに先に進むべき道なのである。必要なものは信頼できる友である。彼は欲望をコントロールできる人間でなくてはならない。権力欲や名誉欲金欲のない人間で。彼は人の法よりも神の法を尊ぶ人間でなくてはならない。
いつかそのような者にこのDIOが出会えるだろうか?
必要なものは『極罪を犯した36名以上の魂』である。罪人の魂には強い力があるからである。
必要なものは『14の言葉』である:
わたし自身を忘れないようにこの言葉をわたしのスタンドそのものに傷として刻みつけておこう。必要なものは『勇気』である。わたしはスタンドを一度捨て去る。『勇気』を持たなければならない。朽ちていくわたしのスタンドは36の罪人の魂を集めて吸収。そこから『新しいもの』を生み出すであろう。
「生まれたもの」は目醒める。信頼できる友が発する14の言葉に知性を示してい…『友』はわたしを信頼しわたしは『友』になる。
最後に必要なものは場所である。北緯28度24分西経80度36分へ行き…
次の「新月」の時を待て……
それが
『天国の時』であろう
……
"
"
Hitsuyōna mono wa "Watashi no Sutando" dearu. "
Za Wārudo
".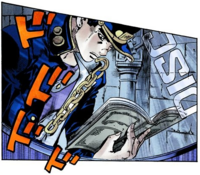 Waga Sutando no saki ni aru mono koso ga ningen ga sarani saki ni susumubeki michina no dearu. Hitsuyōna mono wa shinraidekiru tomo dearu. Kare wa yokubō o kontorōru dekiru ningendenakute wa naranai. Kenryoku yoku ya meiyo yoku kin'yoku no nai ningen de. Kare wa hito no hō yori mo kami no hō o tattobu ningendenakute wa naranai.
Itsuka sono yōna mono ni kono DIO ga deaeru darou ka?
Hitsuyōna mono wa "Kyoku-tsumi o okashita sanjūroku-mei ijō no tamashī" dearu. Tsumibito no tamashī ni wa tsuyoi pawā ga arukara dearu.
Hitsuyōna mono wa "Jūyon no kotoba" dearu:
Rasen Kaidan
Ichijiku no taruto
Kabutomushi
Kabutomushi
Enjeru
Kabutomushi
Tokuiten
Himitsu no Kōtei
Watashi jishin o wasurenai yō ni kono kotoba o watashi no Sutando sonomono ni kizu to shite kizamitsukete okou. Hitsuyōna mono wa "Yūki" dearu. Watashi wa Sutando o ichido sute saru. "Yūki" o motanakereba naranai. Kuchite iku watashi no Sutando wa sanjūroku no tsumibito no tamashī o atsumete kyūshū. Soko kara "Atarashī mono" o umidasu dearou.
'Umareta mono' wa me sameru. Shinraidekiru tomo ga hassuru jūyon no kotoba ni chisei o shimeshi tei… "Tomo" wa watashi o shinraishi watashi wa "Tomo" ni naru.
Saigo ni hitsuyōna mono wa basho dearu. Hokui nijūhachi-do nijūyonpun seikei hachijū-do sanjūroppun e iki…
Tsugi no 'Shingetsu' no toki o mate…
Sore ga '
Tenkoku no toki' dearou
…
"
References