The Hustle
Jump to navigation
Jump to search
"
Il est anormalement musclé, alors il peut tenir des choses dans sa paume ou dans son coude.
"
The Hustle (THEハッスル, Za Hassuru) est le Stand de Paco Laburantes, présent dans la partie 9 de JoJo's Bizarre Adventure , The JOJOLands.
The Hustle permet à Paco de coller des objets dans sa peau.
Apparence
Pour l'instant, The Hustle ne s'est manifestée que comme une capacité intégrée pour Paco. On ignore si il a une apparence véritable.

Capacités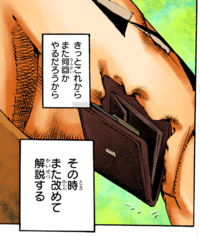 Manipulation Musculaire
The Hustle transforme les muscles de Paco pour qu'ils se gonflent et lui permettent de s'agripper aux objets, par exemple avec le dos de ses mains ou ses coudes. Il peut facilement glisser des objets tels que des portefeuilles sans même avoir besoin de bouger les articulations de ses doigts. Il garde également une montre-bracelet attachée à son épaule. Jodio décrit les muscles de Paco comme étant similaires à ceux des personnes qui se contractent pour attraper les moustiques qui leur sucent le sang.[1]

Chapitres

Manga Appearances
Chapters in order of appearance
References