User:Dogpark
Jump to navigation
Jump to search
Hiya! I'm Dog, and I do fan translations for Stone Ocean and JoJolion. Apart from that, I spend a lot of my free time doing Japanese language stuff.
About Me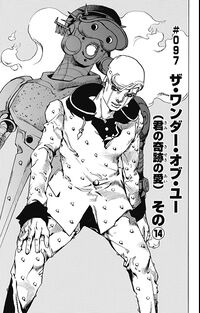 I first got into JoJo in July 2019 because my friends wouldn't stop talking about it and I wanted to feel included. Well, fast forward a year later, and I ended up getting way more obsessed with it than any of them, so... whoops.
I started doing translation work in June 2020, first with chapter 97 of JoJolion, since it was the newest one out at the time. When I uploaded the chapter online, the double-page spreads were broken and the typesetting was pretty bad. Over time, I started to understand the more intricate aspects of editing scans and making them look nice, as well as a better rhythm with the writing, and the newer chapters I've worked on look a lot better I think!
In July 2021, I started doing livestreams of myself re-reading all of JoJolion to build up to the release of its final chapter. I finished the part in mid-August, after 15 or so streams spanning about 57 hours.
I'm really hyped to work on Part 9!
Favorites
Part 8 is easily my favorite part. I love the way it's written and the art is beautiful.
My favorite JoJo is Jolyne. I really love her fierceness and her evolution as a character throughout her part. Gappy is a close second, though.
Awaking III Leaves has got to be my favorite Stand. It's kind of weird that such a mathematical Stand is my favorite, since I don't like math at all. I guess I just like the way it reminds me of watching those satisfying powerwashing videos.
Translations I've Done


Physical Collection