Shin
Jump to navigation
Jump to search
"
What a great time to be alive. The strong can claim whatever they desire as their own.
"
—Shin, Chapter 8: Flames of Devotion
Shin (シン, Shin) is a primary antagonist in Fist of the North Star. He is the successor of Nanto Koshū Ken (南斗孤鷲拳, lit. South Dipper Lone Eagle Fist), one of the martial art styles within the Nanto Rokusei Ken and the leader of the KING Organization. He bears the destiny of the "Star of Martyrdom" (殉星, Junsei), who is destined to live and die for love.
Appearance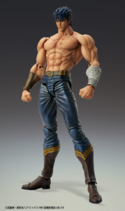 Shin is a man of above average height and a heavily muscular build. He has flowing long blond hair that goes beyond his shoulders, deep narrow eyes, and a sharp chin.
In his initial introduction, Shin wears an elegant jacket, complete with a cape and large feathers attached to the collar. He wears mettalic boots with knee gaurds and a gold belt on his waist.
In flashbacks and during his fight with Kenshiro he wears an outfit with distinctive shoulder pads and a high collar, a fancy belt sometimes buckled by a gemstone, and dress shoes.
Color Schemes
The series is known for alternating colors between media, the information presented below may or may not be canon.
Outfit
(Purple, light blue, and silver outfit, gold accessories)
Outfit
(White and purple outfit, gray accessories)
Outfit
(Purple clothes, orange shoulder pads, white feathers)
Personality
Abilities
Nanto Koshū Ken
Gallery
References