User:DiodE/Sandbox
Jump to navigation
Jump to search
"
في رأيي فإن العيش بآمال إيجابية هو محور جوجو، إنه احتفاء بالإنسانية.
"
أراكي هيروهيكو (荒木 飛呂彦 ولد في السابع من يونيو 1960 في مدينة مياغي بمقاطعة سنداي اليابانية.[5]) هو مانغاكا ومؤلف سلسلة مغامرات جوجو العجيبة، والتي يهتم بها مشروع الموسوعة هذا. كان أول ظهور له تحت اسم أراكي توشيوكي (荒木 利之) سنة 1980 بمانغا ذات فصل واحد باسم بوكر تحت تهديد السلاح، وبدأ مسيرته المهنية بسلاسل المانغا القصيرة الفتى الساحر بي تي والضيف باو وآيرن الفاتنة.
قُسّم عمله على مغامرات جوجو العجيبة على أقسام عدة ويستمر في التسلسل لأكثر من ثلاثين سنة، بمجموع 131 مجلّد (في ماي 2021)، وبمبيعات فاقت 100 مليون نسخة مباعة(في يوليو 2019).[6] وُصف أسلوبه بـ"المقاربة التجريبية لكن الحاسمة"[7][8]
أعماله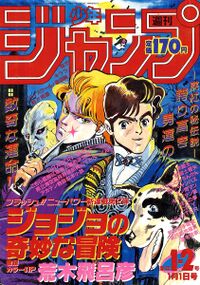 المانغا
أخرى
حياته الشخصية
يمدح أراكي على إطلالته الشابة التي لم تغيّرها السنين، ونوّه بالتمرّن والسباحة وأرزّ هيتوميبوري طرقًا للمرونة والجسد السليم.[10] وفي مقابلته مع Eureka، مدحه الناقد وطبيب النفس اليابانيّ سايتو تاماكي، إلا أنه صرّح بأن سبب انتقاله للإصدارات الشهرية الرئيسيّ هو عدم قدرته على تحمّل الأسبوعية.[11] وصرّح أراكي أنه، وبعد إجرائه عمليّة طبية بسبب التهاب المعدة، أدرك أنه لا يستطيع تكريس نفسه للمانغا كليّا، فبحث عن متعة أكثر في الحياة، ومارس أنشطة أخرى كالسفر والطبخ.[12]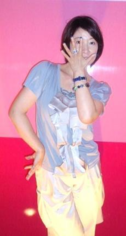 أراكي معروف بموقفه من الصحة. فهو يمتع نفسه بالتجوّل وقيادة الدراجة، خصوصا إن كانت الضرائح اليابانية وجهته. وقد نوّه أراكي بذلك طريقةً للتأقلم حين يرهقه العمل. يعتبر أراكي التمرّن طريقة عظيمة لتربية النفس، ويعتبر حمل أشياء عديدة أثناء ذلك عبئًا؛ حيث أنه يحمل معه عادة معطفا وقنينة ماء وجهاز آي بود.[13]
خسر أراكي بيته الموروث عن أجداده في زلزال توهوكو. فقد دُمّر هذا الأخير إثر التسونامي التي لحقت الزلزال، ما سبب صدمة لأراكي.[14]
أسرته
أراكي ربّ أسرة تتكون منه ومن زوجته 荒木麻美 (أسامي أراكي, الملقبةتشامي)، ومن ابنتيه الاثنتين. أراكي التقى أسامي بعد بضعة سنوات من بداية مسيرته الاحترافية في موعد تعارفيّ جماعي، وتزوّجها بعد ثلاث سنوات.[15]
سيرته الذاتية
نشأ أراكي في مدينة سنداي اليابانية مع أبويه وأختيه الصغيرتين التوأمتين. وقد قال أن إزعاج أختيه هو سبب اختلائه بنفسه في غرفته وقراءته مانغات كلاسيكية من السبعينيات، كـAi to Makoto، ومجموعةَ كتب الرسوم التي امتلكها أبوه، والذي يظن أراكي أنه كان السبب والدافع له لرسم المانغا.[16] تأثر أراكي خاصة بالفنان الفرنسيّ بول غوغان.[17]
حاول أراكي الانخراط في كرة القاعدة بدايةً بعد التحاقه بالمدرسة الإعدادية. لكنه صرّح أنه لم يستطع تقديم رمية جيدة نهائيا، وأنه شعر بأنه لا يصلح للرياضات الجماعية.[18] رغم ذلك فانتقاله للكيندو كانت له أسباب أخرى، فقد صرّح بأن مانغا"Ore wa Teppei" أثرت فيه،[19][20] كما أثرت فيه تجربته المريرة في نادي كرة القاعدة.[21] وقد بدت تجربته في نادي الكيندو فاترة، حيث قال أن أحدا لم يمدحه سواء أفاز أم خسر في مبارياته.[22]
ألّف أراكي المانغا أول مرة حين كان يدرس في القسم الرابع. وحضر مدرسة دروس إضافية حين كان تلميذا في المدرسة الثانوية التأهيلية، حيثُ مدح صديقٌ له المانغا التي ألّفها لأول مرة. فألّف المانغا سرّا عن والديه مذ ذاك.[16]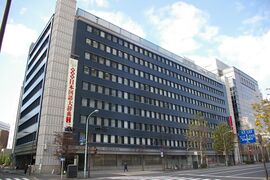 بدأ أراكي تقديم أعماله للموزّعين خلال سنته الدراسية الأولى في ثانوية توهوكو غاكوين تسوتسوجيغاوكا(Tohoku Gakuin Tsutsujigaoka )؛[23] لكن كل ما قدّم قوبل بالرفض.[16] قدم أراكي أعماله إلى مسابقة تيزوكا، وترشح للفوز في الدورة الرابع عشرة للمسابقة، بمانغا ذات فصل واحد تحت عنوان "زا بتر"، والتي قدمها تحت اسم أراكينو توشي (荒木之利).[24] وفي وقتها، كان أقرانه من الفنانين يحققون النجاح تلو الآخر بمانغاتهم الأولى، (مثلا: ماساكازو كاتسورا). لذلك لم يفهم أراكي سبب رفضه مرارا، فقرر في يوم من أيام 1979 زيارة مقرّ التحرير في طوكيو لمراجعة مباشرة لأحدث أعماله. كانت نيته في البداية أن يزور شركة شوغاكوكان، ناشرة مجلة شونن_سندي_الأسبوعيةشونن سندي، ولكن حجم مبنى المقرّ أخافه فقرر تقديم المانغا في مبنى شركة شويشا (ناشرة مجلةشونن جمب) المحاذي. كان الوقت ظهرا حينها، وراجع محرر مستجد اسمهريوسكي كاباشيما المانغا. بادر كاباشيما بالقول ساخرا فور إنهائه قراءة الصفحة الأولى؛"تبييضك متسرب.(بمعنى لم تصلحه)" واستمر في انتقاد أراكي كلما قلب صفحة. شعر أراكي حينها أنه سيفقد وعيه؛ فقد بات صاحيا في الليلة السابقة. أخبره كاباشيما أن عليه إصلاح المانغا والمشاركة بها في مسابقة تيزوكا. بعد شهور، قدم أراكي مانغا ذات فصل واحد تحت عنوان "بوكر تحت تهديد السلاح"، وفاز بجائزةالمركز الثاني في مسابقة تيزوكا.[16][25]
ترك أراكي جامعة مياغي قبل تخرجه، ونشر المانغا الأولى له بوكر تحت تهديد السلاح الآنف ذكرها. تخرج منكلية سينداي للتصميم. أول سلسلة له في شونن جمب كانت الفتى الساحر بي تي سنة 1983،[25] ولاحقا نشر الضيف باو (1984) وآيرن الفاتنة (1984) بعد مدة قصيرة. وسلسلته التالية كانت تحفته العظمىتحفة، مغامرات جوجو العجيبة في 1987.
مغامرات جوجو العجيبة
تشكل سلسلة مغامرات جوجو العجيبة، التي نُشرت في شونن جمب بين 1987 و2004، وفي ألترا جمب من يومها إلى يومنا، علامةَ أراكي هيروهيكو المُميّزة الأولى وعمله الأساسيّ.
أشهرت السلسلة كاتبها أراكي بعد تصاعدت شهرتها بشكل صاروخيّ أثناء نشر مقاتلو الغبار النجمي. واستمرّ أراكي في كتابة السلسلة حتى بعد نهاية القسم المذكور سابقا، والذي كان مُخططا أن يكون خاتم السلسلة.[26]
تحتوي أغلفة مجلدات جوجو القابلة للنزع ملاحظات للقرّاء؛ وهي مصدر سخيّ لآراء أراكي الشخصية.
أسلوبه وتأثره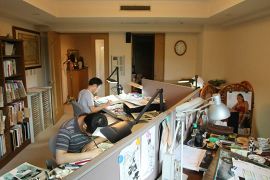 تحتوي رسوم أراكي صورا مثالية في العموم، وتشتهر بالوضعيات المعبّرة والمرسومة على مقاييس وزوايا جريئة، ورسم خطوطها المظرّف، والمستويات المسودّة والمبعثرة؛ ما يعطيها مظهرا جليلا ومهيبا. في الصفحات والرسوم الملوّنة، يخلط أراكي بين عناصر الرسوم في تجاور متكامل بينها.
In terms of cartooning, a comparison can be drawn between Phantom Blood, Battle Tendency, and Stardust Crusaders (1987 - '92) and the hypermasculine (and highly dimorphic) anatomical ideals applied by Tetsuo Hara in Fist of the North Star, and referenced by Araki in relation to action heroes of the 1980s.[27] Diamond is Unbreakable ('92 - '96) marks a transition to a more intersexual model; while Steel Ball Run (2004 - '11) sees greater realism, along with further incorporation of ideals of beauty consistent with the mode in fashion design. When he started JoJolion (2011–present day), Araki expressed a will to draw in a looser style and things he never drew before. Hence, he says, he bust shots and increased the amount of white panels and included more white elements in his drawings, in contrast to the darkness of his style present in previous works.[28]
Reference to illustrations by artists including Antonio Lopez and Tony Viramontes informs a number of individual illustrations and character poses in Araki's work from 1987 - 1992; decreasing from then along with increased use of photographic references.[29] Limited examples of costumes borrowed from contemporary fashion design have been identified.
As a film fan, In the 1980s Araki noted the popularity of action movies and the muscular physiques characteristic of their stars (such as Arnold Schwarzenegger and Sylvester Stallone). By this example, Araki would ponder; "Who is the strongest person in the world?". Subjects such as immortality and justice occurred to him as things that humans innately value and seek. Araki had also been on a trip to Italy two years prior to the creation of Part 1: Phantom Blood, where he identified the exaltation of overt human beauty characteristic of renaissance art. Araki was particularly struck by the aesthetic of the sculpture Apollo and Daphne by Italian sculptor Gian Lorenzo Bernini. The baroque sculpture's striking figures and realistic yet idealized bodies stuck in remarkable poses inspired Araki to heavily incorporate poses in his art and develop his own style.[30] Araki would combine these examples in the formulation of the basic plot and visual style of Phantom Blood.[27]
Araki has named Paul Gauguin and his approach to color theory as an influence.[31]
Araki has described his drawing method as "classical".[27] He has indicated admiration for Leonardo da Vinci in the text of the manga and otherwise; and in a video feature in JOJOVELLER, he is seen making visual reference to a book of Michelangelo's work[32] during the construction of a piece.
Manga that Araki has named as admirable or having had particular influence on him include Ai to Makoto by Ikki Kajiwara and Takumi Nagayasu, the most significant of his youth;[33] Ore wa Teppei by Tetsuya Chiba, which inspired him while in middle school to join the kendo club;[33] and Babel II by Mitsuteru Yokoyama, particularly influential for the concept of combat defined by special rules or laws.[27]
Araki has authored a book on the subject of Horror film and its influence on his work.
Araki has described his habit of naming characters and Stands after musicians and their works as "a simple hobby", and has indicated a strong preference for Western popular music.
Araki's Lists
Hirohiko Araki's Best 10 Characters - Author's Popularity Contest (作者人気投票キャラクターベスト10) from JOJO A-GO!GO! (2000) - Araki Hirohiko, p. 75
"Hirohiko Araki's Favorite Illustrations Best 20" from JOJO A-GO!GO! (2000) - Araki Hirohiko, pp. 52–57
Araki's Top 10 manga he "ran to the bookstore for" (本屋に走ったマンガベスト10) from JOJO A-GO!GO! (2000) - Araki Hirohiko, p. 74
Araki's Most Watched Films - Best 10 (くり返し観た映画ベスト10!) from JOJO A-GO!GO! (2000) - Araki Hirohiko, p. 72
Araki's top 5 favorite toys from Volume 60 Author's Note
| No. | Toy | Comment |
| --- | --- | --- |
| 1 | Phosphorescent skeleton | (When it shines at night, it feels like I'm in a fairy tale.) |
| 2 | Bouncing ball | (This piece of rubber took me into a science-fiction universe.) |
| 3 | Resident Evil | (PlayStation) (It's so great!) |
| 4 | A Thunderbird II model | (I love the design and I find that the container's conception was very clever! I really had the impression I could go anywhere with this.) |
| 5 | Lego or Mega Bloks | (I spent whole days assembling and disassembling the piece to make new models. I think that Lego is the Western philosophy in its entirety.) |
Araki's song choices for the "Back to 80s" Western Music Hits Parade on MTV Japan
The Best 10 Painful Songs (せつない曲ベスト10) from JOJO A-GO!GO! (2000) - Araki Hirohiko
Araki's Top 10 "Albums that make me cry"
"
These are my top 10 from the 70s, in no particular order. You might love them or hate them but I guarantee if you listen to them you'll cry.
"
Hirohiko Araki's All-time Best 10 Clint Eastwood Films (荒木飛呂彦が選ぶイーストウッド作品オールタイムベスト 10) from JOJOmenon. They are not in any specific order.
Araki's Top 10 Heroes (ヒーロー) from JOJO A-GO!GO! (2000) - Araki Hirohiko
Described as Araki's inspirations; those with the courage to innovate when it came to design or fashion. They are not in any specific order.
Promotional recommendations or quotes from Araki found on the cover or obi of various books and media.
Gallery
Trivia
Araki's favorite book as a kid was The Adventures of Sherlock Holmes.[4]
On October 2011, Araki was deemed one of the 100 most influenfial people in Japan by the business magazine "Nikkei Business", in the category "creator".[34]
In 2012, Araki celebrated his 30th year as a manga artist and the 25th anniversary of JoJo's Bizarre Adventure. A special exhibition was held in Sendai, Japan, which included the announcement for the TV Anime and All-Star Battle.
On November 30, 2016, Araki won the 45th Annual Best Dresser Awards in Tokyo in the "Academic and Cultural Arts" division. When questioned about his youthful appearance, Araki said that he washes his face every morning with Tokyo's tap water.[35]
Araki was given an art award for the year 2018 by the Agency for Cultural Affairs for his art exhibition Ripples of Adventure.[36]
References