Forum - JoJo References
Jump to navigation
Jump to search
[#13]

Discuss JoJo references made in music, games and anime.


In season 3, episode 2 of Netflix's Castlevania series, a Tunisian shopkeeper Hector speaks to can be polishing or cleaning a mask, which looks similar to the Stone Mask.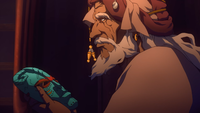 Posted by Sinjoh on 11 March 2020 at 02:15.
Posted by Kurohartz on 26 March 2020 at 20:43.